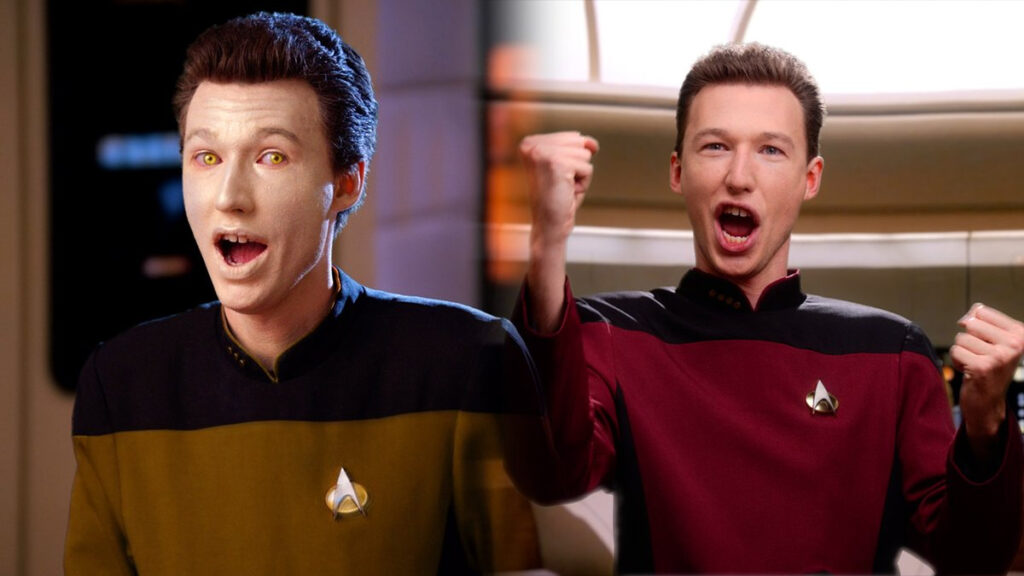 The strangely surreal DATA & PICARD Star Trek fan music video has been viewed on YouTube nearly seven and a half million times…making it one of the most widely seen Trek fan productions of all time. And yet, I haven't covered it here on Fan Film Factor up until now—somewhat on purpose.
When the musician/DJ/remix artist/film editor/YouTuber POGO (whose real name is NICK BERTKE) first uploaded this unusually hypnotic video back in late 2016, it was certainly a project I intended to cover. But less than two years later—and before I was able to blog about him—Pogo/Nick created some major controversy and trouble for himself.
In a video from 2016 which was posted to YouTube in May of 2018 (and has since been removed for reasons of hate-speech), Pogo shared some very homophobic opinions, including calling gays an "abomination" and seeming to approve of the 2016 massacre at the gay nightclub Pulse. And of course, social media sleuths quickly unearthed another controversial rant of his against feminism from 2017. Within days, public opinion had turned strongly against Pogo, and the Lamplight Lounge at Disney's California Adventure in Anaheim, CA, which featured some of Pogo's Disney-related tracks on their restaurant's playlist, quickly bowed to pressure and removed them all. (For more details on Pogo's controversial statements and attempts to walk them back, click here.)
And so I was torn. On the one hand, Pogo had created this wildly popular Star Trek fan film music video…and his background story is quite interesting. On the other hand, hate speech and homophobia is anathema to me. I am totally repulsed by Pogo's prejudices against gay people and women. I decided not to cover Pogo and his video…a decision I've stuck with for nearly two years (despite a number of readers sending me links and asking me to cover it). Eventually, I mostly forgot about the video.
A few weeks ago, however, I happened upon a new version of the Pogo video that had used a digital manipulation technique called Deepfake to replace Pogo's image with the faces of PATRICK STEWART and BRENT SPINER. (I'll include that new video at the end of this blog.) This new video got me thinking about maybe covering Pogo after all.
If you can't stomach my decision, then please feel free to skip this blog. Otherwise, let's start with showing Pogo's original Data & Picard video (without the Deepfake) for those who haven't seen it yet or who just want to see it again…
Nick Bertke was born in South Africa, but he is currently based out of Perth, Australia. The name "Pogo," which he uses when he works as a DJ and when releasing remix music on the Internet, comes from a Pokémon-inspired comic strip he used to sketch while not paying attention in school.
In 2018, after the homophobic incident, Nick posted (in an attempt to ameliorate the damage to his public image) that he was bipolar and suffered from Asperger's syndrome. It's not unusual for bipolar artists to be very prolific in their creative output, and Nick is no exception.
Born in 1988, Nick began making remix music as Pogo in 2005. Two years later, he had just turned 19 years old when Pogo rocketed to Internet stardom with his first "plunderphonic" music video posted to YouTube, a soft techno-mix of scenes and sounds from Disney's 1951 animated film Alice in Wonderland…
Plunderphonics is a term coined back in 1985 to describe a musical technique where short audio samples are collected from one or more various sources, altered in some way (usually musically) and turned into a new composition. (The history and evolution of plunderphonics is a fascinating read, if you want to check it out.) Not unexpectedly, this musical technique has led to a whole bunch of copyright infringement/fair use lawsuits.
And one would think that Pogo might receive a cease and desist letter himself from the folks at the "House of Mouse" for not only sampling audio from their Alice in Wonderland film but also for incorporating visual clips. And one would be correct…although not for Alice. In 2012, Disney stopped Pogo from releasing a Pirates of the Caribbean remix, and he complied. His fans were furious and even started a petition to change Disney's mind (didn't work). One indignant fan of Pogo's even recreated the video last year and posted it…
Why would Pogo give into the suits at Disney rather than fighting the system and standing up for free speech? Well, one possibility might be that, by 2012, Pogo himself was a Disney contractor!
Hmmm, I think I forgot to mention an important detail. Better rewind back to 2007 and the release of the Alice music video…
Pogo followed that one up with new remix videos based on The King and I, Harry Potter, and Disney's The Sword in the Stone, all of them quickly running up views into the hundreds of thousands to millions. Pogo's intention with each video was to distill the movie down into a melodic composition that would encapsulate the "feel" of the film musically using short sounds sourced from the original productions. These videos were always intriguing, fresh, and distinctly unique…like nothing else on the Internet. On average, an audio remix would take about 4 to 5 weeks to create. In an interview, Pogo commented, "Most people don't understand how much work goes into it. I am very much creating all the drums myself and creating all the chords and melodies myself. And that's a tremendous amount of work."
Indeed! And someone who appreciated that work and the resulting videos was none other than JOHN LASSETER, the head of Pixar and, in 2008, also the Chief Creative Officer of Disneytoon Studios. Lasseter was so impressed with Pogo's work that Lasseter flew him from Perth all the way to San Francisco to meet with himself and Pixar President EDWIN CATMULL. They wanted Pogo to create promotional materials for the DVD and Blu-ray release of Up, which he worked on from his home back in Perth. Here's one of the videos he produced for the film…
Over the next few years, Pogo created more than a dozen more of his curious compositions using source material from a diverse palette of movies and TV shows ranging from Willy Wonka and Terminator 2 to Lord of the Rings and H.R. Pufnstuf. With his star rising, Pogo's career took a huge leap forward when he was booked for 30 gigs in the United States on his Kaleidophonics Tour in 2011. But things ended worse than badly.
Although the details aren't completely clear, somehow Pogo didn't have a proper work visa for the U.S. He was arrested, all of his cash earnings confiscated, and he was thrown in jail…where he stayed for a full month! "I can't really describe what it's like to have your freedom taken away from you, and not being told when you're going to get it back," Pogo said in an interview. "When you're in prison, you have to learn to control your mind or else you get panicky and start crawling the walls."
The end result was that Pogo was deported back to Australia and banned from entering the United States for ten years (until 2021). But that didn't stop him from continuing to create dozens and dozens more remix videos plus releasing ten full albums on iTunes. You can check out all of his videos—from Despicable Me to The Shining to Trumpular—on his YouTube channel.
---
So why did Pogo decide to dress up as Captain Picard and Lt. Commander Data for his Star Trek: TNG remix when nearly all of his other videos were simply montages of clips from the movies and TV shows he was sourcing? Was Pogo such a big Trekkie that he wanted to actually appear in his own remix video???
Actually, yes, Pogo was quite the fan of Star Trek: The Next Generation, but not in the way you'd expect. Born between the first and second seasons of TNG, he did not grow up watching the series. Instead, his first introduction to the show came in his late twenties when he got ahold of a TNG first season box set of DVDs. He loved the characters and stories, bought the other six seasons, and devoured the entire series in just two weeks watching episodes back-to-back-to-back! He's since watched all of the episodes again multiple times.
This newfound love of Next Gen inspired Pogo to make an audio track called "Data and Picard." It was simply dance music—no voices or audio sampling yet. But as he listened to the piece, Pogo decided that it really needed the voices of both Picard and Data to feel complete. So he began sampling the entire series, noting places where Picard and Data were saying (or singing) interesting things or really evocative sound effects happened. Eventually, he had an almost endless list of time-codes and notes!
With sounds captured, it felt to Pogo like the next logical step was to create a video version of the song. Unfortunately, for some of the best parts of Picard's monologues, he was either intercut with reaction shots from other characters or else was turned away from the camera. You can see an example of the problem in this clip from the episode "Ménage à Troi"…
It was an unusual challenge for Pogo, who could usually find the samples he needed with characters facing toward the camera. But those were typically shorter sound clips, and some of these Picard scenes were relatively long compared to what Pogo had traditionally sampled.
The solution seemed obvious: Pogo would film himself lip-synching the words while dressed as Picard and Data. As it happened, there were a couple of very good production houses in Perth at the time, and Pogo was able to get ahold of a quality green screen and professional lights. He set up his "studio" in his dining room, bought some Ben Nye make-up to recreate the Data skin tone, and got to work filming himself.
Amusingly, Pogo couldn't get the yellow Data contact lenses into his eyes and had to digitally color—frame by frame—his own eyes yellow. Pogo also owned only one TNG tunic, and that was the command red of Picard. So with the Data scenes, he once again had to digitally manipulate each frame and recolor the tunic gold…
According to Pogo, the biggest challenge lay in getting the video to match as closely as possible to the TNG episodes themselves. Among other things, this required finding a digital filter which could give his video a look of being shot on film, as TNG was. He also had his laptop with him as he shot in front of the green screen so he could reference the original shots and backgrounds from the TNG episodes in order to recreate the same lighting. In some cases, this meant putting the lights on his left side instead of his right. At one point, he was even aiming the light directly at the ceiling with a blue gel to simulate a skylight. Another time he had a 2000 watt light shooting over his shoulder to simulate outdoor sunlight even though he was shooting indoors at night!
With a production crew of one—himself—Pogo spent about a week in total filming. Composting and editing, however, took another four weeks, and Pogo later described the process as "an absolute disaster." Nevertheless, Pogo remains incredibly proud of this particular achievement.
---
If you're curious how Pogo goes about making his remixes, check out this behind-the-scenes video from his YouTube channel…
Another question fans are often curious about is which TNG episodes were sourced to make Pogo's Data & Picard remix song. The following list is the best I've been able to compile:
"When I was in the academy… Cheer up my lads" is from "Allegiance" when a Picard doppelgänger toasts the crew in Ten Forward and begins singing to them.
Next up is the is the Klingon victory song (yIjah, Qey' 'oH) from "Birthright, Part II" when Worf discovers a Romulan prison camp filled with Klingons who have lost their will to resist.
Data sings "Che Gelida Manina" from La Bohème…originally to his girlfriend Jenna D'Sora in the episode "In Theory" while straightening up her quarters.
"'Tis better to have loved and lost than never to have loved at all…" is, as I mentioned above, originally from "Ménage à Troi" as Picard is massacring Shakespeare to intimidate a Ferengi who wanted to marry Lwaxana.
"Jean Luc Picard of the Federation Starship…"—I am totally stumped on this one!
"One, seven, three, four, six, seven, three, two, one, four, seven, six, charlie, three, two, seven, eight, nine, seven, seven, seven, six, four, three, tango, seven, three, two, victor, seven, three, one, one, seven, eight, eight, eight, seven, three, two, four, seven, six, seven, eight, nine, seven, six, four, seven, three, six, lock…" is Data's security code (imitating Picard's voice and locking him out of command) from "Brothers."
"Really quite hypnotic…" is from "Timescape" as Picard is doing an impression of Dr. Vassbinder's incredibly boring lecture.
"Tea, Earl Grey, Hot" could be from many episodes, but this particular one seems to be from "Contagion"—the first time Picard ever requested the beverage in the entire series!
The final "That's an interesting twist…" is from "The Hunted."
In 2017, a year after Pogo debuted his video, a Pogo fan remixed the remixed and replaced Pogo dancing with clips from the actual TNG episodes. From the video below, you'll see some of the places where scenes cut away from Picard's and Data's faces, which is why Pogo ended up filming himself instead…
And finally, as promised, here is the new "Deepfake" version of Data and Picard where Matthew Greer replaced Pogo's face with Picard's and Data's faces (although there's no way for Deepfake to replace hair with a bald head)…