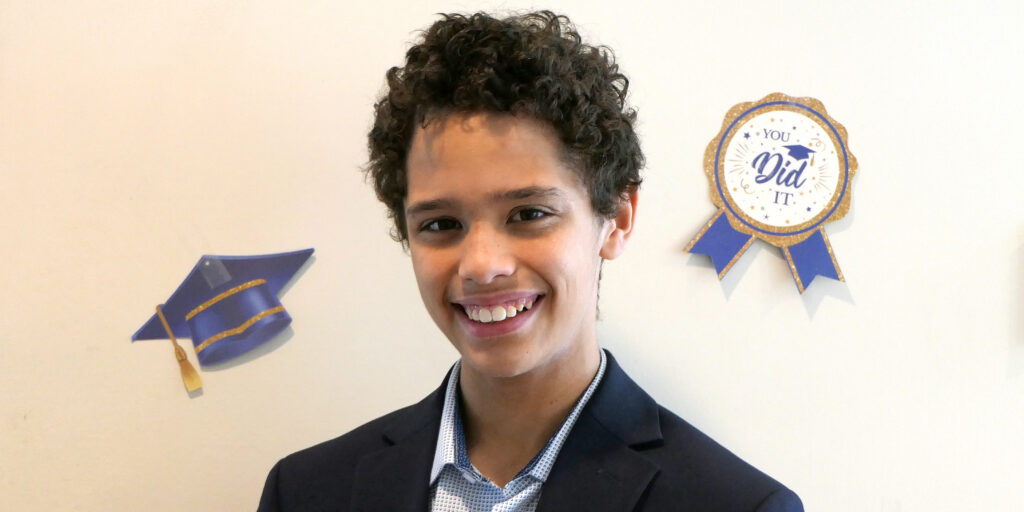 Wait a second…isn't this a blog about Star Trek fan films??? What does Jonathan's kid have to do with that?
Nothing at all whatsoever! So if you're not interested in what I have to say as a proud father, feel free to skip this one. Most likely, it'll just get views from family members and a few friends, and I'm fine with that. Y'see, Jayden knows I spend a lot of time blogging about fan films. But today I am going to blog about him.
---
Wednesday night, after his final day at Echo Horizon School after seven years, Jayden came into the kitchen as I was finishing making his dinner. As he walked to the refrigerator to get his milk, he said, "I'm sorry for growing up."
Whoa.
On the one hand, yes, the last twelve and a half years have flown by at warp speed, and that tiny premie newborn that we brought home to Los Angeles from Shreveport, LA has grown nearly as tall as his old man and is already towering over his Mommy! But apologizing for growing up? No way!
I told Jayden that he never needed to apologize for growing up because he's becoming such an incredible person…and Mommy and I get to be a part of it all. It's the best thing that's ever happened to both of us.
And to inject a little Star Trek into this indulgently non-Trek blog, I see Jayden right now as my own little Deep Space Nine. What does that mean? Starting at the age of four, Jayden and I began watching Star Trek together…and one of my greatest blessings has been that he LOVES it. It's one of our "things." We watched TOS, TAS, TOS again (because he was too young when we first watched it to remember), TNG, the TOS and Generations movies in chronological order, and now we're into season four of DS9 and about to start season two of Voyager.
Jayden absolutely ADORES Deep Space 9, although he's lukewarm at best on Voyager (I'm kinda the same way, but we're trudging on through the series). We just watched "The Way of the Warrior" and "The Visitor," and as most fans of DS9 know, season four was the beginning of the four-season Dominion War arc. Therefore, I know what's coming, and I am so looking forward to sharing those next 100-or-so episodes with him. And yes, we'll need to get through Voyager's "Threshold" and debate whether "Tuvix" should have been separated, but Jayden will also get to meet Seven-of-Nine before too long and see other decent Voyager episodes that bring back Barclay and Troi. Jayden will ask me if Harry Kim will ever get promoted, and I'll say, "Watch and find out!" (BWHAHAHHAHAH!) He'll watch Sisko toast to his own tainted moral compass "In the Pale Moonlight," discover Vic Fontaine, Weyoun, and see Gul Dukat's descent into madness.
In other words, we've shared so much together, but so much more is coming our way! And that's how I feel about Jayden himself. So let me tell you a little about this incredible person…
Continue reading

"My son JAYDEN just graduated from SIXTH GRADE!"