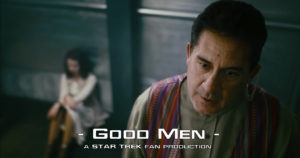 Last October, I posted an interview with the fan film wonder from down under, Australia-based Trekker AARON VANDERKLEY.  When the fan film guidelines came out in 2016, many fans worried that it would be impossible to create a decent Star Trek fan film story in 15 minutes or less.  But Aaron had already disproven that six months earlier when he released the six-and-a-half minute NEEDS OF THE MANY, an emotionally intense NX-01 era fan film with great acting, real practical sets (not green screen), and wonderful costumes.
In September of 2017, Aaron wowed the fan film world again with yet another NX-01 era fan film, the twelve-minute THE DERELICT.  Even more intense than his first effort, Derelict cemented Aaron's reputation as a top-notch Star Trek fan filmmaker.
But Arron wasn't done yet!
Two weeks ago, Aaron released his third NX-01 era fan film, the nine-minute GODD MEN.  You can view it below…
After watching yet another really strong fan film, I emailed Aaron a few quick questions for the blog where I would announce the new release.  Little did I know Aaron would send me back some really fantastic, in-depth answers that turned my "simple" announcement blog into a full-on interview!
Let's dive right in…
Continue reading "AARON VANDERKLEY triumphs again with "GOOD MEN"! (interview)"