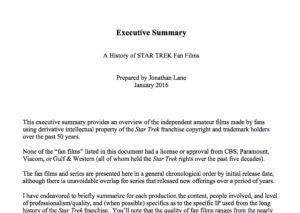 Ever since the AXANAR legal  team released my Executive Summary of "The History of Star Trek Fan Films" during the the discovery phase of the lawsuit, readers have been asking me to upload the document here on FAN FILM FACTOR.  And here it is!  Merry Christmas (or Happy Hanukkah).
I had initially written "The History of Star Trek Fan Films" to help out Alec Peters and Axanar.  At the time that the lawsuit was first filed a year ago, I didn't yet understand the intricacies of the case as I do now…and so I almost immediately confused copyright with trademark.  I was wrong about that, and so my efforts wouldn't help Alec win the case outright.  But my document would still end up being useful in helping to argue for non-willful infringement if the jury found Alec Peters guilty of infringement.
As I've mentioned in previous blogs, willful infringement carries a penalty of $150,000 per violation.  Non-willful infringement carries penalties as low as $200 per violation.  So the difference between the two types of infringement in a verdict could literally be millions of dollars!  And how can my document help to prove non-willful infringement?
Continue reading "The HISTORY of STAR TREK FAN FILMS…in PDF format!"