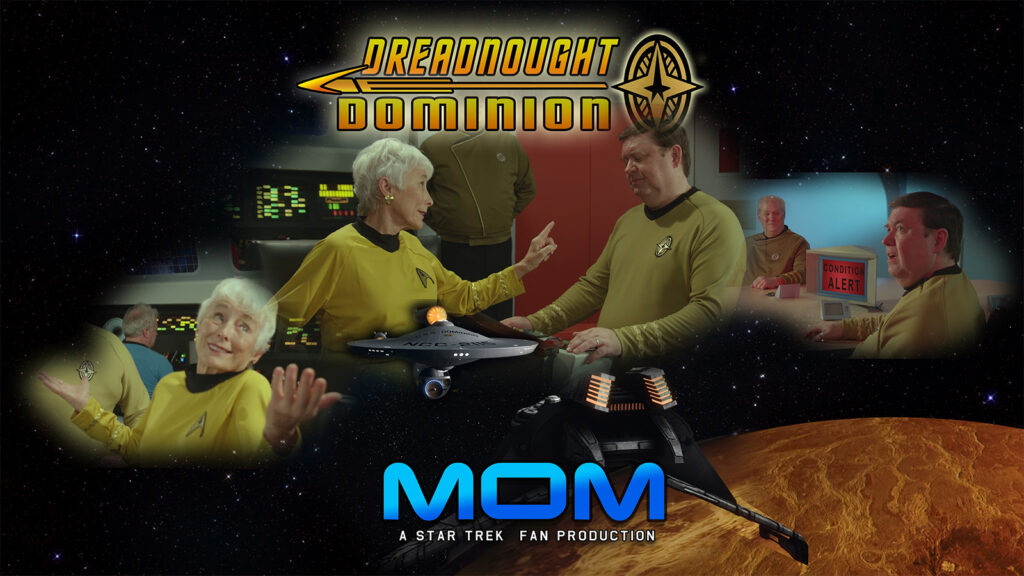 Ya just gotta love the folks at DREADNOUGHT DOMINION. Well, you don't have to love them, but it's hard not to! They spread such fun and joy through their fan films.
You would think that a fan series set on board a three-nacelled dreadnought-class starship would involve lots of battles and intense, serious action. And you would be wrong. Out of all of the most active ongoing Star Trek fan series, Dominion is one of the ones that takes themselves the LEAST seriously. Although they have had a handful of dramatic releases, they've also had a whole bunch of good, wholesome, fun-for-the-whole-family style episodes that just make you want to laugh and smile.
And what could be more wholesome than the captain's mother visiting her son on the bridge of his starship? And what could be more family-friendly than releasing an episode titled "MOM" on Mother's Day? Are you ready for something adorable…?
Seriously, how cute was that??!
Yeah, I know. Nothing like that would REALLY happen on a Federation dreadnought starship …or any starship, most likely. And the repercussions of a cloaked Klingon scout ship deep within Federation space could lead to interstellar war. And to that I say: "Stop complaining and go call your mother and tell her that you love her!" (My apologies to any out there who have lost their mothers, but if you know any mothers in your life, send them a link to this wonderful vignette and put a smile on their face.)
Speaking of smiles, I just couldn't wait to ask GARY DAVIS, longtime Dominion showrunner and Captain Jason Brousseau himself, some things about this precious piece of production positivity…
Continue reading

"DREADNOUGHT DOMINION'S "MOM" debuts on Mother's Day…of course! (interview with GARY DAVIS)"