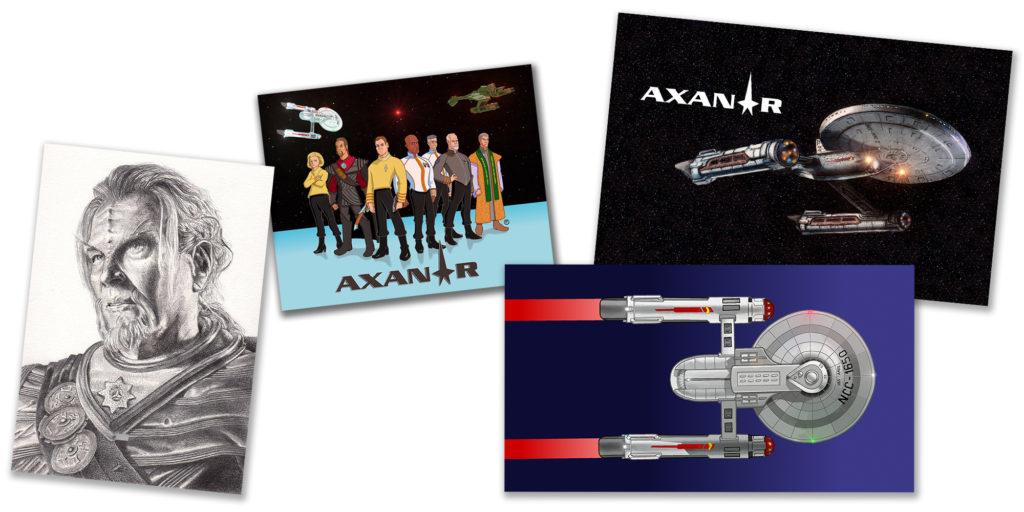 A few weeks ago, two of the donors to my Axanar Universe fan film INTERLUDE offered to match, dollar-for-dollar, every donation made to my GoFundMe campaign for 24 hours. It was incredibly generous and resulted in an amazing day of over $5K in donations.
Now, another supporter has stepped forward with a very generous offer. MARK PAYTON is an artist who lives and breathes Axanar (an Axanartist, if you will!). His artwork graces the pages of his original Axanar novella, "The Inverness Revision," and he's done other graphics for the Axanar project over the past couple of years.
Among the art pieces that Mark created were the four images you see above, including the stunningly majestic rendering of the late RICHARD HATCH as Kharn the Undying and the montage of the main Axanar characters drawn in a comic/animation style. Last year, Mark printed up a run of posters for these beautiful images to sell at Axacon. At the end of the weekend, he still had about 15-20 sets of posters left over.
Now, Mark is looking to offer these four collector's item posters as a set for $125 (including shipping and handling), and I am certain there are some Axanerds out there (like me) who want them. I've seen them up close, and they're very high quality prints. Three are sized at 11″ x 17″ and the other is 8.5″ x 11″. All are shipped as the poster-only, but each can be inexpensively framed as the sizes are pretty standard.
However, Mark has ALSO offered to take whatever proceeds he collects and donate that money (minus packaging and shipping costs) to the Interlude GoFundMe! NOTE: this is not a perk. No one is donating directly to me. People are purchasing posters from Mark Payton who is then welcome to make a donation just like any other supprter.
Just how much that donation to Interlude will be is uncertain. Even if Mark sells all the posters he has left, the shipping costs to different states and possibly other countries is unknown right now. But Mark estimates that selling everything could put an additional $1,000 into the campaign. And since we're currently at more than $17,800 (including PayPal donations), another thousand would place us only $700 from our $19,500 goal!
But as they say on TV: "Hurry, because supplies are limited, and this offer won't last!"
To purchase one or more of these poster sets, contact Mark at [email protected] with the subject line of "Interlude posters".
Continue reading

"AXANAR posters (set of four) FOR SALE from MARK PAYTON…to benefit INTERLUDE!"