ONE TEENY-TINY SPOILER FROM THE SEASON FINALE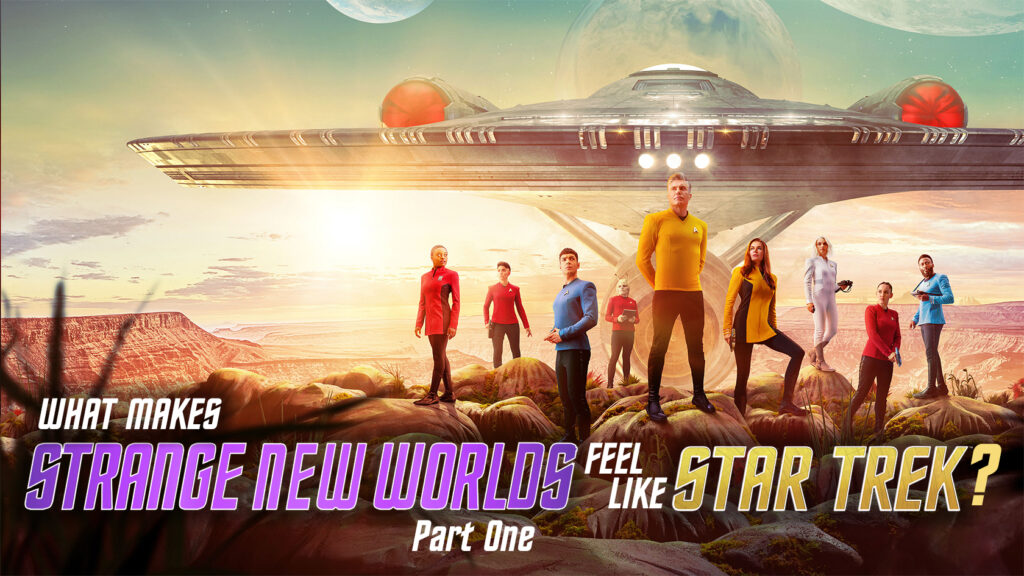 After writing 23 non-stop weekly reviews for the latest seasons of STAR TREK: DISCOVERY and PICARD, I took a break for the first season of STAR TREK: STRANGE NEW WORLDS. Why? Because nearly everyone appeared to love each episode…and so did I. It seemed silly to just write about how great each episode was every week.
Not that every episode was perfect. I had a few complaints here and there, like turning the Gorn into the xenomorph monsters from Aliens and killing off my favorite character just nine episodes into the series (you bastards!).
But overall, I have been loving this new series right out of the starting gate in ways I haven't loved Discovery and Picard. And it seems from social media and online reviews that most fans feel the same way about Strange New Worlds (with the exception of those who are still counting the days until ALEX KURTZMAN is fired for the seventeenth time!).
"The show just FEELS like real Star Trek," seems to be the general consensus among fans. But WHY does it feel more like "real" Star Trek? What does "real" Star Trek even mean?
Some have said, with a certain amount of vagueness, "Well, it's more optimistic." Yeah, kinda. But some episodes have been a bit sad, too. The one where Dr. M'Benga has to part with his daughter in order for her to have a guaranteed chance at life…man, that was a downer! Another episode ends with the sacrifice of a child in order to keep a planet of floating cities from crashing down. (Man, it's tough to be a kid on this chow!) And don't get me started on Hemmer's death-dive! So I'm not sure that "optimistic" is the secret sauce of this show.
"Well, it's episodic, not serialized…" say others, and yes, that's true—although character arcs like Spock's marriage, Uhura's doubts, and M'Benga's dying daughter carried over through multiple episodes. But is "real" Star Trek simply defined as one-story-per-episode? The Dominion War lasted through multiple seasons of Deep Space Nine, and Enterprise devoted an entire season to finding and dealing with the threat of the Xindi. Were those NOT "real" Star Trek?
So rather than writing a review, I'd like to instead attempt to answer the question of what mades this series feel like "real" Star Trek—and so quickly gain the support of the vast majority of fandom—while Discovery and Picard have struggled to achieve that same reception.
Wanna play…?
Continue reading

"10 reasons why STRANGE NEW WORLDS feels like "REAL" Star Trek while DISCOVERY and PICARD don't… (editorial review, part 1)"