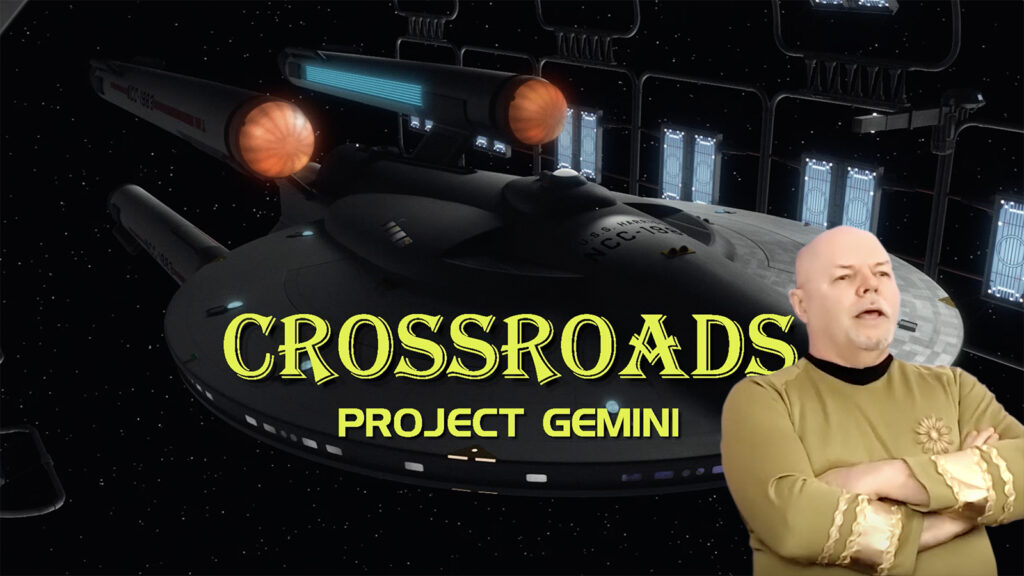 Report two casualties: Commodore Sam Grissom, Actor FRANK PARKER, JR.
Correction: they're not casualties. They are…list them as "missing."
That's the way it seemed back in 2016. Frank Parker, Jr. had become a prominent name in the fan film community. Appearing in THE ROMULAN WARS fan series in 2012, he had gone on to help build sets that were used for both STARSHIP FARRAGUT and STAR TREK CONTINUES. In fact, Frank briefly appeared in the penultimate episode of Farragut, "The Crossing."
But what Frank was really becoming known for was the debut of a new fan series filmed on the Farragut/STC sets in Kingsland, GA: DREADNOUGHT DOMINION. Frank played Commodore Sam Grissom of the titular starship, as bald as Jean-Luc Picard and plagued by a troubled past. Two episodes, "Haunted" and "Anchors Aweigh," promised another fine addition to the world of Star Trek fan films with Frank as showrunner. But then, seemingly without any warning, Frank completely disappeared from the fan film community without a trace! POOF!!!
Fortunately, Dreadnought Dominion found a way to carry on without their lead actor and creator. GARY DAVIS and RANDY WRENN took over the series, releasing nearly a dozen follow-up episodes, including a crossover with STARSHIP VALIANT titled "Chain of Command," which dealt with the aftermath of Commodore Grissom's sudden departure.
Fast forward five years to early 2021.
As quickly as he disappeared, Frank reappeared in the Star Trek fan film world, almost as if he'd simply beamed down somewhere and beamed back half a decade later. And although Dreadnought Dominion had moved on, Frank appeared in an episode titled "The Passenger with Baggage" to tie up many loose ends and bring closure for most of the characters, including his.
But Frank's return didn't stop there. Frank has since formed an alliance, of sorts, with VANCE MAJOR of the MINARD and CONSTAR saga of fan films, partnering Frank's FILK FERRET PRODUCTIONS with Vance's NO BUDGET PRODUCTIONS to create multiple fan films. These have included the following for CONSTAR COMPLETED episodes released between March and June of this year:
Sam Grissom also appeared in a flashback during the alternate 24th century timeline fan film WASTELAND, released this past March. Plus, a Kelvin timeline version of Sam Grissom appeared in the 47-minute long MINARD 2: HEMORRHAGE released in June and the recent Dominion/Constar crossover fan film CALM, COOL, & COLLECTED released in July.
Whew!
If you don't want to watch all of the above, Frank and Vance compiled a "highlight reel" titled THE STORY SO FAR – GRISSOM ADVENTURES. It serves as a user primer…
A primer for what, you ask?
Continue reading

"Welcome back, Parker! Prodigal fan filmmaker returns with CROSSROADS: THE GEMINI PROJECT (video interview with FRANK PARKER, JR.)"