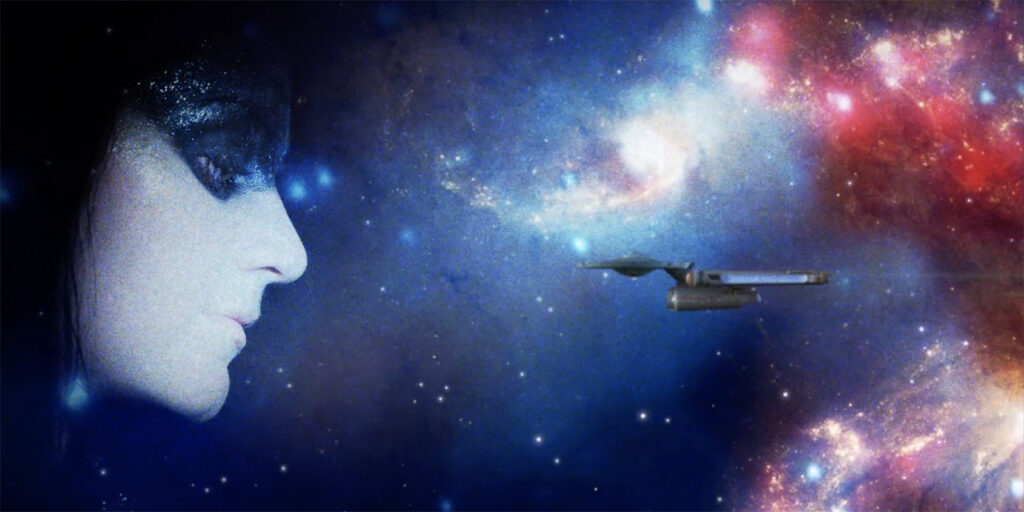 It's just two and a half weeks until Christmas, and therefore two and a half weeks until YORKTOWN: A TIME TO HEAL is released (click here to read more about the 35-year history of this exciting fan project).
And as we eagerly wait for Santa Claus (or Hanukkah Harry or Kwanza Q) to bring us our gifts and our newest Star Trek fan film, Yorktown show-runner JOHN AKTIN has a little "early present" for fans: a brand new music video featuring clips (some never-before seen) from this long-awaited fan film featuring GEORGE TAKEI and JAMES SHIGETA.
This isn't just some random music video, though. The song, Into The Unnkown, will appear in Yorktown: A Time to Heal over the closing credits. It was written and performed by a singer/songwriter from Toronto, Canada named RAYNA (and yes, her name comes from the TOS android from the episode "Requiem for Methuselah"), part of an album she released back in 2013 titled SPACE STORIES.
John Atkin, also a resident of Toronto, heard the song a few years ago and wanted to use it in the fan film that he and STAN WOO were working to complete. John reached out to Rayna asking permission to use the song, and she happily agreed.
Three years later, with just over a month until the fan film's release, John filmed Rayna singing the song to use in the creation of a special music video featuring her haunting ballad along with clips from Yorktown.
In case you're wondering if this is the first time a Star Trek fan film has teased its release with a music video, the answer is no. That distinction goes to STAR TREK: RENEGADES and its music video Captain of My Soul by CELA SCOTT. That video has had over 125K views on YouTube since its release in 2015.
But that was then. Now, it's Yorktown's turn in the spotlight. And so, without further ado, let's travel Into The Unknown…