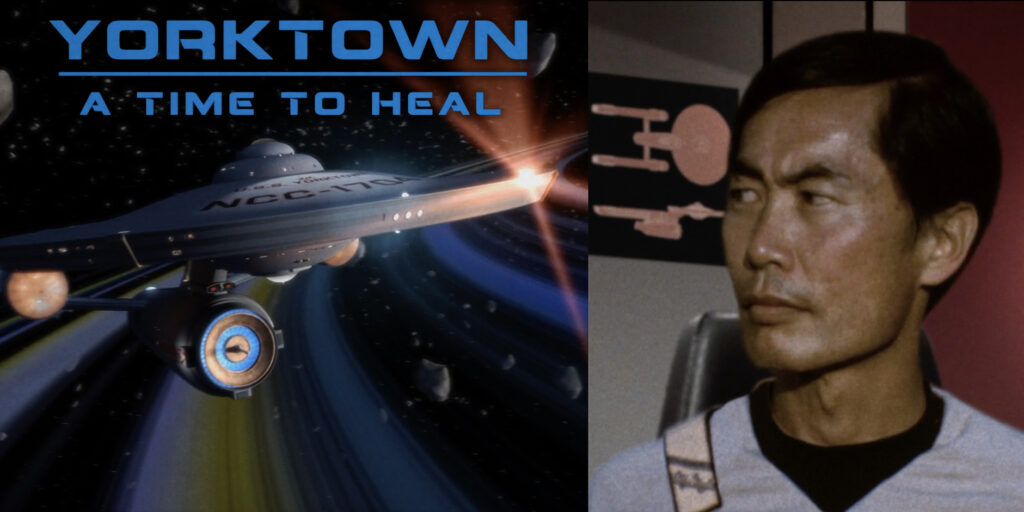 If any footage can be considered "the holy grail" of Star Trek fan films, it's the Super-8 scenes from YORKTOWN: A TIME TO HEAL, shot in 1985 to 1987 and featuring actor GEORGE TAKEI reprising his role as Lt. Cmdr. Sulu during the time between TOS and Star Trek: The Motion Picture.
Thirty-seven years in the making, Yorktown was probably the most eagerly awaited, exciting, and mysterious Star Trek fan film of all time! And so many fans have so many questions…
How did a young Trekkie barely out of high school convince George Takei to play Sulu way back when the actor was concurrently making Star Trek IV: The Voyage Home?
How did this same kid get JAMES SHIGETA (who's been in about a million things you've seen, most notably Die Hard, Midway, and Mulan…but also TV shows ranging from The Outer Limits to Mission: Impossible to T.J. Hooker to Babylon 5 to Avatar: The Last Airbender) to agree to play Admiral Nogura?
Did ANDREW PROBERT, the artist who designed the refit USS Enterprise in Star Trek: The Motion Picture as well as the Enterprise-D for Next Generation really design custom starships for this guy's fan film, too?
Why did it take them so long to finish it?
On April 5, 2022, the completed Yorktown: A Time to Heal, was finally released for fans to watch and enjoy…
There's no shortage of stories about this project scattered all over the Internet…some less accurate than others. But now it's time to set the record straight and collect all of these mind-blowing details together in a series of fascinating blogs that will feature direct quotes from original show-runner STAN WOO and current show-runner JOHN ATKIN.
It's hard to pick one thing about Yorktown: A Time to Heal that's the most interesting. Obviously, it's one of the first (if not THE first) Star Trek fan film to feature a member of one of the television casts in their same iconic role…plus other professional actors in major roles. But after a veritable sprint of filming over the first two years, things virtually stopped completely for more than two decades!
Then, once things started up again, fan filmmakers from all over our community got involved to help out. Scenes were filmed BOTH at Starbase Studios in Oklahoma AND on James Cawley's TOS sets in Ticonderoga, NY (one of the only fan projects other than STAR TREK: NEW VOYAGES to ever do that). People who worked on AXANAR, STAR TREK CONTINUES, NEW VOYAGES, RENEGADES, STARSHIP EXETER, STARSHIP FARRAGUT, STARSHIP ANTYLLUS, STAR TREK: SECRET VOYAGE, STAR TREK: EXCALIBUR, TEMPORAL ANOMALY, STAR TREK: OF GODS AND MEN, STAR TREK: DECEPTION II, THE FEDERATION FILES, and so many other fan productions all pitched in at one point or another to help Yorktown: A Time to Heal move ever closer to completion.
Are you ready to jump down the rabbit hole? I promise, it'll be worth it…
Continue reading

"YORKTOWN: A TIME TO HEAL (starring GEORGE TAKEI as Sulu) – the 37-year trek… (Part 1)"