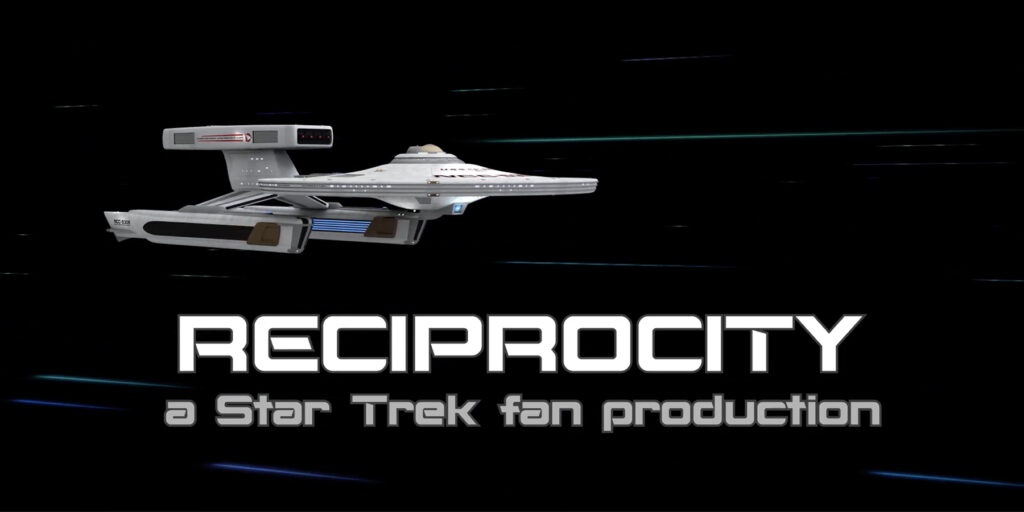 Certain states have become nexuses of fan film production: Arkansas, Georgia, and now Kentucky. Of course, it helps when those states contain studios with permanent sets like WARP 66 STUDIOS (Arkansas), NEUTRAL ZONE STUDIOS (Georgia), and POTEMKIN PICTURES (Kentucky). In the case of the latter, three different creative groups are now in active production of Star Trek fan films: STARSHIP WEBSTER, KLINGON SCOUT SHIP QAB'ELTH, and STARSHIP CALIBORN. All three rely on the talents and hard work of fans and friends mostly living in the areas in and around Lexington, KY, coordinated by the efforts of Potemkin Pictures Poobah RANDY LANDERS. (You can view all of Potemkin's many dozens of releases from a dozen different creative groups on their website.)
So when I saw a new release from the Caliborn folks, "RECIPROCITY," I reached out to Randy, as I typically do, for some background on this latest effort. And that's when Randy recommended that I speak with episode writer and lead actor BILLY SWANSON, as he is the "voice" of Caliborn.
Well, far be it from me not to speak directly with the "voice"! So I reached out to Billy for a quick interview, which appears below. But first, let's take a look at "Reciprocity"…
And now, here's Billy…
---
JONATHAN – Randy said that you are now the "voice" of Caliborn. Does that mean you are officially the showrunner?
BILLY – Yeah, I saw that! I am indeed the showrunner for Caliborn.
JONATHAN – So what does being a showrunner entail for you specifically, Billy?
BILLY – As showrunner, I work with Randy to arrange the chapters (films) accordingly and set up the space to shoot (ha!). Being the showrunner puts me in the position to guide the tone of the overall "volume" (of chapters) that the various films fit into.
When Randy and I decide on a script, I then run it past ROBIN KUNKEL and ANDREW ORTWEIN for their ideas regarding shot composition and what other unique ways we can film. Andrew has a great mind for storyboarding and lighting, as well as ways to accomplish more unique shots! Robin is also a hell of a photographer and broaches the script with a different perspective I enjoy in terms of reasonably scheduling the order of the shots we need, the shots we would like, and the nice-to-have-but-not-a-priority shots, so that we can fit all of that into a reasonable day's shoot for the actors.
The feedback from this team also helps with initial rewrites to help with narrative and vocal flow for us to present to the actor, to mitigate day-of troubleshooting. It is a lot like Randy's shot lists, but with more technology and fun pictures! I also facilitate the shoot crew and work with the production team to prepare for the next chapter (storyboarding, lighting, costume, and directing).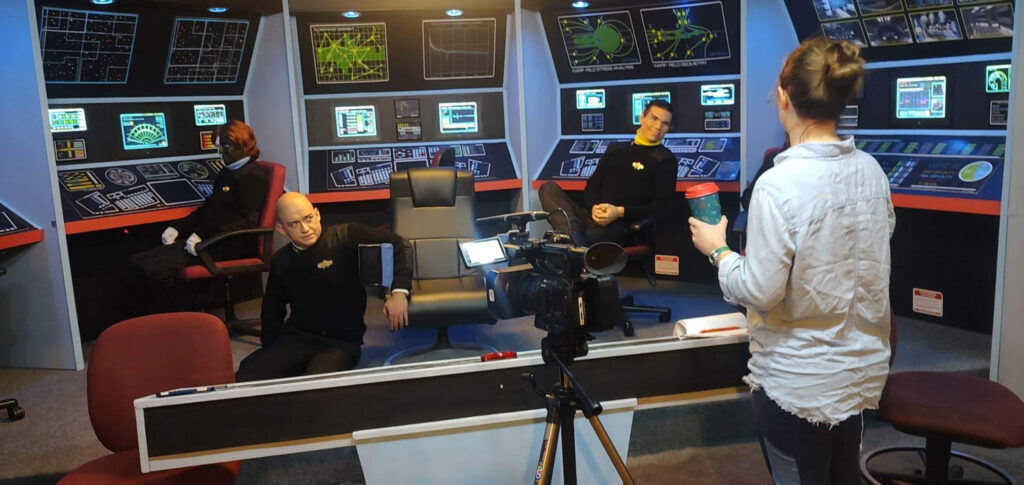 JONATHAN – Are you writing all of the scripts entirely by yourself, or is that task shared among several writers?
Continue reading

"STARSHIP CALIBORN releases their third fan film: "RECIPROCITY" (interview with BILLY SWANSON)"