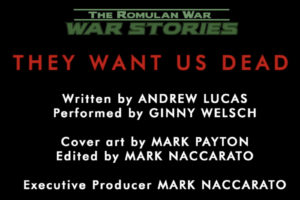 I'm beginning to really, really love these enhanced audio dramas that are being released by MARK NACCARATO as a lead-in to his highly anticipated THE ROMULAN WAR fan film!  The project itself managed to take in over $12,000 in a recent Indiegogo (and is now trying to reach $14,000 to cover the cost of new live-action footage shot in Australia along with new CGI).  And the full fan film itself is supposed to be released very soon.
But in the meantime, Mark has released a series of "enhanced" audio dramas under the banner The Romulan War: "War Stories."  These are personal log entries from those serving in Starfleet during the Romulan War with Earth that led to the founding of the United Federation of Planets in the mid-22nd century.  The idea is to tell the "smaller" stories of war, while the main fan film tells the "big" story.
And what are "enhanced" audio dramas?  Like most audio dramas, the actors record their lines vocally, without a video camera running.  But rather than just playing back the audio over a black screen or a single image or even a series of images, there is actually an ongoing video the whole time, some with simple 2D animation, some with video footage, and some even with 3D CGI.
Mark's first release was made available to the public about a month ago, the two-part "Sleep Is Hard To Find" (you can view it here).  Now the second release is a one-parter entitled "They Want Us Dead," and it's riveting.  I really mean that.  An intense and gripping vocal performance was turned in by actress GINNY WELSCH, who has extensive experience with voice work, over a brilliant script written by ANDREW J. LUCAS, who previously penned multiple episodes of the just-completed The Romulan Wars (plural) fan series.
You'll probably recognize some footage in the video "borrowed" from a number of familiar cinematic sci-fi sources.  Whether or not the studios who own that footage will care about or bother with a small fan film getting a few hundred views is anyone's guess.  But that shouldn't stop you from enjoying the production…
And remember that you can still donate to the "in demand" Indiegogo campaign to help them reach $14,000…
The Romulan War posted the following press release regarding this newest addition to their offerings…
Continue reading "THE ROMULAN WAR releases its newest ENHANCED audio drama: "THEY WANT US DEAD"!"