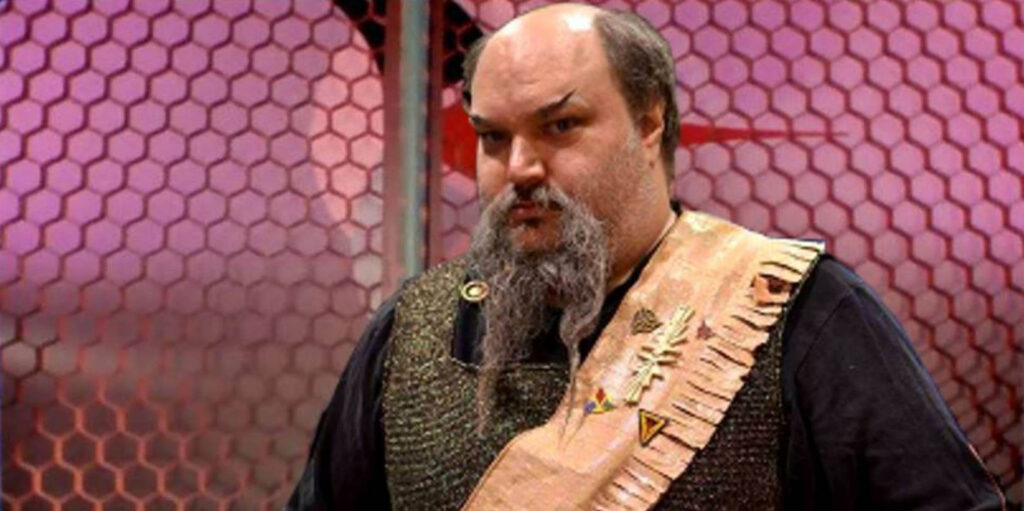 It is always a sad moment for the Star Trek fan film community when one of our own embarks on a final journey to what Shakespeare called "…the undiscovered country from whose bourn no traveler returns." Earlier this week, cosplayer STEVE ATWELL, who played the role of the Klingon Korath in multiple episodes of VANCE MAJOR's CONSTAR CHRONICLES saga, passed away at the too-young age of 56 after battling an illness that he could not defeat.
Vance contacted me yesterday to ask if I would write a blog about Steve and noting his passing. Unfortunately, I did not know Steve and never even met him, and aside from watching his performances as Korath and occasional appearances on the CRITICAL NOT CYNICAL video podcast, I knew nothing about this unique man. So I suggested that Vance, who was quite close to Steve as both director and friend, write Steve's eulogy, and I would publish it here.
I now turn the blog over to Vance Major…
---
My loyalty is to my house, as your loyalty is….
– Krorath ("Much Afraid")
How do you sum up the life of one man into a few paragraphs? You can't. Something is going to be overlooked. All I can tell you is what Steve Atwell meant to me and his impact on this community. He is known by so many of us as "Fan Films' Greatest Klingon" for a reason: he lived the part so much.
I met Steve a few years ago at TOPCON when STARBASE STUDIOS had been part of the event, and I was asked to help out with the bridge there. As people from every fanbase walked by, I noticed this cosplay of a Klingon that was so detailed that I had to know who guy was.
I followed Steve around for a while before approaching him, as he is a pretty intimidating guy…especially in Klingon garb! But he was so warm and receptive to me and my questions. We discussed what I was doing in fan films and his involvement in cosplay and exchanged information.
It was a little over a year before I actually was able to get him into a film, as I was still new to creating my films at the time. But he took to it really well, and we became fast friends. I trusted him to change dialog if it didn't fit what a Klingon would say, as he was not just an actor, he was a guy with experience with Klingon culture. It stemmed from cosplaying for years as the character of Krorath. He lived this. When I brought Steve on, it was not me making the character of Krorath for him, it was more like we were bringing his character of Krorath from cosplay into the fan films, and it worked. We had a trust that I began to put on screen that was very much behind our characters…a bond, if you will.
Continue reading

"R.I.P. – STEVE "KORATH" ATWELL (1967-2023)"