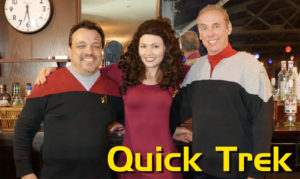 For the last couple of years, if you wanted to see the USS Voyager and its crew in a Star Trek fan film, the place to look has been STARFLEET STUDIOS in Iowa (not to be confused with Starbase Studios; that's a whole different life form) and show-runner DAVID WHITNEY.  David is an avowed Voyager fan and has already made a name for himself and his production company with a series of Voyager Continues fan films including the half-hour long RAVEN from 2016 and the short fan film DERELICT.
With plans in motion for more Voyager and Raven productions, David has also busied himself with a new and unique series of five "QUICK TREKS" (not to be confused with Short Treks, since David's fan films came first), each running between two and four minutes.  The first Quick Trek debuted last November and focused on Captain Janeway's quest to order a simple cup of coffee while being "thwarted" at every turn by a friendly and helpful barista.  Take a look…
The next four episodes of Quick Trek were all released nearly simultaneously at the end of May 2018 and shifted the setting to a Cheers-like bar and even featured the Cheers musical theme during the intro and over the closing credits.  This time, the characters were a motley crew made up of Counselor Deanna Troi (played by TAWNYA HOLLY), an unnamed Vulcan (played by JIM VON DOLTEREN of the fan series Starship Republic), along with Harry Mudd and Chakotay (both played by DAVID WHITNEY).
Here's one of their "Cheers" episodes to give you a taste of what these other four Quick Treks are like…
I'll save the rest for the later in this blog.  Right now, I'd like to share with you what turned into a very surreal interview with the always-surprising David Whitney…
Continue reading "QUICK TREK brings IMPROV to Trek fan films! (interview with DAVID WHITNEY)"