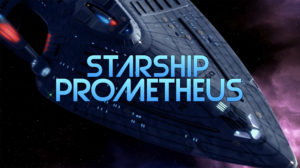 I've got some good news for you and I've got some bad news.  I also have some neutral news, and I'll start with that.  The fan film formerly known as Star Trek: Raven, later known as Voyager Continues: Raven (or was that Raven: Voyager Continues?) will now be known as STARSHIP PROMETHEUS…with its pilot episode being "Raven."  Is that all perfectly unclear?
The original RAVEN fan film was released in October of 2016, one of the first fan films to come out after the fan film guidelines were announced a few months earlier (although filming for the production had wrapped prior to the guidelines).  Initially, show-runner DAVID WHITNEY of Starfleet Studios in Iowa was prepared to challenge the guidelines openly by releasing Raven in defiant non-compliance with the new rules.
Ultimately, though, he only broke two of the "no-no's"—the video was 30-minutes long but wasn't released in two separate 15-minute parts, and the title appeared as Star Trek: Raven (the guidelines sy you can't use the words "Star Trek" in your fan film title).  However, the title appeared in the YouTube description as RAVEN: Voyager Continues – A Star Trek Fan Production.  So David kinda half-followed the guidelines in that department.
In the end, CBS took no action (and probably no notice).  After all, this was still the "transition" period just after the guidelines were released, and fan films released at that time seemed to be allowed a bit of leeway.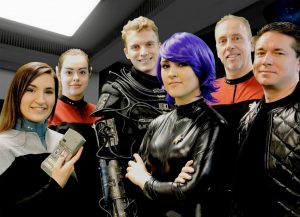 Since then, Raven has generated an impressive 130K views.  The cast was a mix of older Star Trek fans who weren't necessarily actors (including JIM VON DOLTEREN in one of his earliest Trek fan film roles—he would later go on to appear in The Federation Files, Starship Republic, and the upcoming Convergence) plus young fashion models…truly an interesting mix!
And even though it was called Voyager Continues (in addition to being called Raven), there was only one brief scene buried in the closing credits showing Seven-of-Nine (played by CAT ROBERTS, who has also appeared in multiple fan series including Star Trek Continues, New Voyages (an unreleased episode), The Federation Files, and The Red Shirt Diaries).  Although the missing starship Voyager was discussed, nearly all of the action in Raven took place in the Alpha Quadrant.
Okay, so what's the good news and what's the bad news…?
Continue reading "VOYAGER CONTINUES: RAVEN is now STARSHIP PROMETHEUS…adds new CGI footage!"