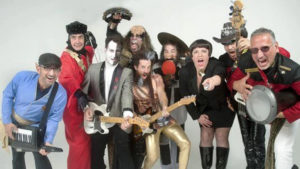 If you've popped on to the Fan Film Factor "CROWDFUNDING NOW" page over the past two months, you probably noticed the link to the $9,500 Kickstarter for The Roddenberries Star Trek Band Boldly Goes to Album II.
I admit to having been pretty nervous about this one.  After 9 weeks, with only a few days left to go until the final day of May 4, they hadn't even gotten to the 50% mark.  I saw The Roddenberries in Las Vegas at the 50th Anniversary Star Trek convention, and I thought they were awesome.  I even have a copy of their first album CD sitting right here on my desk.
I felt slightly guilty for having not pushed theur Kickstarter more here on Fan Film Factor.  But I was also trying to spotlight the campaigns for The Holy Core (in March) and then The Romulan War (in April…and still going on).  And with another new Indiegogo being spotlighted later this week, well, I don't want it to seem like all I do is ask you guys to donate your money!
Anyway, with the clock ticking down, the galaxy's premiere Star Trekkified, multi-media sci-fi rock cabaret seemed in danger of falling short of their Kickstarter goal and getting zero, zip, zilch, nada.  And having been away from my computer most of the day on their final day Friday and Saturday, I didn't check their campaign page until Sunday.  I suppose on some subconscious level, I didn't want to face the frustrating news that they'd failed to reach their goal and got nothing.
When I did finally visit their Kickstarter page last night, I was shocked to find their project successfully FUNDED with $9,745 from 109 backers!  Apparently, according to updates, they reached 60% with just 17 hours left and crossed the 70% mark with just over an hour to go.  Where that final $3,000 came from isn't clear, but it doesn't really matter.  The fact is that The Roddenberries made their goal, they get their money, and best of all, fans will soon hear a new album and see a new music video.
And speaking of music videos, let's all raise a glass of scotch with the band to celebrate this great news.  No pressure…
Visit The Roddenberries website for even more of their great music!