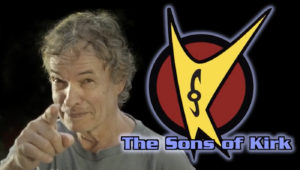 It took Star Trek and sci-fi actor GARY GRAHAM just 33 hours to hit his $5,000 goal on a Kickstarter to help fund the first official studio album and music video for his rock band THE SONS OF KIRK. Gary's band plays songs with Star Trek and sci-fi themed lyrics inspired by Gary's own personal experiences playing various characters not only on Star Trek: Enterprise and Voyager but also in Alien Nation and in the Trek fan films Of Gods and Men, Renegades, and Prelude to Axanar.
The real goal for this Kickstarter was actually more ambitious: $15,000 to produce an extended album and multiple music videos.  The $5,000 goal was set simply to make certain they reached their goal and didn't miss out on the money entirely (as Kickstarter gives you nothing if you fail to reach your goal).
But Gary and the band needn't have worried.  Less than a day and a half after going live, they blasted past that $5,000 goal.  They'd now be able to produce an album with at least six full songs.  So they next set a series of stretch goals, each upping the total a little bit more in increasingly larger chunks:
$7,000 – Song #7 (unlocked)
$8,000 – Song #8 (unlocked)
$10,000 – Songs #9 and 10 (unlocked)
$13,000 – A second music video (unlocked)
$16,000 – A third music video of an unoffical bonus acoustic jam (unlocked)
$19,000 – A final video of the band rocking out live at Star Trek Las Vegas
The $16,000 stretch goal was reached late Sunday afternoon, and that leaves only the last stretch goal to achieve.  The Sons of Kirk just performed as the house band at Creation's 2018 Star Trek convention in Las Vegas a week ago.  I'm guessing they shot footage.  The question is: will we fans get to see it?
We'll know in just about 58 hours (as I type this).  Right now, they're at $16,288 from 213 backers.  If you haven't donated yet, or if you want to up your donation to send them over the top, click here.