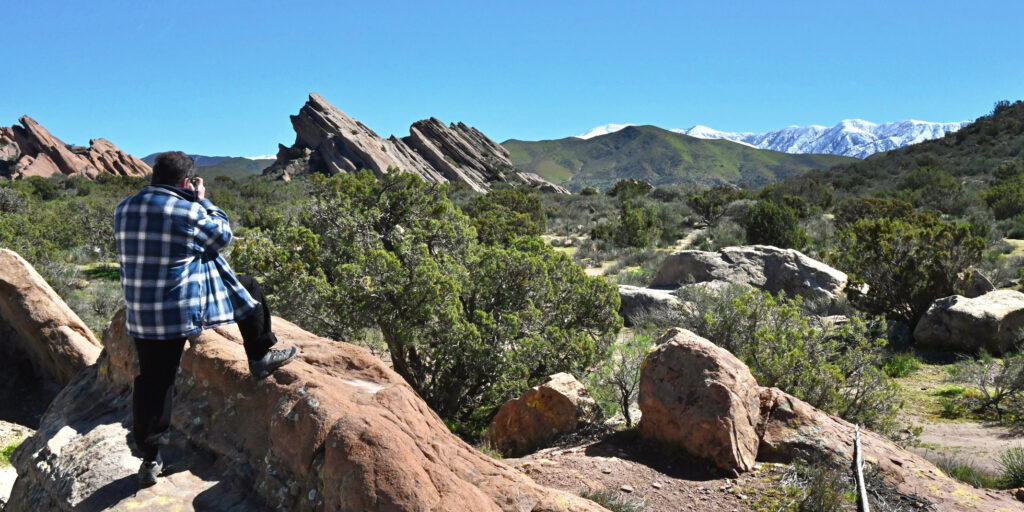 This is going to be a different kind of blog, and admittedly a wee bit self-indulgent. If you just come for the fan films and streaming Trek reviews, feel free to skip this blog…although a few fan films have, in fact, been filmed at the iconic VASQUEZ ROCKS—a frequent outdoor shooting location for numerous Star Trek episodes and movies.
Some of you might know that I'm a bit of a photography buff. In the springtime here in southern California, I'll often drive hundreds of miles to the middle of nowhere to spend my day capturing amazing wildflower vistas on film, leaving home before dawn and returning long after dark. They say that one of the secrets of great nature photography is being in the right place at the right time. And if you're not in the right place, the timing won't matter.
That said, you may have seen on the news that the weather here in the Los Angeles area has been a bit ridiculous lately—and I don't want to make light of it. People living in the mountain communities north of San Bernardino are literally trapped in their homes under 10-15 FEET of snow, with local stores and gas stations empty and closed because delivery trucks can't make the trip up the winding roads to towns like Running Springs and Big Bear. A state of emergency has been declared, and the national guard has been called in to help.
On the other hand, this much snow in southern California is a once-in-a-generation rarity, and while I literally can't do anything to help those poor people living above 6,000 feet elevation (I can't even get up there under current road conditions), I nevertheless wanted to record this event on film in some way—not the emergency, per se, but the beauty and rarity.
A few days ago, a friend e-mailed the chat list of a local Star Trek fan club that I belong to. The group is planning a trip to Vasquez Rocks on Saturday day (sadly, I'll be in San Diego that day at a robotics tournament for my son and won't be able to join them), and this member reported that there was snow in the adjacent town of Agua Dulce, and the park might be closed on Sunday.
I imagined those amazing diagonal rocks covered in the white stuff and decided I had to go see for myself1 Of course, this would need to happen between the time I drop off Jayden at school at 8:15am and pick him up at 3:15pm. But since the park is only a hour's drive away (mostly on freeways), that seemed doable.
The first clear day without rain or heavy wind was Thursday, and so I called up my buddy (and associate producer of my fan film INTERLUDE) David to see if he wanted to play hooky with me, and away we went.
Continue reading

"A VERY scenic photography trip to VASQUEZ ROCKS…with snow in the background! (picture blog)"