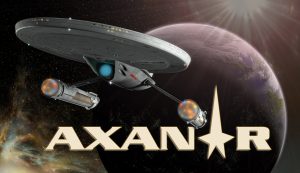 As I said yesterday, folks, mark your calendars for January 31, 2017.  Just as CBS gets ready to launch their new Star Trek TV series, the gavel will fall on the judge's desk to cal to order CBS and Paramount's lawsuit against Axanar Productions and Alec Peters.  Unless there is a settlement or mediation in the next eight and a half months, the most important case ever for fan films (in many people's opinions) will be litigated in front of a judge and possibly a jury.
Judge R. Gary Klausner ruled as follows:
Although the Court declines to address whether Plaintiffs' Claims will prosper at this time, the Court does find Plaintiffs' claims will live long enough to survive Defendants' Motion to Dismiss. For the foregoing reasons, the Court DENIES Defendants' Motion to Dismiss.
According to the Axanar website:
Winston & Strawn will now prepare our answer to the amended complaint, which is due in 14 days.
In the meantime, we continue our efforts to settle this matter  with CBS and Paramount so we can move forward with telling the story of AXANAR in a way that satisfies both the studios and the over ten thousand fans who financially supported our project.
And the (legal) adventure continues…