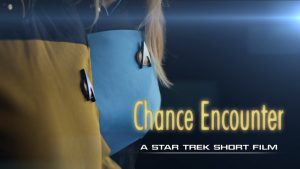 Back in May (a month before the new fan film guidelines were announced by CBS and Paramount), a fan production out of the United Kingdom set out to raise $2,500 in a Kickstarter campaign to fund a short Star Trek fan film called Chance Encounter.  They were successful and immediately began to build their one set (the interior of a Type-15 TNG-era shuttlepod), create costumes, and hire cast.
Then the fan film guidelines came out.  Would it be a problem for this production?  Well, the production is already intended to be a short one-shot film, so the first guideline limiting run-time to 15 minutes and forbidding a continuing series won't be a problem.  The title Chance Encounter doesn't have Star Trek in it, so guideline #2 is safe.  In fact, nearly all of the guidelines have been followed, including a Kickstarter that raised less than $50,000 (significantly less)…although perks were distributed.  Of course, the Kickstarter happened before the guidelines were released, so it's probably okay.
The only problem they might run into comes from this quote from their Kickstarter page:
We will audition professional actors. Once we have cast these actors, we will have to pay them to act in our film.
Uh, oh.  As Guideline #5 states:
The fan production must be a real "fan" production, i.e., creators, actors and all other participants must be amateurs, cannot be compensated for their services…
So unless the production decides not to compensate their cast, this will undoubtedly be one of the first fan productions to truly test the new guidelines.  Granted, because Chance Encounter was already in the process of casting when the guidelines were announced, it's possible that the studios will look the other way.  After all, nearly all the rest of the guidelines were followed, fan productions should be allowed a short transition period for those projects already in progress, and let's face it, it's not as easy to sue fans in a whole different country as it is to simply drive up the 5 freeway 35 miles to serve papers.
Hopefully, there won't be any problems at all.  Director Gary O'Brien and writer Paul Laight already have eight independent short films under their belts, and they're certain to do a brilliant job on number nine.  Just check out their latest update video to see their amazing progress on their shuttlepod set: