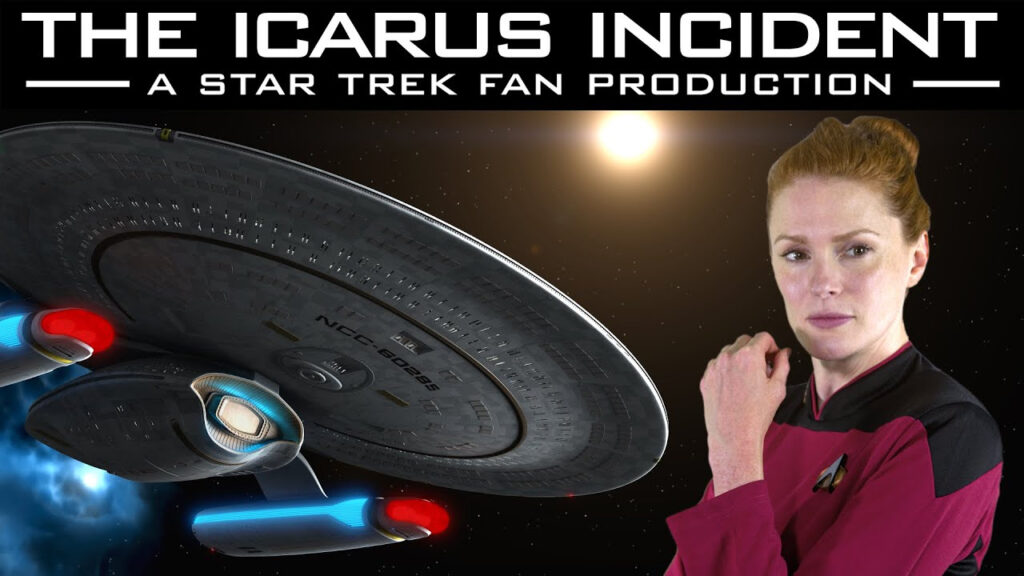 Last week, I presented the first of what will be three consecutive interviews with the very impressive female actors who have played (and will continue to play) leading roles in the TREK SHORTS fan series. British Czar of CGI SAMUEL COCKINGS has created an ever-expanding buffet of eye-popping Star Trek fan films compositing performers acting in front of green screens with ultra-detailed and realistic-looking digital backgrounds recreating starship interiors from the 23rd through the 25th centuries of Starfleet history. Then he combines these live-action scenes with uncanny VFX shots to bring to life character-based stories in ways that few fan filmmakers can.
Before I go any further, this is a good time to remind readers that Sam is currently trying to raise $35,000 to make even more Trek Shorts. There's less than a month left, so don't wait to make a donation…
https://www.indiegogo.com/projects/trek-shorts-2022-by-fans-for-fans
Since the kick-off of Sam's previous Indiegogo campaign a year and a half ago, he's already released an impressive EIGHT Trek Shorts fan films:
NEW MISSION (a Stargate SG-1 tie-in)
THE ICARUS INCIDENT
DUTY CALLS
And more will be completed and released soon, with several others waiting to be crowd-funded.
I covered The Tholian Gambit last week along with an interview with lead actress NIMRAN SAUND, who has appeared in no less than five of Sam's films (see last week's interview for links). This week, I turn our attention to another skilled thespian, the talented ALEXA BROWN, who reprises her role of Captain Joan Keller of the U.S.S. Vigilance for the first time in a Trek Short entitled The Icarus Incident.
Wait a second! Did I just says "reprises her role for the first time"? Yes, for the first time in a Trek Short. You might recognize Alexa's character of Captain Keller from another excellent fan film from filmmaker GARY O'BRIEN (also of Great Britain), THE HOLY CORE, originally released in mid-2019. Sam brought in Alexa to play the same role in a Trek Short that was released back in August of this year, which you can watch below…
Pretty good, huh?
Alexa's character is actually replacing the role of Captain Alexander Richardson, played by Dutch actor and showrunner of STAR TREK: DARK ARMADA, ROBIN HIERT. Robin was supposed to appear in the mega-fan film crossover project, CONVERGENCE, which Sam had crowd-funded back in late 2018 and was delayed due to the multiple COVID lockdowns in Europe. "Robin was set to join us for our June shoot as late as January 2022," explains Sam. "However, in February, Robin's real life took over, and we didn't hear from him for a long while. At that point, he left the project, but we had still set a June Convergence shoot, as we were long overdue." And that's when Sam reached out to Alexa Brown.
Continue reading

"The women of TREK SHORTS, Part 2: THE ICARUS ENCOUNTER (interview with ALEXA BROWN)"