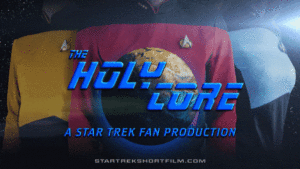 One of my favorite Star Trek fan films is CHANCE ENCOUNTER, co-written by PAUL LAIGHT and GARY O'BRIEN, and directed by Gary.  This 20-minute, TNG-era fan film was a perfectly-acted love story with wonderful music, tight editing, very nice costumes and uniforms, and even some physical TNG-era sets.  Usually for this era, fan films just shoot actors in front of green screens and composite in the complex 24th century starship interiors as background images.  But these guys built an actual shuttlepod cockpit and turbolift set.
It's been over a year since Chance Encounter debuted, funded with the help of a Kickstarter campaign that raised £1,862 (about $2,700).  Since then, many fans have wondered when we might see another fan production from this team.  The answer was revealed last Thursday when Gary and Paul launched a new Kickstarter for their second project: THE HOLY CORE.
This time, they're trying to raise £8,700 (approximately $12,000) for a much more ambitious production.  This one will be 30-minutes long, following the fan film guidelines and split into two 15-minute parts.  Once again, there will be physical sets, this time augmented by CGI backgrounds.  Here's a test shot that appears on their Kickstarter video: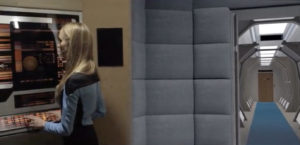 And that's just a TEST…wait'll they shoot the real film!!!
And for anyone wondering if this'll be just another love story disguised as a Star Trek: TNG episode, the answer is no.  This time, things will be much more fast-paced and filled with deep ethical and moral questions.  The crew of the USS Vigilance, a Nebula-class starship, has a mission to help the inhabitants of the planet Vita II.  But things aren't as they first appear, and the crew must wrestle with the difficult topics of faith, science, sacrifice, and destiny itself.
Assuming Gary and Paul reach their goal (they are already 15% of the way there after just five days…including $175 from me), they intend to release the completed fan film next February or March.  I'd really like to see that happen, folks
As such, I'll be publishing reminders about this Kickstarter over the next three and a half weeks, and I hope you'll join me in both donating and spreading the word.  This one is really worth it!
And now, here's a message from show-runners Gary O'Brien and Paul Laight…
Continue reading "Why you ABSOLUTELY should DONATE to this KICKSTARTER for THE HOLY CORE (from the makers of CHANCE ENCOUNTER)!"