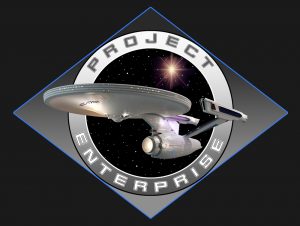 Recently, I featured a 2-part interview with Paul Olsen, the man responsible for the breathtaking opalescent paint job of the refit Enterprise from Star Trek: The Motion Picture.  Together with the designer and builder of the original model, Paul is trying to raise $3 million to recreate that model, bigger, more sturdy, and with all modern electronics within a custom 4D viewing chamber.  The model would travel around the world to be enjoyed by Star Trek fans everywhere.
But $3 million is a lot of money, and way beyond way could be raised from simple crowd-funding.  So Paul is planning to do a concerted public relations campaign, coordinated by a major PR company, targeted at bringing in major corporate sponsors like Enterprise Rent-a-Car, SpaceX, Boeing, and many others.  So instead of needing $3 million, Paul just needs $50,000 to fund the PR effort.  In fact, the PR effort is only intended to raise the first $450,000 to get them started.  Then, with the studio and materials in place, Paul can negotiate documentary rights to bring in the completion funding of $3+ million over the two years of the rebuild.
To endeavor to raise that first $50,000, Paul and his team launched a Kickstarter campaign.  Aided by spokeswoman Nichelle Nichols and supported by Rod Roddenberry and Tim Russ, the campaign got off to a strong start.  But in the end, it failed to reach its $50,000 goal, falling significantly short and raising only $22,354 from 139 backers.  And when a Kickstarter doesn't reach its goal, the campaign gets nothing.  So back to the drawing board…
In this case, "the drawing board" is a brand new crowd-funding campaign on Indiegogo!  Many other Star Trek fan endeavors have recently made the jump from Kickstarter to Indiegogo , including Star Trek Continues, Renegades, and Pacific 201.  Indiegogo has three major differences from Kickstarter.  First, even if it fails to reach its published goal, a campaign still gets to keep all funds raised.  Second, donors pay as soon as they pledge, whereas Kickstarter doesn't charge credit cards or PayPal unless a campaign is successful first.  That means Indiegogo donors can get their perks almost immediately.  And third and possibly most significant, if an Indiegogo campaign exceeds its goal, it can continue to be active and raise more money as an "In Demand" status even after the initial period of the campaign expires.  Axanar managed to raise an additional $100,000 in the five months after its Indiegogo campaign "ended" back in 2015.  Renegades and Pacific 201 still have active Indiegogo campaigns in "In Demand" status."
I asked Paul Olsen about the "lessons learned" from his experience with Kickstarter…
---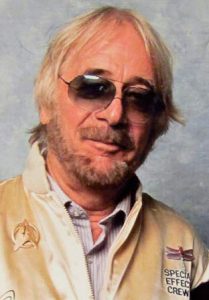 PAUL OLSEN: I went with Kickstarter as opposed to Indiegogo in the first instance because Kickstarter has a MUCH broader reach from the get-go.  BUT, as a crowdfund newbie, I made a mistake in following Kickstarter's emphatic suggestion to "set your goal for what you need" to complete your project. That suits someone making a "thing" that requires a certain amount of money to be made. I was looking for an amount to help me get the publicity I needed to spread the word to get started on making that "thing"…which is a totally different goal. Plus I had the great bulk of my reward perks already on hand.
But by setting my total funding target out of the blocks, without having the social media footprint I really needed (even though I spent a total of $1500 on various crowdfund helpers and did all I could on Facebook and Twitter), I just didn't reach enough of the people I needed to reach.
This lends credence to my wanting to hit the mainstream media through a top PR agency to reach those people who I know are out there in their millions all over the world and who love the Enterprise and want to see her.
On Indiegogo, with a much lower goal and unlimited time, I can continue to expand my footprint, and at the same time give all my backers their rewards as soon as they choose them.  In the Kickstarter case, 45 days went by, and the people who pledged were not satisfied with their wanting to help OR in receiving their rewards. We all lost out.
A lesson learned.
I still have to reach a minimum $50K to launch an effective PR campaign, so I'll keep pushing until I reach that goal, which I can now do on Indiegogo, remembering that approximately $5K of that is for fees, and another $5K for rewards, leaving me with $40K to work with…a bare minimum for a three-to-five month PR push.
With the U.S. election, followed by Christmas coming up, I have the time to reach more people around the world, since it makes sense for the big PR push to begin after Christmas.  But in the meantime we have some fabulous perks that will make great Christmas presents!
---
You can get those perks immediately by donating here at their Indiegogo page:
https://www.indiegogo.com/projects/project-enterprise-phase-two-of-3
In the couple of weeks since their relaunch, Project: Enterprise has managed to regenerate more than $13,000 of its Kickstarter donations.  There's a cool set of perks, that are exclusively available through this campaign, so check them out if you get a chance…