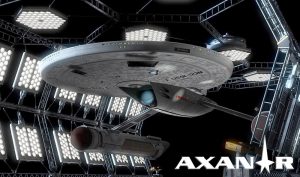 Just imagine: going to FAN FILM FACTOR and not seeing the words "AXANAR LAWSUIT' at the top of the home page…
It could happen!  Yesterday, the two sides had a court-mandated meeting to discuss ways to settle the case before going to trial.  Most lawsuits settle before ever reaching trial (like 90-95%, I'm told) because it's usually not worth the cost and the risk of losing to ether side.
Also, full trials take up a LOT of time in court.  So far, the Axanar case has required only a few hours of a judge's actual time on the bench (plus some extra time in chambers reviewing filings).  But an actual trial can take days or even weeks to finish, plus the costs of sitting and potentially sequestering a jury.  So it's often in the best interests of the legal system, as well, for cases to settle rather than coming to trial.
And so Judge R. Gary Klausner (the main judge in the Axanar case) ordered both sides to try–really try–to come to an agreement…a compromise where both sides give a little and get a little.  Magistrate Judge Charles Eick, who had just made two major rulings in the discovery phase, was told to facilitate the settlement talks on Monday.
None of us really knew what to expect…not even Alec Peters himself.  Previous settlement offers from the studios, it was reported, were pretty harsh in their terms.  Rather than making an offer Alec couldn't refuse; they made one he couldn't accept (details are unknown, of course…unless somebody leaked something).  Likewise, I'm certain Axanar's counter-offer to the studios during previous settlement attempts wasn't that thrilling either, as CBS and Paramount didn't accept what Axanar was offering.
And so things kept going…until yesterday.
Had you asked me to give odds, I would have said 75% chance of not settling.  Why?  Alec has little if nothing to lose.  As I said in previous blogs, the chance of losing big is minimal for him, and the chance of making a huge name for himself as the "David" who conquered the "Goliath," while also minimal, might be attractive…as would the possibility of ultimately making his beloved fan film.
As for the studios, they need to come out looking like they won.  CBS and Paramount are allowing Star Trek fan films, but only on their terms.  Alec Peters and Axanar represent a possible (and very public) exception to that rule.  If Alec comes out of this lawsuit getting what he always wanted anyway, the studios have a very troubling precedent on their hands…and a potential loophole other fan films could possibly exploit.  So it's in the studios' best interests to smack down Alec Peters and smack him down hard…and a settle isn't a smack down; it's a compromise.
But that still left, in my mind at least, a 25% chance of an actual settlement.  Would the two sides be able to come together–meet in the middle at least a little?  I know some people (not just at the studios) want Alec Peters obliterated down to the molecular level.  A settlement wouldn't accomplish that.  He would come out somewhat ahead, somewhat behind…and so would the studios.
Like many people, I was on pins and needles wondering what had happened in Monday's settlement talks.  Fortunately, I only had to wait until 9:23pm Pacific Time to find out (having just gotten back from trick or treating).  Alec Peters posted the following comment to the Axanar Fan Group on Facebook:
OK all, just got home from the Court mandated settlement mediation. We did not reach a settlement, but we are close. We will know by week's end, as the attorneys have a call with Judge Eick Friday.
Everyone needs to manage their expectations. A settlement means neither side gets exactly what they want.
Well, well, well…so much for my 75% chance of things going to trial!  Seems like it might be the opposite.  Being close to a settlement is actually a very good sign.  Usually the last few details are negotiable rather than deal-breakers.  And for those of you thinking that the attorneys for the two opposing sides simply hate each others' guts and will never be able to work anything out, that's actually not true.  I spent a half hour in the courtroom before the hearing on Friday, October 21, chatting with two lawyers each from Winstron & Strawn and Loeb & Loeb.  They were all friendly to each other, jovial, joking, telling stories…it was like players from two different sports teams who compete hard on the playing field and then go out for drinks at a bar after the game.
So what will the settlement bring?  It's hard to say, and we may never know for certain.  (And no, no one has told me ANYTHING…and believe me, I've tried like the dickens to find out!)  But there will be some telltale signs to look out for, at least in my opinion based on things Alec has said publicly and things which are pretty obvious.
1. Is Axanar over?
The biggest question will be: will there ever be any more Axanar in any form–following the guidelines or not?  If so, then you'll probably be able to figure out what one of the terms of the settlement was.  And if there isn't, well, then you'll still probably be able to figure out what one of the terms of the settlement was.
2. Does the studio get shut down?
A similar question goes to the continued existence of Ares or Industry studios.  It was paid for with donated money based on fans wanting to see a Star Trek fan film.  It was intended to produce Axanar but also to be rented out to other fan filmmakers.  Does the Valencia, CA studio move forward or close down completely…or evolve in some way?  Does Alec Peters remain involved or not?  Can the studio crowd-fund to keep itself open until productions rent the space?  The fate of Ares/Industry studios could give us all a clue of what was in the settlement.
3. Will any money change hands?
Alec was facing a potential judgement in the millions if he lost a worst-case scenario ruling.  But if he won, the studios faced a counterclaim that could have been in the mid-six-figure range.  Is it a wash?  Will one side write a check to the other?  We'll likely never know unless we see Axanar getting made with no additional crowd-funding campaigns needed because Alec and/or Axanar Productions is funding everything itself.  On the other hand, just because we do see more crowd-funding doesn't mean there wasn't some kind of pay-out.  And of course, maybe Alec will have to pay something to the studios instead.  This one, I suspect, will remain one of those mysteries we never learn the answer to…like where all those lost socks go when they disappear from the dryer.
4. Will there ever be a documentary about this?
And finally, there's the hoped-for documentary film "The Battle of Axanar" that Alec has mentioned a couple of times publicly (and I've mentioned previously on FAN FILM FACTOR)…telling the story of the creation of this fan film and the legal struggle that ensued.  (I want Patton Oswald to play me!)  Will that film ever get made?  Does the studio want it to get made?  Can the studios stop it?  Does that become a bargaining chip in the settlement negotiations?
Just to be clear, once again, I really do know nothing about any of the details of this.  This is all pure speculation…absolutely pure!  But until we know any more, we will all pretty much know nothing–except for Alec, the studios, and all of those darn attorneys.  And even once we do know something, it'll likely just be either that the case is settling or headed for trial.
And according to Alec, we'll know more on Friday.  So stay tuned!