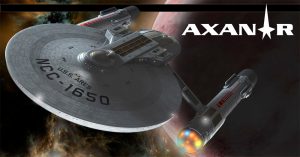 Last time (and the time before that), we took a look at the defense's DEFENSE Motion for Summary Judgment in the AXANAR copyright infringement lawsuit.  Now it's time to take a look at the PLAINTIFFS Motion for Partial Summary Judgment and see what they have to say.  And they certainly have a lot to say (as did the defense).
The first question you might be asking is why the plaintiff's motion is only for a partial summary judgment.  The answer is actually rather simple.  They aren't asking for the judge to stop the entire case, only the parts where the plaintiffs could lose and the defense could win.  In other words, they want Judge Klausner to say that the defendant Alec Peters infringed and shouldn't be allowed to make any more Axanar anything.  But, you ask, isn't that all there is…is there nothing more?  Oh, there's one more thing still to determine…
The monetary award.
From what I've been told, the plaintiffs might not want to actually ask for the full amount ($8.55 million if Alec is found guilty of all 57 violations and the judge decides they are willful violations…at $150,000 per violation) because:
The plaintiffs might look like bullies if they seem like they're trying to utterly destroy the "little guy" defendant, and/or
They actually might get MORE if they DON'T give a specific number.
Ah, greed.  But remember that the plaintiffs, if they win, can ask for EITHER statutory damages (the $150K per violation as I mentioned above) OR they can ask for damages for the financial harm they've incurred and might still incur because of Axanar.  They say in their motion that "monetary damages are inadequate"–meaning that they'd better get paid a lot and even THEN it won't be enough!  Maybe the judge will agree.  Who knows the horrors he might bring down on poor Alec Peters!  Why put ideas in the judge's head?  Better to let him rule on the partial summary judgment first and then, once the outcome is locked in but the case still isn't officially over yet, wait for him to ask the plaintiffs, "Well, what do YOU think the penalty should be?"  Oh, the delight of the studios if and/or when that happens!
---
Okay, let's start looking at this 20-page filing (the same length as the defense's motion).  The first thing one notices is what I said in the title of this blog: it really does seem like the defense and the plaintiffs are talking about two totally different fan films!  To better understand exactly how this can happen when we're talking about the same fan film, let's take a look at the choice of certain words that the plaintiffs have decided to use (I'll put them in ALL CAPS)…
Defendants hired professional actors, A NUMBER of whom had previously starred in the Star Trek television series…
…and feature, among many other copyrighted Star Trek elements, NUMEROUS specific Star Trek characters…
Now, let's change those two ALL CAPS words (phrases) only slightly and keep yet still keep to the same facts that the plaintiffs are citing:
Defendants hired professional actors, THREE of whom had previously starred in the Star Trek television series…
…and feature, among many other copyrighted Star Trek elements, FOUR specific Star Trek characters…
The three actors were, of course, Gary Graham (reprising his role as Soval), Tony Todd, and J.G. Hertzler.  No actor had been officially cast yet (or rather, announced yet) for the full Axanar feature (although Gary Graham appeared again as Soval in the short "Vulcan scene."  Likewise, the specific Star Trek characters that would appear in both Prelude and Axanar together would be Garth and Soval, of course, along with Robert April and Chang.  (It's not clear whether T'Lera is the same character as appeared in the novel Strangers from the Sky, so I'm not listing her.  But even if I did, that would bring the total to 5 characters out of 50, which means 90% of the characters appearing in the proposed full Axanar feature would be original.)
So yeah, it all depends on how one looks at it!  Does Axanar use "numerous" Star Trek characters or only 10% established characters and 90% new and original ones?  Is the full Axanar movie all but completed except for the actual filming and production, or is it a project still in flux which could be altered in numerous possible ways to avoid infringement based, in whole or in part, on the outcome of this case?
Keep all of this in mind as we go through the plaintiff's arguments.  Obviously, they want to present a "story" to the judge that will lead to them winning their case.  So does the defense.  But now that we've already looked at the defense's version of the "truth," it's going to be quite–shall I say it?–fascinating to look at how the plaintiff tells the "same" story…
---
In a "he said/she said" situation like this, it's important to make sure that you can come out of the starting gate and establish the facts are all on your side.  So the first thing the plaintiffs do in their motion is to try to define all the terms and labels in the case and then do what they can to cherry pick Alec Peters' own words to hang him (figuratively, of course) in the eyes of the judge.  Take a look:
Prior to the filing of this lawsuit, Defendants unequivocally declared that they were creating a "professional" Star Trek film, with a Star Trek storyline and Star Trek characters. Although Defendants' counsel has repeatedly referred to the Axanar Works as "fan films," this is a legally irrelevant designation, as there is no special treatment afforded to fan films under the Copyright Act. Moreover, the Axanar Works are not "fan films" (amateur works created by fans simply for the fun of it). Rather, the Axanar Works are exactly what Defendants proclaimed them to be prior to this litigation – professional productions that are intended to be unlicensed "independent" Star Trek films for which Defendants received financial remuneration, and which were targeted at the same audience as Plaintiffs' Star Trek movies and television programs.
What I find most notable about this is the plaintiffs suddenly providing what seems to be a generally-agreed-upon definition of "fan film": amateur works created by fans simply for the fun of it.  You might remember in their portion of the 60-page Joint Stipulation document that the plaintiffs said the following on page 31:
[Plaintiff] further objects to this Request on the grounds that the term "fan films" is vague and ambiguous.
I would expect the defense to throw this comment back a the plaintiffs and concur that there is no generally agreed upon definition of "fan film"…and certainly not one that includes the word "amateur" (as many of the previously-allowed "fan films" like Star Trek: New Voyages, Star Trek Continues, and Star Trek: Renegades have also paid cast and crew members to participate).
As such, Alec Peters' previous comments about Axanar being a "professional" Star Trek film may not be as relevant as the plaintiffs might expect or want.  As it happens, there is nothing in copyright law that prevents someone from being financially or professionally successful if they prove "fair use."  If they don't, however, then yes, any profit that Axanar Productions made could be tagged onto a judgment in addition to actual financial damages to the studio(s).  However, that would require plaintiffs to prove actual damages…which could be challenging with such a large media property as Star Trek.  I'll go into this a little more in the next (and final?) part of this blog series.
The plaintiffs go on to state more facts.  For example, they own Star Trek.  All of it?  Well, they didn't exactly say that.  Here's what they DID say (and man, if you didn't read super-carefully, you would have totally missed it–I almost did!):
The series chronicled the adventures of the U.S.S. Enterprise (one of the ships of "Starfleet") and its crew as they traveled through space during the twenty-third century, featured numerous original and copyrightable elements, including but not limited to elements such as the plots of the episodes, mood, dialogue, theme, characters, settings, as well as the Starship Enterprise…
Did you just see what I saw?  Their series featured numerous copyrightable elements…not numerous COPYRIGHTED elements!  These copyrightable elements include but are not limited to a whole bunch of stuff.  BUT!!!!  Did the studios ever bother to actually copyright it all?  Is Garth of Izar actually copyrighted?  Is Soval?  Is Chang or Robert April?
Later on the motion does state the following:
There is no genuine dispute that Plaintiffs own the films, television series, and novels that comprise the Star Trek Copyrighted Works. Plaintiffs also own the characters portrayed in the Star Trek Copyrighted Works, which include the Klingon and Vulcan races, Ambassador Soval, and Garth of Izar. These characters have "physical as well as conceptual qualities" and are "sufficiently delineated" in Plaintiffs' works so as to merit copyright protection.
But here's where it gets potentially interesting.  I've been told (although I still need to look it up) that the studios never bothered to copyright minor one-episode characters like Garth.  They certainly copyrighted Kirk and Spock and Picard and Data and Khan and all the major ones.  But what about Garth?  What about Chang and Soval and Robert April?  Are there specific copyrights for them?
Or do the studios, by default, own everything and everyone that appears in Star Trek…every character that ever appeared in an episode or movie?  If you're about to say, "Of course, they do!" then riddle me this, Batman: do they own Abraham Lincoln?  Do they own Isaac Newton, Albert Einstein, and Stephen Hawking?  Do they own Samuel Clemens (Mark Twain)?  Do they own Amelia Earhart and Leonardo da Vinci?  All of these "characters" appeared in Star Trek episodes.  Now, before you say they are all obviously real people, not characters, does CBS or Paramount own Sherlock Holmes or Moriarty?  Robin Hood and his Merry Men?  Rumpelstiltskin?  They all appeared in Star Trek episodes, too.
You can see how an "umbrella" copyright of everything and everyone ever shown in Star Trek could be problematic.  Now, if the copyright only goes for original characters unique to the series, then yes, the plaintiffs have a good argument.  But then, so does the defense if their characters are also unique.  Prelude to Axanar had four entirely new characters and two from actual Trek…one of whom was portrayed very differently from his previous appearance in "Whom Gods Destroy."
Before some of you start jumping down my throat for seeming like I'm just tearing down the plaintiffs' case one brick at a time, that is not my intention.  I did a bit of this same "devil's advocating" for the defense, as well.  I'm trying to show all the reasons why the question of infringement might not be quite as cut and dried as one side or the other might think.  I really do believe this is headed for trial, despite two powerful motions from the plaintiffs and defense.  And if neither is granted by the judge, I want all of you to have at least a possible idea as to why.
The plaintiffs motion also says the studios own the novels Garth of Izar, Strangers from the Sky, and Infinity's Prism.  They go on to list the FASA Role Playing Game and one of its supplements, "The Four Years War," which Axanar was based off of.  But the question of transformative comes up again (at least in my head).  FASA was a board game.  Garth of Izar, Strangers from the Sky, and Infinity's Prism were novels.  Prelude to Axanar is a FILM.  Is that enough to claim transformation?  Maybe…maybe not.  This will be where both sides will likely wade deep into the reeds to establish position in a murky patch of legal swampland.
The plaintiffs go on to inform the judge (obviously with a bit of a spin–which is also what the defense did) about what exactly it is they are suing for:
Prelude copies the look and feel of the Star Trek Copyrighted Works, and includes plot points, mood, dialogue, characters, settings, and themes taken from the Star Trek Copyrighted Works. It features Plaintiffs' character, Garth of Izar, and describes and depicts his military exploits during the war between the Federation and the Klingon Empire. Prelude replicates the uniforms worn by Starfleet officers, by Klingon military personnel, and by Vulcan ambassadors.
They go on to include the following (rather damning) claim:
In this case, however, Defendants concede that they intentionally set out to, and in fact did, extensively copy Plaintiffs' Star Trek Copyrighted Works. Defendants' Axanar Works simply replicate Plaintiffs' plot points, copyrighted characters, including Garth of Izar, Ambassador Soval, Klingons, Vulcans, the Federation, the Starship Enterprise, Klingon battlecruisers and even specific settings such as the fictional planet Vulcan.
Well, if that's all true, then why even bother having a case at all???  Oh, wait, that's the whole idea of summary judgment, isn't it?
As in most sports, if only one team is on the field, it's pretty easy to win.  Somehow, though, I don't think the defense is going to be quite so willing to agree with all of the above claims by the plaintiffs.  Their story is MUCH different.
And with that, let's take a pause that refreshes and let our minds wrap around all of the above and our fingers type about it.
---
Next time, we'll finish up by looking at the concept of substantial similarity (hi, Mr. Hinman!), what the "heart" of Star Trek actually is, and what Jerry Seinfeld has to do with this case.  We'll also take yet another dive into that most elusive of prey: the "fair use" defense…this time from the point of view of the side that wants to obliterate it.  And finally, did the plaintiffs end their motion with a fatal flaw?
---
I'll likely not have the last part of this blog series up before the big U.S. holiday on Thursday.  So for my American readers who will be traveling to be with friends, family, and overfed flightless fowl festively feasted upon, I wish you a safe and happy Thanksgiving.  May you all find things you are thankful for.
I am thankful for all of you (yes, even the negative nellies and ranting ralphs) because you are taking the time to read what I am taking the time to write.  Truly, that means the world to me…so thank you all.