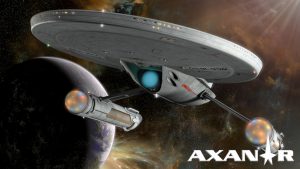 Last time, we began to analyze the DEFENSE Motion for Summary Judgment that was filed by the AXANAR legal team on Wednesday with Judge R. Gary Klausner of the Ninth Circuit Federal Court.
The attorneys for CBS and Paramount also filed a PLAINTIFFS Motion for Partial Summary Judgment, and I look more thoroughly into that in my next blog.  But the defense won the coin toss (yes, I actually flipped a coin to see which side would be analyzed first!).
When last we left off, we had just gotten to the "meat" of the defense's motion:
"FAIR USE" – WHAT THE HECK IS IT?
Well, here's the official explanation (I'll translate in just a moment):
To avoid "stifl[ing] the very creativity which [copyright] law is designed to foster," certain uses of copyrighted works are protected as fair use. In determining whether a work constitutes fair use, the four statutory factors to be considered are:
the purpose and character of the use
the nature of the copyrighted work
the amount and substantiality of the portion used in relation to the copyrighted work as a whole; and
the effect of the use upon the potential market for or value of the copyrighted work.
Courts will look to the totality of the circumstances and apply the four factors on a "case-by-case analysis" to determine whether fair use exists. Moreover, there is no bright-line rule for determining fair use. Thus, the four factors are not considered in isolation, but rather, are weighed together "in light of the copyright law's purpose to 'promote the progress of science and art by protecting artistic and scientific works while encouraging the development and evolution of new works.
So fair use was designed to keep copyright protections from turning from super-heroes into super-villains.  Yes, creative people need to be protected, but not at the expense of other creative people.  There needs to be a fair medium so that the very laws designed to encourage creativity don't inadvertently end up stifling it.
Granted, this doesn't mean it's the Wild West and anyone can just go copy anything they want to in the name of creativity!  But it does mean that the law has to consider whether copying a portion (large or small) of another work might actually be permissible under the right circumstances.
Let's look at how the defense is arguing for fair use, going through the four elements listed above, but slightly out of order)…
AXANAR IS NOT GOING TO FINANCIALLY DAMAGE STAR TREK
The effect of the use upon the potential market for or value of the copyrighted work – This is where the "Tale of Two Fan Films" starts to come in.  The defense sees Axanar as causing no financial harm while the studios see it as an imminent threat now and into the future.  I'll cover the plaintiffs' arguments in Part 3, but for right now, here's the crux of the defense argument:
Axanar is non-commercial, not being shown in theaters or even charging anyone to see it in any way…so there's no competition between the two properties in terms of distribution.
Axanar is distinct in having mostly new characters (only Soval and Garth have appeared before, and Garth was very different…and if the full Axanar movie ever gets made, it will have 50 more original characters).  The time period, plot, dialog, and theme (war) are also distinct from established Star Trek.  So Axanar doesn't diminish the "novelty" of Star Trek.
Axanar does not serve as a "substitute" for Star Trek.  Fans don't watch one and then avoid the other ( I know I don't!–I watch TOS each night with Jayden, and took him to see BEYOND twice in theaters!).  If large numbers of fans are watching Axanar and then abandoning studio Star Trek because of it, the plaintiffs haven't proven it yet.
Star Trek has benefited in the past from fan engagement through things like fan fiction and even from other fan films.  (Free advertising!)
The full Axanar movie hasn't even been made yet, so how can it be proven harmful tot he studios?
Remember, I'm just summarizing here.  You're welcome not to agree.  I have my own thoughts on this that I'll save for the end.
AXANAR IS BOTH NON-COMMERCIAL AND TRANSFORMATIVE
The purpose and character of the use – Again, the two sides couldn't be farther apart on this point, for but now, I'm summarizing the defense argument…
The non-commercial argument (for the defense) is purely about Axanar being distributed for free and therefore no profit is either intended or being made from Prelude or, potentially, from the full Axanar feature itself.  And yeah, the defense conveniently leaves out ANY mention of funding a "for profit" studio with donations…a point that is NOT forgotten when the plaintiffs have their say!
Star Trek has never done a pure documentary/mockumentary-style episode or movie before.  Rather than simply copying Star Trek directly, Prelude to Axanar was inspired by works such as "M*A*S*H," "Band of Brothers," "Babylon 5," "The Pacific" and "The Civil War."  Star Trek was never purely about the horrors of war (DS9 notwithstanding…although that aspect of the property was never mentioned specifically in the original complaint, so it's kinda off-limits now).
I just need to quote this directly, "This style allowed Defendants to add critical commentary and analysis in order to highlight a comparison of concepts in the Star Trek universe to the present-day military industrial complex, thus serving a "completely different purpose" than the solely entertainment-focused Plaintiffs'Works."  Um, well, would you like some help getting that argument down from the top shelf…'cause it's a bit of a reach.  Granted, critical commentary is, indeed, something that can support a fair use defense, but I'm not exactly certain the judge is gonna buy that this was the primary goal of this fan film.  Of everything I've listed so far, this one seems to be the least convincing.
AXANAR DOESN'T REALLY USE ALL THAT MUCH STAR TREK
The amount and substantiality of the portion used in relation to the copyrighted work as a whole – Before any detractors start writing their comments, let me summarize the defense's arguments on this one:

Their motion lists as an undisputed fact that "Prelude features an obscure character and original dialogue [true], is filmed in a unique narrative fashion [yeah, documentary style is unique in the genre of Star Trek], derives inspiration from many other works [also true–I did enjoy "Band of Brothers"], and is set in a previously unseen timeline [I'd say time frame, but yeah, we haven't seen 20 years before Kirk in Trek before], indicating that Defendants' use of Plaintiffs' Works was minimal."  Well, when they put it that way, then yeah, "minimal" seems like a reasonable word.  Of course, the judge might not be so easily convinced…

"Moreover, the Axanar Works 'do not use any clips, dialogue, plotlines or primary characters' from Plaintiffs' Works, further demonstrating that Defendants took only what was necessary to establish the context for their novel story."  This is actually important.  Having not used Kirk, Spock, McCoy, etc., Axanar avoided primary characters and so only used these two minor guest characters of Garth and Soval.  That supports the "minimal" argument, as well…along with not using clips or dialog from any filmed Trek anything.  Only the part about plotlines is vulnerable, as there was both a "Four Years War" and "Garth of Izar" book published.  But again, how close is the fan film to the published literature?  Did it transform enough?  We'll see…remember this is all about taking "the whole" into account, not simply the sum of its parts.

"Defendants' minimal use of Plaintiffs' Works pulls pieces from the Star Trek universe, but, such borrowing cannot be considered substantial, as it does not portray coherent, wholesale portions of Plaintiffs' Works."  In other words, we don't grab the entire Klingon plotline of Star Trek VI: The Undiscovered Country.  Instead, we're just planning to use Chang.  We might have shown the USS Enterprise for 10 seconds, but it was only being built in drydock and not out exploring strange, new worlds.  Again, minimal use.  Granted, still use without permission, but how much was used is important.

Now, the "Vulcan scene" by itself actually uses a lot of Star Trek source material: the Vulcan starships, Mt. Seleya, Shikahr city, and of course, Soval.  (NOTE from 3D artist Tobias Richter: "The ships are our design.  Similar, but nonetheless original.  And we based Shikar city on only one original building design from "Enterprise", so the copyrighted elements that might be infringing are only Mt. Seleya and Soval.")  Two arguments here: 1) that all was necessary to establish for fans that this planet was Vulcan, and 2) this scene was only three minutes…compared to the hundreds of hours of filmed Star Trek out there.  So again…minimal.  Well, maybe.

And finally, aside from two minor characters and a few other fringe elements, Prelude to Axanar was an entirely original story.  (True.)  Yes, it needed to use some aspects of Star Trek in order to tell that story within the established Star Trek universe (which CBS doesn't own…remember?–still pondering that one), but they used only the bare minimum necessary.  And again I say…well, maybe.
STAR TREK IS NOT AN UNPUBLISHED WORK
The nature of the copyrighted work – This is the least important of the four elements of fair use, but it's still in the equation.  There are two important aspects of this: 1) is the original work creative enough to warrant copyright protection, and 2) is it unpublished?

The first question is obviously a "yes."  Star Trek is totally creative and deserves copyright protection (as opposed to, say, painting someone's house bright orange and lime green…creative, yes, but not deserving of copyright protection).  But the second question, well, we need to talk about Gerald Ford again…
In the bottom portion of this blog, I discussed the case of former President Gerald Ford's autobiography and its effect on fair use.  The defense brings up this precedent-setting fair use case because one of the reasons the plaintiffs won in that case was because Ford's biography had not yet been published, and an author has the right to control the first appearance of his or her expression.  That's not an issue for Star Trek, which has been around for 50 years.  So in this one small way, the defense is trying to grab a tiny extra piece of fair use because the original work (Star Trek), while creative, is not waiting for its initial introduction to the world.  In other words, Prelude to Axanar would be much more of a problem for the copyright holders had it been released on September 7, 1966 or earlier.
So before I end part 2, let's take a final look at how the defense team summed up their argument for fair use:
Defendants' noncommercial works are transformative in that they tell an entirely original story, using original characters, and using only what was absolutely necessary from Plaintiffs' Works so that the original story takes place in connection to the vast Star Trek universe, albeit in an unexplored timeframe. Plaintiffs can point to no actual harm suffered as a result of Defendants' Works, and indeed, the only evidence is that Plaintiffs obtain free benefit. In weighing the factors together, Defendants' Works qualify as fair use.
Do I think it'll work and Judge Klausner will grant the defense motion for summary judgment?  Honestly, no.  But if he does, expect this story to explode across the entertainment newspapers and websites and TV networks.
But just because the argument doesn't work in getting the case thrown out, don't assume it won't work in trial.  In fact, the whole reason that Judge Klausner may decide NOT to grant summary judgment for the defense (if that winds up happening) might be precisely because he doesn't want to be the final word on setting this HUGE precedent in intellectual property case-law.  Most judges don't like to be accused of being "activists," so better to let a jury of 6 to 12 individuals take the heat.
Next time, we'll finally get to looking at the plaintiff's motion.  Do they have a chance of getting what they want, or are they in for a letdown?