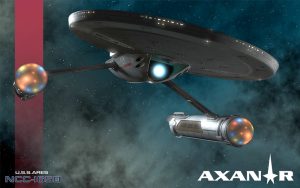 It was the best of crimes; it was the worst of crimes…or was it even a crime at all?  (Actually, this is a civil trial, not criminal…but I needed a word that rhymes with "times.")
Looking at the two motions for summary judgment filed late Wednesday night by the two parties in the AXANAR copyright infringement lawsuit, one might wonder if he or she had just read a tale of two completely different fan films.  The defense, unsurprisingly, had that "What…little old us?" look as they discussed a mostly original piece of creative fiction that used just the smallest sliver of Star Trek–and only the "minimum" that was necessary to tell its story that was actually a "critical commentary and analysis" of "the present-day military industrial complex."
Meanwhile, the plaintiffs painted a picture of a nefarious fan who maliciously tried to line his own pockets with ill-gotten gains taken from the good and just studios who have made Star Trek lo these 50 years.  His fan film contains nothing original and was simply a "…copy from the plots, themes, settings, mood, dialogue, characters, and pace of the Star Trek works."  The very existence of Axanar in any way will "…cause irreparable harm to the market for the Star Trek Copyrighted Works…" and must be ended immediately "in the public interest."
They can't both be right, can they?
Geez, where do I begin?!?  Well, how about at the end and working my way back.  My prediction is that neither side gets what they're asking for.  Judges seldom grant summary judgments that simply end a case without a trial (and that's what both sides are asking for).  And especially when both sides are so far apart in making their arguments, judges usually like to let a jury decide.  Only when the facts are so obviously undisputed (like "The sky is blue"…totally an indisputable fact) will the judge step in and say so.  When things are not so cut and dried, then many judges don't feel that only a single person (the judge) should decide them before a full trial can bring a more consensus ruling from a full jury.
There's also a tendency at this point for "fans" rooting for one side or the other to assume that this or that filing is the "knockout blow."  I am going to try NOT to do that.  My goal today is to look solely at the motions themselves.  Yes, there were many, MANY supplemental documents filed alongside the motions, with hundreds of pages of supporting evidence–including my 128-page "History of Star Trek Fan Films," screen captures of websites and social media postings, deposition transcripts full of juicy "gotcha" comments, and even the shooting script for Prelude to Axanar.
It's tempting to dive into all those other supporting documents or to try to hack into the redacted portions that apparently were not property redacted (but that's a controversy for another day), but I'm choosing instead to focus ONLY on the motions themselves.  And the reason is primarily one of time.  I want to get as much of this analysis posted as possible before I travel for the holiday week.  And also, this blog article is gonna be long enough as it is just focusing exclusively on the motions themselves.
So let's get to it!
(Note: there's just no way I can make this a short analysis, folks.  I realize I'm not known for being pithy in the first place, but there's a LOT to cover, and I feel it's important for people to accurately and thoroughly understand what's going on…if they're so inclined to want to find out.)
THE DEFENSE MOTION
Motions for summary judgment are basically asking the judge to rule on something BEFORE there is a trial.  It could be as simple as wanting the judge to state for the record that the sky is blue (an undisputed fact) or they could ask for a ruling on the entire lawsuit–obviously a ruling in their favor–that could end the lawsuit before a trial even begins.
In the case of the defense, they're essentially saying there's no need for a trial because of the following two "obvious" reasons:
The full-length Axanar movie hasn't even been made yet, so how could it be violating a copyright?  Alec Peters could still change it around completely–and no one knows whether it'll look anything like Star Trek when he's done.  So how can the studios claim it'll cause them irreparable harm?  Plaintiffs' claims are premature.  (On this one, I think they might have a point, as I've always sorta agreed with this rationale…at least in theory.  But then again, I'm not a Federal judge.)
Prelude to Axanar isn't really that close to being "real" Star Trek and anyway, even if it were, it's protected by "fair use."  (If I were a betting man, I'd say the defense has, at best, a 20% chance of convincing a jury of this.  Not impossible, but not a slam dunk.  During summary judgment, though, I think the chances of convincing Judge Klausner to toss the entire case on account of fair use would be much closer to the "snowball in hell" level.  We'll see, though, but I predict this case is going to trial.)
Now, I don't have time and space (and no TARDIS) available to go through every point in their 20-page DEFENSE Motion for Summary Judgment filing.  But I do invite you to read it over if you have the chance to get an idea of how the defense will most likely be proceeding when they get to trial.  I also invite you to read the PLAINTIFFS Motion for Partial Summary Judgment to get an idea of what their perspective is.
Instead of diving deep and trying to cover everything, I'm going to do a more cursory examination of the defense's arguments.  And forgive me if I go slightly out of order, but their second point was MUCH more important and interesting than their first point…so I'm going to start with that second blockbuster (you're either gonna love this or hate it, folks):
Plaintiffs own a limited number of Star Trek episodes and films, but they do not own a copyright to the idea of Star Trek, or the Star Trek universe as a whole.
WAIT A COTTON-PICKIN' MINUTE, THERE!  I might be an Axanar supporter and all, but this one was too audacious even for me to just accept at face value.
If the judge upholds this argument, doesn't it clear the way for ALL fan films to do whatever they want???  After all, if CBS doesn't own the Star Trek universe, then go play in the sandbox all you want, kids!
This statement wasn't passing my smell test, so I sent up the bat-signal to my legal eagles (the bird-signal?), and had the following fascinating conversation.  (And before anyone asks, no, this conversation was NOT with Alec Peters, Erin Ranahan, or any attorney at Winston & Strawn.)
Enjoying an unusually slow day, the eagle had already looked through the defense motion before we began chatting and immediately pointed me to something on page 2:
Plaintiffs allege that Defendants' Works infringe 40 specific Star Trek episodes and 11 movies. Plaintiffs do not purport to own in this lawsuit a copyright to the Star Trek universe. Rather, Plaintiffs own a limited number of copyrights to certain episodes and films.
"I don't get it," I told my friend.
"In their complaint," s/he told me (I'm not at liberty to reveal this person's identity, but I am permitted to quote our recorded conversation), "the studios listed specific instances of copyright infringement, right?"
"Yep, 57 of them, by my count." I replied.
"Okay, then that's ALL this case is about."
"I still don't get it."  Honestly, I was totally lost at this point.
"At no point in their amended complaint…" (which my friend has read thoroughly) "…did the plaintiffs ever say, 'We own the entire Star Trek universe.'  Instead, they planted their flag with these 57 items based on 40 of their episodes and 11 of their movies.  Those define what must be argued in court.  They can't talk about Star Trek as an "idea" because you can't copyright an idea.  They only own certain expressions of that idea…for example: Klingons, Garth of Izar, the USS Enterprise.  Are any of these used EXACTLY as they were in the original Star Trek?"
"Well, Garth appeared in the episode 'Whom Gods Destroy," I said, "And they're using him…"
"In the same way?" s/he interrupted, "Wasn't Garth bat-sh*t crazy for most of that episode?"
"Totally," I said.
"But he ISN'T crazy in Axanar, is he?"  S/he knew the lights were finally coming on in my brain…
"Oh, I see where you're going with this!"  Garth himself has been altered from what he was in that episode to what he is in Axanar.  He isn't the same character, despite having the same name (and you can't copyright a name).  He's not a psycho but rather an experienced starship captain leading an attack force in a major battle.
"Now look at the next thing in their motion…" s/he continued:
Plaintiffs do not allege that Defendants' Works use any clips or otherwise copy the plot, dialogue, timeline, or central characters of any of Plaintiffs' Works, but instead allege infringement of such elements such as clothing, shapes, words, colors, short phrases, the Klingon language, and works derived from nature, third parties, and the public domain.
"Most of those things," s/he continued, "aren't subject to copyright protection–which is actually stated later in the motion somewhere…I don't have time to look it up right now."  [Page 11 if you want to check it out.  -Jonathan]  "You can't copyright a shape or a word or a short phrase.  So really, they'll probably be limited to going after Alec on using things like Klingons, Vulcans, maybe the Enterprise–although it only appears briefly–maybe a few other things.  But this isn't gonna be a case with 57 different violations.  It'll be a LOT less."
"Could this line of, excuse the term, logic, open the door to other fan films making the same claim?" I asked.
"Possibly.  It all depends on what elements they use."
Hmmmmm….
We ended that call with my mind a little less dubious.  I'm still not completely convinced on this one, but I'm actually now rather intrigued wondering how and where this particular point will go.  Might this end up being the "get out of jail free" card for most Star Trek fan films?  The cynic in me can't believe it'll be quite that easy, but the optimist in me…well, we'll see.
Okay, back to the motion.  The defense's next point, which was actually their first point, was that the plaintiffs' claims about the still-not-produced Axanar feature film are premature.  It would be like suing me for libel for a blog I wrote but didn't publish yet.  If only I have seen it, then it isn't libel yet.  In fact, it might never be libel!  I might decide simply to not publish it ever.  I might decide to rewrite it and delete the parts that are libelous.
In either case, until I hit the "publish" button, I haven't committed an actual act of libel and should not be sued for it…or even enjoined from eventually publishing a version of that blog just because it might be libelous.  (Keep in mind, I'm talking only about the proposed Axanar feature film, NOT about Prelude to Axanar.  That's a whole other kettle of sushi!)
Oh, and speaking of making changes, I can finally share a "secret" that I wasn't allowed to discuss before today.  Take a look at this quote:
In fact, through the many scripts, Defendants have attempted to create drafts to alleviate Plaintiffs' concerns regarding alleged infringement, and are now leaning towards more mockumentary style works.
Yep.  If Alec Peters wins this case with a fair use defense, it will likely be at least partly because Prelude to Axanar was transformative, and the mockumentary style of Prelude might actually be considered legally permissible as a fan film format!
(As I said, 20% chance of that happening…in my non-expert, totally armchair lawyering opinion…so take from that what you will.)
And if mockumentaries like Prelude are suddenly kosher, then the Axanar "movie" might end up being made just like Prelude was…with talking heads in front of green screens, maybe some short scenes on the bridge, and lots of VFX!  I think that'd be cool–as I loved Prelude–and I would guess that many other fan films might try to skirt the guidelines by using a similar mockumentary format.
Of course, that makes a BIG assumption that mockumentaries qualify as "fair use."  Do they?  Well, that leads us to the meat of the defense's motion…
"FAIR USE" – WHAT THE HECK IS IT?
---
Next time, we finish up looking at the Axanar motion for summary judgment.  How can they possibly defend their allegedly infringing fan film(s) as "fair use"?  And do their arguments hold water, or are they smoking something that has just been made legal in my home state of California?  And then, in Part 3, we'll finally begin to take a look at the plaintiffs' motion for partial summary judgment and try to determine if they've got a winning argument or if they're smoking something, too.
PLEASE NOTE: I will be traveling starting today (Saturday) to the East Coast to see family.  And my family (and wife!) might not understand or appreciate Jonathan sneaking away for hours at a time to research a blog about Star Trek fan films.  So please be patient if it takes a little extra time to finish this particular series of editorials.