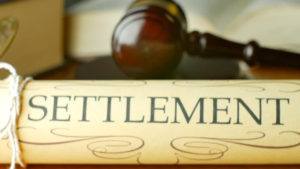 And so it ends…not in fire, not with a warp core breach and a huge explosion that rocks the very foundation of the world of copyright law, but with a quiet settlement between the parties with sparse details revealed to anyone not directly involved in the AXANAR lawsuit.
Press releases were issued separately by both CBS/Paramount and by Axanar Productions two and a half hours ago.  They both said mostly the same things, each with a different "spin."  But details were sparse.
But Axanar just sent out an e-mail to donors with more specifics…and I'm a donor so I thought I'd share some of the details here.  In addition to the studios allowing Axanar to be produced and released, we now know a few more key things:
The Axanar fan film WILL be permitted to use Gary Graham as Soval!  (Wow.)  It will ALSO be allowed to use the other professional actors who appeared in Prelude to Axanar (J.G. Hertzler, Richard Hatch, and Kate Vernon…Tony Todd has previously announced he would not remain with the production).
The new Axanar fan film will have to adhere to all the other guidelines, including being limited to only two 15-minute parts of a single story, not having "Star Trek" in the title, etc.  No professionals can be compensated for their work on the production.
Public crowd-funding campaigns will not be permitted, but private donations can be accepted (I plan to donate).
Alec Peters and Axanar Productions will be allowed to create OTHER Star Trek fan films in the future beyond the Axanar sequel.  (Whether these other fan films will be in the Axanar universe or the more general Star Trek universe is still unknown, but any future films will also need to follow the guidelines.)
That's what we DO know.  What was frustratingly absent from the announcements were two key pieces of information:
Was Alec Peters required to pay any kind of financial penalty to the studios?  (After all, by settling the case, he is avoiding a judgment in the thousands and perhaps even the millions of dollars.)  I have yet to independently confirm that.
What happens to Ares/Industry Studios?  There was no mention of its fate in today's announcement.  I suppose if its still around in another month or two, we'll have our answer.
But I want answers sooner than that…and I know you folks do, too!  I've already left messages for Alec Peters (voice-mail, text, Facebook IM), and I'm gonna keep pestering him for an interview…today, if possible!  And as soon as I get it transcribed, you'd better believe it's going up on this website!
In the meantime, here is the full text for the announcement to the Axanar donors:
To Our Fans, Backers and Donors,
You have stood by us for over a year and today I'm pleased to announce that Axanar Productions has settled its lawsuit with CBS Studios and Paramount Pictures Corporation.
Since the beginning of the lawsuit, over a year ago, we have expressed our desire to address the concerns of the studios, and our willingness to make necessary changes, as long as we could reasonably meet our commitments to Axanar's over 14,000 donors, fans and supporters. We are now able to do exactly that.
According to the terms of our agreement with CBS and Paramount, we are able to share a little more detail with you than the general public. So, here are the highlights of the deal struck with CBS and Paramount (or, at least as much as we can tell you) …
Our settlement was finalized late last night and early this morning; we are letting you know as soon as possible so you hear from us first. There are several things we can not disclose to the general public, although we've been given the okay to share some of them with you.

Axanar Productions can continue to distribute PRELUDE TO AXANAR on YouTube and at film festivals and conventions – but not at official Star Trek events or conventions.  All exhibitions of PRELUDE TO AXANAR must be non-commercial.

Axanar Productions can produce the story of AXANAR, but not as a full-length, motion picture feature.  Instead, we are limited (as all fan films are now under the Fan Film Guidelines) to two, fifteen-minute segments that can be distributed on Youtube, etc. We also have to stick to the guidelines regarding the use of the name "Star Trek" in the title of the project, the use of an approved disclaimer, etc. 

The two segments may use the services of Richard Hatch, Gary Graham, Kate Vernon and J.G. Hertzler but no other actors who have appeared in professional Star Trek productions.  There are also strict guidelines put in place concerning the compensation for the production team (as in none) with regard to their work on the permitted segments.

Axanar Productions will not publicly fundraise for the production of these segments – that means no more Indiegogo or Kickstarter campaigns to support the production of the Axanar story – although private donations may be accepted. That may slow things down a bit, but we're developing options that fall within the conditions of our settlement with CBS and Paramount and promise to keep you informed when we're ready to go.

And finally, all of Axanar Productions' future Star Trek fan film productions need to adhere to the "Guidelines for Fan Films" that were issued last June.
Also, according to the terms of the settlement agreement, there are still some legal details that require our immediate attention over the next sixty days.  These aren't major issues, but they are the first things we have to check off our list so we can get back into the business of making AXANAR. Once these issues are resolved, we will begin adopting the script to the new format and begin the entire pre-production process once again from scratch to match the new format.
All in all, we have a lot on our plate. And we're happy to be back at the table!
Throughout this process, we will continue communicating with our fans and backers to ensure they are informed and involved until we reach completion of the production.
As you know, Axanar Productions was created by lifelong Star Trek fans to celebrate our love for Star Trek.  Without your support, we wouldn't be able to do what we've done so far or realize our dreams for the future.
Together, we can work together to make our vision of Star Trek a dynamic reality.  Thanks so much for your confidence and support.
Live Long and Prosper,
Alec Peters