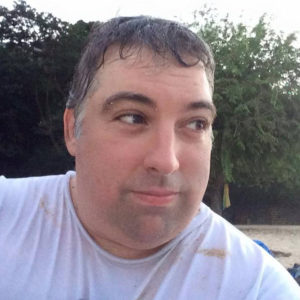 If being an Axanar detractor were an Olympic event, MICHAEL HINMAN would have to change his last name to PHELPS.  He is the administrator of the CBS/Paramount v. Axanar Facebook group where detractors of Axanar and Alec Peters go to…well…detract.
I visit the group occasionally when I feel my blood pressure has dropped too low, and I usually realize within about a minute or two of reading the comments there why I usually hit the "Back" button on my browser after about a minute or two of reading the comments there.
So imagine my surprise when I popped over there a few minutes ago to find a message from Michael Hinman that I actually AGREED with!  In fact, I need to APPLAUD him for posting it!!!
I'll reprint the post in its entirety in a moment, but first I need to explain a few things.  If you're a reader of the blog comments here on FAN FILM FACTOR, you've probably seen at least a few detractors doing their "thing" when I post blogs that discuss Axanar.  And some of those comments can be a little–shall we say–intense, passionate, heated, crude, indignant, insulting, ranting, raving, vitriolic (the list goes on).  And that's only a taste of what you'll see on their Facebook group.  Trust me; it's not pretty.
I can deal with all of the above–my only real pet peeve (aside from obscenity) is straight-out misinformation.  It bugs the shat out of me, and can, at times, border on libel.  I've even gone so far as to issue warnings a few times in the comments section and state that opinions expressed by the readers of Fan Film Factor do not necessarily reflect the views of the blog owner (me).  Well, today it was Michael Hinman's turn to issue the warning to his members…
Ironically, it wasn't Axanar that was the catalyst for the warning (although God knows there's been enough libelous things said about that subject and Alec Peters and anyone who doesn't lambast Alec Peters–such as myself–on that Facebook group).  Instead, it seems to have been another sci-fi project that got called a "scam," and Michael finally jumped into action.  He quite rightly, in a long and detailed posting at the top of the page, publicly called for a halt to all unsubstantiated accusations on the Facebook group page.
And here's what Michael said to his group:
---
A reminder of the rules …
Please note that it is understood that we CANNOT commit libel in the group. So while much of what is said is protected under free speech and such, libel is not.
I get uncomfortable when we call anything Axanar a "scam." I do ask people to refrain from it, and will ask that publicly once again.
Calling something a scam without the basis of doing so opens you (and potentially this group) up for libel. And it's even worse when we go off on other unrelated groups as well. Especially those who are not even here to defend themselves.
In terms of the Sci-Fi Museum, two former volunteers came in here and started calling that a scam. It is not only inappropriate, but it is potentially unlawful, and can expose not just you, but the group itself to litigation.
If you feel something is a scam, then report it to local authorities.
If you want to share your experiences, and opinions based on facts, that is fine. You can dislike something, not agree with it, share your bad experiences, whatever you like. But you cannot draw a conclusion of something serious like "scam" without some major evidence to back that up.
We have not really cracked down on the use of that term here, but it seems we need to be a little more vigilant.
I do want to apologize on behalf of the group to Huston. I only know him through this Enterprise Bridge project, and trust me, he went through an early wringer with me to ensure that this project was on the up and up, and I check in with him quite regularly.
The only complaints I have ever received were from a couple of former volunteers. And each time I have asked for some kind of evidence of their claims, they included none.
I absolutely will keep an open mind on projects like Huston's, and make sure they are held accountable. I was friends with the TrekUnited people until I felt they were doing a major disservice to the donors, so trust me, you don't get free passes with me just because I like you. In fact, you're usually under greater scrutiny, because I have a direct line to you.
I know that there are some raw feelings and such about the settlement and its aftermath (although I feel great about the settlement personally, so I'm not sure why anyone would feel bad about it, but that's just me). But that doesn't open the door to unfairly attack other people and other groups.
Especially without any evidence except what comes out of someone's mouth. To say you had a bad experience, you can do that. But to claim something criminal or heavily unlawful – you can NOT do that.
So I am going to ask that we be careful about using the "scam" word, and I think we need to be a little more vigilant about asking those who use the term not to use it, even with Axanar, because there is no evidence at this point there is a scam there, so we cannot say that.
While we have our fun, and Axanar may not deserve to be treated fairly in many of our eyes, they still should be treated fairly here. Because of we start up with hyperbole and baseless claims, it will make it much more difficult to counter their bullshit out in the ether.
This group still has a lot of work and discussion ahead of it. And thanks for helping us maintain its longevity – and fairness.
Comments will remain open on this, but it is NOT to restart the Sci-Fi Museum debate.
Thanks.