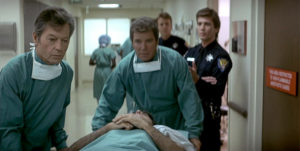 One little mistake…
On September 23, 1999, the Mars Surveyor Orbiter crashed into the red planet because of a very simple (some say "stupid") error.  According to the NASA.gov website:
…one team used English units (e.g., inches, feet and pounds) while the other used metric units for a key spacecraft operation.
One little mistake…
The result was the loss of a $125 million satellite.
In early February 2017, I was IM'ing with one of my local producer friends, asking how much it costs to rent a decent studio/sound stage here in Los Angeles.  He IM'd me back: "About $15-$30K per day."
That number intrigued and excited me.  It wasn't long before I'd done the math and determined that–lordy lordy!–it was actually CHEAPER for Alec Peters to have built out Ares/Industry studios than to have RENTED an existing sound stage!  And the savings difference was in the six-figures!!!!
This was HUGE!  Or so I thought…
I originally wrote up an elaborate response to a posted comment on another blog…totaling and comparing the costs for building versus renting.  Then, a couple of weeks later, looking for something interesting to blog about, I decided to republish that response as a full blog in and of itself.
It didn't take long before people (mostly detractors) started sending me ads for studio space in the L.A. area that were MUCH less than $15-$30K/day.  Some listings were under a thousand dollars, and most were between one and three thousand.  Nothing came close to $15K…and certainly not $30K.
Even Alec Peters IM'd me a few hours later:
$15,000 a day?
Jonathan, if you are going to write about stuff like this then you need to check yoru facts.
A sound stage doesnt cost $ 15,000 a day
A stage our size might cost between $ 3,000 and $ 5,000 a day
Oh, man.  I was getting it from all sides!  What the heck happened???
I've known my producer friend since he was in film school back in the 1990s.  I had simply assumed he was giving me correct information and–much to my now-public embarrassment–I didn't think to research it further.
One little mistake…
Actually, it initially wasn't just my mistake; it was actually a typo (and I do have permission to share the following IM session from late last night that I had with my friend…with one s-bomb bleeped by me).  But before I do, I just want to say that I am NOT trying to deflect the blame here.  This one is totally on me.  I should have researched the information further, and I didn't.
ME – Hey, are you sure that L.A. sound stages cost $15-$30K/day to rent?
HIM – No, of course not.  That's a ridiculous price!  I've never seen anything that high.
ME – But that's what you told me, dude!!!  I even blogged about it!
HIM – I can't imagine I'd ever say such a thing, Jon.
ME – Do me a quick favor.  Can you please scroll up this IM thread about a dozen or so posts and report back what it says you told me?
HIM – OK
HIM – Sh*t.  I'm sorry, Jon.  That was supposed to be per month, not per day.
ME – SERIOUSLY??????
HIM – I was busy when you were messaging me.  Sorry again.
ME – Do you have any idea how much trouble I am now in???
HIM – It's just a blog, Jon.
ME – Yeah, and a bunch of crazed Trekkies are never gonna let me live this down!!!
---
And there you have it.  It wasn't English-to-metric, and it wasn't $125 million.  Instead, it was per-day versus per-month, and it was "only" about a $350,000 difference.  But that was enough to pretty much negate the main point of my previous editorial.
Rather than trying to defend the alt-fact or ignore it or call the detractors crazy or deluded, I'm just going to cop to the mistake…something that, I wish, would happen more often these days.
I don't want Fan Film Factor to get a reputation for "fake news."  If I screw up and an incorrect fact or poorly researched article/editorial gets published on my watch, I need to admit to it and, if possible, correct it as quickly as possible.  (And I think 48 hours qualifies.)
So I've added a disclaimer at the top of my previous blog, and I'm posting this correction.  I am also going to make sure to ask Alec Peters when I interview him once the financials are released what the costs would have been had he rented a studio.  I should have done that in the first place anyway.
In the meantime, I am sorry, everybody, for being sloppy on this one.  I hope that this public apology can set a positive example to others.  As you know, I'm not a fan of alt-facts and fake news, and I call out the people who post them whenever I can.  Now it's time to practice what I preach.