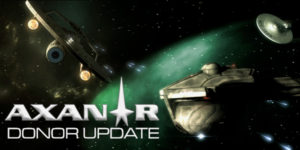 And now the moment you've all been waiting for! (Well, at least some of you were probably waiting for it.) AXANAR PRODUCTIONS is finally answering that oft-asked question: what the heck did you spend $1.4 million on??? Obviously, it wasn't all tires and sushi! But did it really all go to turning a warehouse into a studio, building some sets, fulfilling a few (thousand) perks, and filming a 4-minute Vulcan scene plus 15 minutes of other visual effects? Well, now you can finally find out for yourself.
Axanar has also released an update on its plans for the future–what the now 30-minute Axanar movie will look like, how the full Axanar story will manage to get told, what's going to happen to Industry Studios, and whether Axanar Productions will be producing other Star Trek fan films after Axanar (and will they be following the guidelines…well, of course they will!).
There's a full DONOR MEMO that's been published on the Axanar website with the headline "Lay in a course for the future." I encourage you to read it in its entirety. Here on Fan Film Factor, I am just going to present some of my own insights on those announcement plus a screen cap of the financials themselves at the end.
I have also been approved by ALEC PETERS to open up the blog comments section to collecting QUESTIONS FOR ALEC for him to answer. But there are a few ground rules before you start feverishly typing:
Questions must pertain to the contents of the donor memo: the Axanar financials and the plans for the future. Questions about the lawsuit and what happened in the past just aren't relevant to the topic(s) at hand.
Not every question will be selected to give to Alec. Rest assured that I'm not just going to cherry pick the "easy" ones, but I am going to pick the best ones that I think will give us all the most important information and clarifications.
Don't be a jerk. Your question has a MUCH better chance of making it into the "finals" if you're polite and don't treat Alec like a swindler, con-man, liar, and rogue.
Post your question(s) in the comments section below, and in a few weeks, I'll publish Alec's answers to the questions that I select.
And now, here's my take on the plans for Axanar Productions (from the memo) and the financial report…
Parts Four and Five of "The Four Years War"
The mockumentary style of Prelude to Axanar actually made for a pretty dynamic storytelling format (hey, nearly three million YouTube viewers can't be wrong!). And just like Star Wars began with "Episode 4," Axanar's first offering was "PART III" of The Four Years War "documentary." So now that the team has been granted two 15-minute fan films, the decision has been made to now create "PART IV" and "PART V." These two films will tell the story of the Battle of Axanar and the peace that followed.
PROJECT: AXANAR
But what about the rest of the Axanar story??? Fans wanted to see a 90-100 movie drama with a script that was supposed to rock their quadrant!
Well, unfortunately, the Organians raided the game…or rather, the studios did. Axanar simply cannot be told as a full-length dramatic movie feature. That was one of the main terms of the settlement.
However, the full script can be presented as an audio drama. CBS and Paramount have made clear through John Van Citters' podcast interview that audio-only productions are not covered by the guidelines…and neither are printed scripts. So with the launch of PROJECT: AXANAR, the creative team will present what they describe as…
A complete, trans-media production, produced in a variety of forms including the two 15-minute films, an audio drama of the full script, a complete illustrated script with production art, story boards and graphics, and written fiction to fill in the gaps in this amazing story.
So if you're an Axanerd like me, even though you won't get a full-length feature film, you'll still have a LOT to keep you entertained and your inner (or outer) geek satisfied…including a full-length audio drama, which is still pretty cool if it includes real actors.
The Federation Historical Society
Apparently it WON'T be one-and-done (or two-and-done) after all for the Axanar team. With a full studio available, Axanar Productions does, in fact, intend to continue making fan films beyond Axanar…and not just Star Trek fan films!
This expanded endeavor will operate under the branded banner of "The Federation Historical Society" (the name of the fictional organization that created the Prelude to Axanar documentary within the Trek universe…and no, that generic name isn't owned by CBS). By using a name other than Axanar-this-or-that, the new endeavor can define its own identity as an incubator of both Trek and non-Trek films. And of course, all Trek fan films will follow the guidelines and be solely volunteer productions. (Yep, no one wants to go back to court!)
A Non-Profit Studio
In the past, there has been confusion about Alec Peters' intentions to make a "for-profit" studio. There was never an intention to build a pile of wealth but rather simply to take in enough revenue to pay the rent and utilities and the salaries for a few staffers. But since salaries are not the same as profits (the Red Cross pays salaries, folks), and the goal was always simply to cover basic operating expenses and occasional build-out improvements, what was really going on was that Ares Studios (now Industry Studios) was running as a non-profit and confusing people by inaccurately calling it "for-profit."
That's changing. Industry Studios has now announced that it will be operating as a non-profit business and will be filing paperwork shortly to get 501(c)(3) tax-exempt charity status. Please note that you can operate as a non-profit without necessarily being a 501(c)(3). Some fans haven't seemed to have understood previously that non-profit and tax-exempt are two separate things. The difference is that having the official 501(c)(3) designation means you are both exempt from paying taxes and also that charitable donations to you are tax-deductible for the donor. (I'd love it if I could declare my contributions to Industry Studios on my taxes! Wouldn't you?) Being non-profit, while required in order to be tax-exempt, simply means you put your revenue back into the endeavor itself and the people working for it.
Of course, just making fan films for no profit isn't enough to convince the IRS to declare you a charity. But Industry studios intends to do more than just make fan films of its own. In addition, they plan on…
…assisting other independent, fan and student film makers in bringing their projects to the screen. It is our desire to provide low-cost production services to other filmmakers like us; helping them to get their projects off the ground and into the hands of consumers looking for fresh, high-quality entertainment in the sci-fi, horror and fantasy genres.
The new Crowd-Funding Campaign
Although Axanar Productions is precluded from using Kickstarter or Indiegogo to raise any more money for shooting the Axanar fan film, Industry Studios is now a completely separate legal entity. Axanar Productions will use Industry Studios to film in, but so will other productions and student and professional filmmakers. As such, the continuing expenses for Industry Studios, at least for the time being, can, in fact, be crowd-sourced. And that's important because, right now, the studio is costing $$15,000/month in rent and utilities plus another $3,000 for monthly storage of the Axanar sets during time when other productions want to use the facility.
Obviously, the ultimate goal is to bring in more commercial productions to rent the studio and also offer discounted rates to students and other low-budget productions that can't afford the higher rents of other comparable L.A. studios. But for now, the campaign will try to raise money for the interim few months while the 501(c)(3) application is processed and marketing efforts are made to bring in business (you can find out here about some of the methods usually used in the industry in regards to the latter part).
And now…the FINANCIALS!
Just so you know, there were roughly 2,800 separate receipts, entries of individual payments, invoices, statements, and other financial records and contracts that had to be poured over and examined by the Financial Review Committee.
Many Axanar-watchers have not understood the purpose of the committee or how they could be "impartial" if they actually worked on and/or donated to Axanar. The fact is that this wasn't some kind of financial "audit" like you would do for the IRS. This was a review by entertainment and financial industry professionals who understand what things cost in Hollywood–things like equipment rental, materials and supplies for building sets, labor, visual FX, music, and yes, even things like toilet paper and cleaning supplies. (Well, even I know what toilet paper costs! But I have no idea what it would cost to get insurance for a production studio for liability and fire/flood damage/etc.)
This was the job of the three-member committee. They were brought on to go through nearly three thousand individual payments and decide if these were reasonable expenses or if something fishy was going on. (And yes, that's an intentional sushi pun, folks.) They were not looking to simply rubber-stamp all the expenses. Despite being Axanar supporters, they are also all people who work in the entertainment and financial industry. Their peers could easily look at this financial review and, if they see wild inaccuracies in what these three men have signed their names to, this kind of sloppiness could reflect poorly on each of them professionally.
That is why the committee took such a long time. If fact, the length of time it took them surprised many of us "on the inside" (like me!) because I actually was more expecting a "Hmmm, looks good to me…" kind of review. At least at first. Then I discovered exactly how carefully these three men were going through everything and how seriously they were taking this project. Having viewed the spreadsheets personally–with eyes glazing over after looking at just a few hundred line items–I have to say with all sincerity that I have true respect and admiration for all of these three men for going so meticulously through thousands!
In the end, the numbers come out to show that all Axanar $1.4 million of donor money was spent on legitimate expenses…along with about $260,000 extra also spent so far. And no, you won't find tires or sushi or health insurance on the list because those are expenses that Alec Peters, not the donors, has paid for out of his own money. Part of that $260,000 has also come from private financing that was provided to Alec Peters by certain donors who requested (one required) to remain anonymous. (And no, it wasn't me.)
But the important this is that the donor money was all spent on reasonable production-related expenses…not on frivolous personal gain, as some have falsely accused Alec Peters of doing. You can take a look at the full financial summary here: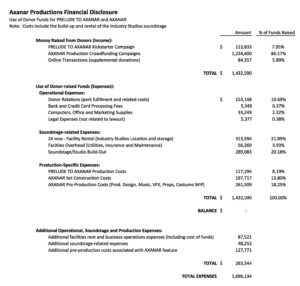 And note that it is, indeed, a summary. A decision was made (and I think rightly so) not to provide all 2,800 line items because, to be honest, that was the committee's job to go through with a fine-tooth comb. It doesn't make sense to open up the flood gates to criticisms of "You spent way too much on screws!!!" or "That seems pretty expensive for advertising…what do you have to advertise anyway???" There's work to do now, and arguing line items with detractors is a real waste of time.
The financial committee has verified the numbers. They've looked at the studio, at the sets, at the boxes of perks and stacks of supplies, at the contracts, and at a seemingly endless spreadsheet of numbers-numbers-numbers, and this is what they had to say…
After independent and committee review, we the undersigned, given our professional combined experience of over forty years in the fields of finance, producing media across multiple platforms, and physical production, can and do attest that the numbers presented to us by Axanar Productions, accurately reflect, within an acceptable margin, the cost of what it would take to: 1) Lease and retrofit a building to make a viable sound stage, 2) Mount a production (pre-prod and one day of shooting) up to the point at which the production of the Axanar production was halted, 3) Donor fulfillment cost as of 2016 including items and postage, 4) Promotions.
Kevin Rubio
Cedric Yau
David Bailey
---
And now, I invite those with questions for Alec Peters to ask them below. And once again, I respectfully ask that you try–please try–to keep your questions civil and polite…especially if you truly want an answer. If you just want to insult Alec, please do it elsewhere.