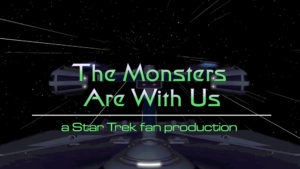 The folks at POTEMKIN PICTURES currently have two production teams actively releasing new Star Trek fan films.  The DEIMOS production crew has released four episodes so far, ranging from 6 to 15 minutes.  And the TRISTAN production crew (based in Pelham, Alabama where show-runner RANDY LANDERS lives) has just released their eighth episode: "The Monsters Are With Us."
Like the rest of the several dozen films released over the past seven years by Potemkin Pictures, their budgets are meager, their costumes simple, and their sets minimal.  Their cast members are recruited from local drama programs at nearby colleges and from community theater actors.  But their stories have always been their strength, that this latest offering is no exception.  It's a fun little exploration of first contact gone screwy, with a compelling mystery that doesn't get resolved until the end.  I think that, given the right conditions, a story concept such as this one could have been expanded into the A-story of an episode of Star Trek: The Next Generation.  Instead, we get a 14-minute, low-budget fan film with lots of heart.
It's also worth noting that both Potemkin Pictures production teams have recently begun incorporating green screen compositing of actors against static backgrounds.  Although this method of placing characters into virtual "sets" has been used extensively in numerous fan films since the first episodes of Star Trek: Hidden Frontier back in 2000, the Potemkin Pictures production teams have relied almost exclusively on practical (physical) sets like a bridge and transporter platform, and on-location filming both indoors and outside.  I believe "The Monsters Are With Us" marks Team Tristan's first foray into green screen, using it this time to create virtual corridors inside the Constellation-class starship Tristan.
You can watch the latest production below…