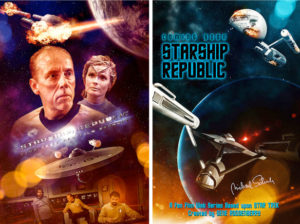 Back in March, the new fan production STARSHIP REPUBLIC tried to raise $16,000 in an Indiegogo campaign.  They came up pretty short (like only 15% of the way there).
Crowd-funding campaigns can be a funny thing.  Sometimes they catch fire, like the recent Deep Space Nine "What We Left Behind" documentary campaign that has taken in nearly $650K (with an initial goal of "only" $150K).  On the other hand, the currently-active Industry Studios campaign, which set a goal of $60K, has barely managed to crack $20K.  (Of course, Starship Republic would have loved to have reached $20K…so it's all relative.)
The late, great, legendary Yogi Berra once famously said (when fan attendance at Yankee Stadium had dwindled): "If the people don't want to come out to the ballpark, nobody's going to stop them."  Such can often be the case with fan films.  They try, they fail, they give up.  It's not a happy result, but sometimes the dog just doesn't hunt.
But there's no rule against hitting the crowd-funding "reset" button, and Starship Republic show-runner RAY TESI is doing just that!  Ray asked me to share the following message with all of you…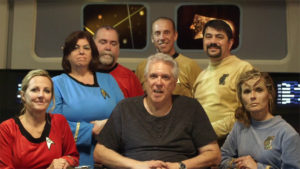 First and foremost, all of us here at Starship Republic wish to thank you all for your support! The fact that you thought enough about the material we displayed goes a long way towards offering the Star Trek community something worthwhile. Unfortunately, we did not collect enough funds to begin filming as we had originally scheduled. As a result, we are planning to launch a second crowd funding campaign. In order to do this, our production staff will be creating a series of new teasers using both live action and CGI effects. This will allow us to relaunch a campaign at a fraction of the cost.
We here at Republic think there are a lot of factors in play here. In this post-Axanar and CBS guidelines era, we're hoping that people have not been put off on contributing to fan film productions. As an example, Alec Peters of Axanar has a new Indiegogo campaign for his studio, "Industry Studios – The First Fan-Funded Movie Studio." Even with his huge fan base that enabled him to raise $1MM for Axanar, he has only raised $20K of the $60K he's looking for. The DS9 documentary "What We Left Behind" is a whole different animal and a good example of a professional production that can exist outside the guidelines. As a documentary, they were able to use DS9 actors, Adam Nimoy, and a professional staff, as they were NOT a fan film. Nor did they need to follow any of the perk guidelines either.
Regardless, whatever the reason, with over 8,600 views of the Indiegogo page and over 10,000 views of our vignette, ultimately we did not give the fans what they wanted.
This relaunch will see a number of changes to Republic that we believe will make it a lot cooler and more exciting—and combine elements form different Trek timelines that have not been seen before. And while our vignette was designed to "hide" many elements of the story from the fans, our new teasers will give a glimpse into each of these storylines!
Our vignette and all of our videos can be seen here in our Star Trek Channel on YouTube: https://www.youtube.com/channel/UC2HtMR04wHsxark5YcmJzKA
You may have seen our cross-over teaser bridging TOS and Star Trek: Enterprise (Starship Republic – Teaser #2 – OFFICIAL 2017). The sphere that the Republic finds on the planet (while not exposed in the vignette) is a downed Xindi weapon. We will explore the backstory of the weapon and the fate of the ship NX-07 in our story.
But we don't stop there! Republic begins further in the future with Captain St. James in command of an Excelsior-class starship. He and his crew encounter the Constitution-class U.S.S Republic seemingly abandoned. A temporal agent provides St. James with a glimpse into the future and warns of possible repercussions that his actions in the present might create.
The revised Republic story will be visually inspiring as well. We're incorporating sets and uniforms from Star Trek: Enterprise, TOS, The Wrath of Khan, and TNG. We are excited about these changes—and hope you will be too!
We're hoping that you will join us during this second campaign. We have some very exciting plans in store for Republic, and you can be among be the first to know!
To get the latest updates on Republic 2.0 and find out when we launch, please join us on here on Indiegogo:
https://www.indiegogo.com/projects/starship-republic-2-0-a-star-trek-fan-film/coming_soon
Again, thanks for your support on this first campaign, and we hope you'll like our new teasers!
All the best!
Ray Tesi
Executive Producer
Starship Republic
ray (at) starshiprepublic (dot) com