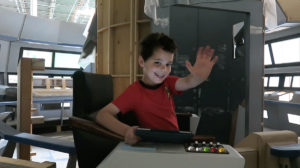 This past Saturday, my son Jayden and I drove to Industry Studios in Valencia to help pack up the Axanar Productions items for a move east to a new production facility in Atlanta, GA.
It was a sad day for me because I really loved Industry Studios.  I'd loved watching it evolve from a stark, gutted building with no individual offices and a huge, echoing warehouse with loud concrete floors…into what looked like (to my eyes, at least) a high-end Hollywood studio and sound stage.
Jayden and I had watched for months with excitement as piles of stacked wood were cut, molded, and sculpted by industry professionals, slowly morphing into a starship bridge, a turbolift, a transporter, captain's quarters, and a Klingon bridge.
Even though my visits weren't particularly frequent, I still felt as though I were a part of Ares Studios (later renamed Industry Studios)—helping to fund it, volunteering to do everything from carrying carpet rolls up the stairs to assembling IKEA furniture, and even sorting and packing perks.  I watched all the work that went into making the dream of a studio dedicated to Star Trek fan film-making (not just Axanar) grow and take shape from basically nothing into a facility that fans could be truly proud of.
I can already hear the detractors typing feverishly about the hubris of starting a "for profit" studio based on donations obtained from unapproved use of copyrighted material owned by a Hollywood studio.  And I'm sure others out there are already halfway done with comments about the folly of signing a 3-year lease on a location with a $12,000 monthly rent when all Alec Peters ever needed to do was make a simple fan film, not build a full sound stage!
All are fair points when viewed with 20/20 hindsight—and all are arguments made and countered hundreds of times over.  But that's not what I'm here to talk about today.  Instead, I want to give you a tour of Industry Studios…
What's the point of offering a tour of a facility that, as of yesterday, was totally emptied of all the "cool stuff'?  The Axanar sets are off to Atlanta; why not give us a tour of the new studio?
Well, the answer to the second question is obvious: I don't live in Atlanta.
As for the first question, well, that has to do with the Axanar donors….especially the doubting and disillusioned ones.  Y'see, for over a year, the detractors have been claiming that the money donated to Axanar wasn't spent properly.  Now, you can argue that it shouldn't have been spent on a full studio and expensive sets, but in my opinion, you simply can't argue that it WASN'T spent on those things.
It always frustrated me to hear detractors belittling the bridge set (and the other sets) and saying that they were only "half-built" and wouldn't have been ready for filming in February of 2016…or that they couldn't have cost as much as $200,000.  And claims that the studio was somehow unusable, unprofessional,  or "not up to code"—or any number of other dismissive remarks—those were a real pet peeve for me.
Sure, I'd seen the full financials and knew that all of the donor funds had been spent properly.  And while I respect Alec Peters' decision to keep the details of of the financial reporting simple to avoid being accosted with endless rounds of minutiae, I'm still frustrated not to be able to explain to you all exactly why I have no problem with how the donor money was spent.
And the only other piece of evidence I have that this money was spent on something real and physical and not just thrown away on tires and sushi (for the last time, people, those expenses were paid with Alec's money, not the donors'), the only other thing I had to prove to folks how well Alec Peters could manage funds properly and build something that, when viewed objectively, was very  impressive…that was about to disappear.  Although Industry Studios will continue to exist, control of it will pass to Alec's former landlord.  And the sets will soon be in Atlanta.
Still photos of the studio and sets simply weren't enough to convey the scope and magnitude of what had been created there.  If only a proper video "tour" could be produced (it didn't even have to be professional—just some silly blogger with a video camera and a six-year-old tour guide), people could finally see this place, all of it (even the bathroom!) for themselves.  If only the immersive feel of the bridge set and the craftsman-like quality of its wood construction could be conveyed, people might finally know what I know…and hopefully they would understand.
And so I asked Alec if I could bring along my camera when I showed up and take some video to show the donors exactly what they paid for.  Yes, some of the sets had already been moved out, but the bridge was still there, and it's really the star of the show!
So I dedicate the following video to those Axanerds and Axafans who believed in Alec and his dream.  This is what you paid for (along with a Star Trek fan film—which would have been made here).  Yes, the video is nearly as long as Prelude(!), but I wanted you to see everything.  And no, I wasn't really expecting Jayden to play tour guide; I only took him along for one last walk on the bridge.  But as you'll see, he hijacked parts of the video, and I wasn't gonna stop him!
And hey, this video is for the detractors, too.  And it's nice and long and detailed for them so they can pick it over piece by piece, point to everything that shouldn't be in there, and complain that Jonathan makes videos the same way he writes blogs.
In other words, there's a little something for everyone.  So enjoy this exclusive farewell tour of Industry Studios as a home for Axanar Productions, and dream of what might have been…