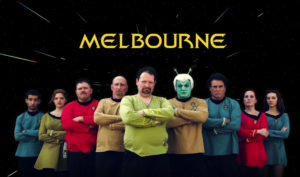 At the end of March, a new Star Trek fan production titled MELBOURNE (just that, no "Starship" in front of the name) posted its debut fan film: "Storm Front, Part 1."  One of several fan series shot on the sets of STARBASE STUDIOS (while they were still in their previous Oklahoma City location), Melbourne initially released two ultra-short vignettes, "Pen Pals" and "Pen Pals 2".)  But fans were really waiting for their first full episode to see what this new fan production would be all about.
Most successful Star Trek fan projects have a driving force behind the production, and in the case of Melbourne, that driving force is show-runner/producer/writer VANCE MAJOR (his friends call him "Vman"), who lives in Kansas with his wife of 17 years and his newborn son, Royce.  I recently had the pleasure of sitting down with Vance for a very friendly interview.  In fact, "friendly" is one of the best adjectives I could use to describe this warm and humble film producer from the Sunflower State.  Since having our interview, we've actually become good friends, have spent hours on the phone talking Trek and swapping "Daddy" stories, and he's invited me to appear on camera in an upcoming episode of Melbourne anytime I can get myself over to Arkansas (the new home of Starbase Studios).
So here's what Vance had to say…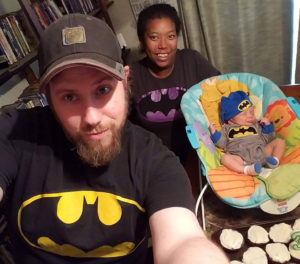 JONATHAN – Well, before we begin the main interview, Vance, I'd like to congratulate you and your wife on adding a member of the "next generation" to your crew.  Royce Leonard Major was born just a few short months ago.  Are you getting any sleep yet, dude?
VANCE – Thank you, brother, and no, not really. I thought I had prepared myself for it, being that I work 60 to 72 hours a week at my day job.  I am very "go go go" anyway…with Royce around, my wife and I both share the duties to lighten the load for the other.  So, no, sleep is now even LESS [laughs], but I wouldn't have it any other way! He's such a blessing, especially after trying to start a family for 3 years.
JONATHAN – Well, we've got something in common.  My wife and I had to wait three years for Jayden…although he was adopted.  But yeah, that's a long time not to have a child when you so desperately want to bring one into your family.  So, is Royce a Trekkie yet?
VANCE – I do plan to take Royce to the Starbase Studios at some point and get a pic with him at engineering, since I play Chief Engineer Minard on Starship Valiant. I'm going to get him his own Star Trek onsie and sit him on my lap and get a father/son photo with him.  In case something ever happens to me, I want him to be able to watch Star Trek and see that station and remember his father…or visit the set and feel inspired to do things if I'm not there. I don't believe in tombstones. I believe in celebrating life. And so that pic, that station, that memory, it means something that not many can say they will be able to share. That's something both Scott Johnson and Glenn Wolfe [both of Starbase Studios] have supported when I asked. So I feel blessed.
JONATHAN – You're one of those rare Star Trek fan filmmakers who has also created non-Trek productions.  How did you first get involved in film making, what do you do in your productions: write? direct? edit? act?  And what are some of your completed projects?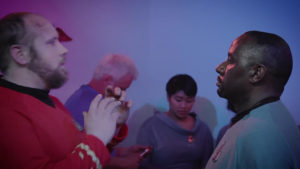 VANCE – Well, it started when I visited the Starbase Studios set in December of 2013 and Michael L. King approached me to play the engineer in his Starship Valiant fan film. I had never acted, and he didn't mind. I had played Star Trek as a kid, pretended to be an actor as a kid. [Laughs.]  What kid doesn't?  But being on set, it felt natural. Everyone around me said I was a natural, and I was humbled by that.
I really wanted to step my game up, taking whatever gig I could get. And so I just became a sponge, soaking up whatever info I could both in front of and behind the camera. And that came in handy for writing, directing, producing, etc. But honestly, just being on set, being an extra pair of hands, you learn so much. And that goes a long way. No job is too small!
Two of my independent short films are Dead Inside and Pursuit.  Both were shot with no budget and in a really short time span. The story really caught people's attention. The different approach I think helped, too. And the fact I admit that it's not YouTube's version of Steven Spielberg helps.  [Laughs.]  So many people want to be known. I just want to tell a good story.
JONATHAN – Now, I realize that Kansas borders Oklahoma (where Starbase Studios used to be located), but it's still a four-hour drive one-way from where you live to Oklahoma City.  How did you first get involved with Starbase Studios, what did you do to help out, and how often did you go down to the studio.
VANCE – Well, they approached me to help advertise for them on Facebook, as I have a huge networking online (and it's something I've been known to do for people), and I said "sure." When I saw they had a bridge, I made an offhand comment about it being cool to see the bridge, and I got invited up.  This was when Yorktown: A Time to Heal was filming…so I got to meet them, and I fell in love with the set.
Now, I'm a TNG/DS9 fan. THIS was not my cup of tea. I loved the movies like The Wrath of Khan, Search for Spock, Voyage Home, but the classic series…naw. Never gave it a second thought. Not even sure about the first thought!  [Laughs.]
But going on the bridge, even I got goosebumps. I'm telling you, it's so friggin' cool!  Even if you're not a Trek fan, you'll love it. You become immersed in that world. And it's so addictive. With all the fan films I'm involved with, I'd say I go back to the studio about every 6 months or so.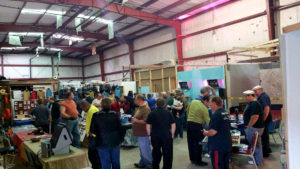 I've held two Promenade-a-cons there, which were over-glorified meet'n'greets, but they were so successful and fun. People I networked with, and those who have come to the studio before, all came to meet all the fan film people and saw the sets, and we all geeked out together.
It wasn't anything large, but man, to be the one to organize that!  Not many people can say they've hosted a "convention" of sorts. That was as close to one as I'll ever do, and that was so cool.
JONATHAN – You said you're involved with a lot of fan films.  We've already mentioned Melbourne (of course) and Starship Valiant.  What other Trek fan projects have you worked on?
VANCE – Well, in addition to being the chief engineer of Starship Valiant for three years, I was also a producer on Dreadnought Dominion and then briefly on Starship Republic, and the executive producer (along with my best friend Jeremy Minard) on Melbourne.  That's just the main ones.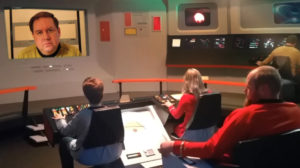 Then there's the audio Trek fan drama of Star Trek Outlaws, plus the Starship Ajax/Starship Valiant crossover that is being edited called Barratis. That's been in post for two years. Plus, I have The Hunt,  V'Ger for Men, and Family – all three fan film shorts.  The last two are still waiting to be released. I like to wait until the right time, like the V'Ger for Women parody that we sat on for six months till Valentine's Day to release.  Too many people just want to put stuff out without thinking of the timing.  The other short Trek films I've already put out, from Pen Pals 1 and 2, and Chain of Command were done to help further stories that filled in gaps of other characters.
JONATHAN – So after working on so many other projects, what made you finally decide to tackle a Star Trek fan film of your own?
VANCE – I enjoy making stories and, honestly, making a Star Trek story with my best friend was too good to pass up. The thing I like most about this, though, was that we were telling a good story that just happened to take place in the Star Trek universe…not just a "Star Trek" story. That, to me, was just too good to pass up.
JONATHAN – Occasionally, a Star Trek fan series might have a small crossover with another one.  Hidden Frontier and Dark Armada both had brief crossovers with Intrepid; Chain of Command was a crossover of Dominion and Valiant.  But Melbourne kinda took it one step farther.  I noticed cameos and references from several other fan films in Melbourne.  How many outside established characters and elements did you wind up bringing into your Melbourne production?
VANCE – Well, we do nods to SEVEN other fan films in Melbourne. And they fit the story. They might seem like shameless plugs, but they actually work with what we wanted to do in the story that we wanted to tell. From Starship Valiant and Dreadnought Dominion to Project: Potemkin and Starship Republic. Star Trek: Dark Armada and Intrepid are there, too. And we even gave a shout out to our friends on Starship Courageous….or Hood….or Langley, or whatever he chooses to call his project now. [Laughs.]
There's such a deep love and respect for my fellow fan filmmakers that we really wanted to give back and make those who watched our film aware of these other films, too. Not many people really do that. It's very self serving in fan films these days, and we never wanted to be that way.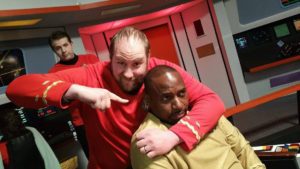 Michael L King is one of the people from Starship Valiant coming in to help be a part of this…in a small but very important and fun way. To me, it's one of the most exciting scenes in the film.  Martin Bennett comes from Starship Republic. I had actually gotten Martin the job on the Republic shoot and thought it would be great to make his character the father of one of our characters…making the scene more relevant. And it works a bit better.
In a sense, Michael represented where I as a fan film person came from, having brought me into that world. And Martin represented where I was going, having brought him into the fan film world. The symbolism was very cool in Melbourne…at least to me.
JONATHAN – What makes Melbourne unique and worth watching…and not just another TOS fan film?
---
Next time: Vance talks about the process of production and post-production, finding the right people, and future plans for Melbourne.  Will Vance be following the fan film guidelines or "pushing the envelope"?
---
Meanwhile, to donate to Melbourne's latest crowd-funding campaign, click here.
And you can watch Part 1 of their debut episode "Storm Front" below…