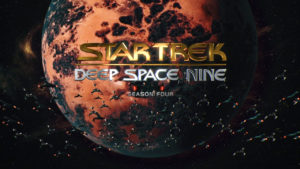 Back in late 2015, two hard-core Star Trek: Deep Space Nine fans, DAVID FRANK and CHRISTIAN LERCH, created a unique fan film.  They imagined what a teaser/trailer for an High Definition DS9 Blu-ray collection might look like.  It had been a year since the completion of the seven-season Blu-Ray releases of Star Trek: The Next Generation in December of 2014, and like many "Niner" fans, they hoped that CBS would give the same treatment to DS9.
Talented motion designers, David and Christian used their skills to create a minute-long teaser/trailer using nothing but CGI graphics of the station consoles coming to life, with a majestic DS9 musical soundtrack.  They described the sequence:
It features the Cardassian Space Station shortly before the pilot of DS9. The Cardassians just left after over 50 years of occupation, and the Bajorans are about to take over the Station. The Station kind of senses the imminent arrival of the Bajoran military forces and "wakes up."
It ended with the words: "BRING IT TO BLU-RAY"
A few months later in March of 2016, David and Christian released a new minute-long trailer for a hypothetical DS9 Season 2 HD Blu-Ray…again ending with the words "BRING IT TO BLU-RAY."  But this time they added voice-over clips from the episodes "The Circle" and "In the Hands of the Prophets" to their CGI and haunting music track…resulting in a dramatic and chilling finished piece.
In July, the Season 3 teaser/trailer was released…this time with CGI space battle footage featuring Romulans, Cardassians, Jem'Hadar, and the USS Defiant (with ship models provided by the one-and-only TOBIAS RICHTER)—and voice-over clips from "Improbable Cause" and "The Die Is Cast."  Man, if you don't get goosebumps from seeing this one and immediately rush out to rewatch that season of DS9, you might want to turn in your geek membership card!
Those three teaser/trailers were released within about eight months of each other, but it's now been just over a year since their last endeavor.  (Keep in mind that David and Christian do this in their spare time for no money.)
But the wait for the Season 4 teaser/trailer is over.  It was released last week and looks AMAZING!  Now nearly two and a half minutes long, the final message has changed to "BRING IT TO HIGH DEFINITION."  Amen to that!
If you want to see the teaser/trailers for the previous three seasons, here they are…