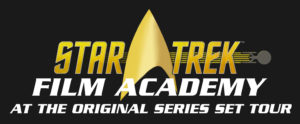 This is what I get for going to Colorado instead of Las Vegas!  I wind up taking an antique train ride through the Rocky Mountains to visit an old silver mine with my son and my brother and his family…while at the same time, JAMES CAWLEY makes a HUGE announcement about fan films and CBS licensing!
It's amazing the kind of cell coverage you get on a train in the middle of mountain wilderness, but it seemed like everyone was coming to me for answers about Saturday morning's big news from the creator of STAR TREK: NEW VOYAGES and the officially licensed Star Trek Set Tour in the small and lovely town of Ticonderoga, New York.
Of course, I had no answers.  Yes, I knew the announcement was coming a few days earlier and that it involved James Cawley and his sets—but I didn't know the details.  My news Saturday came from Carlos Pedraza's Axamonitor blog site and TrekMovie.com.  And for those that haven't heard yet, here's the basic info…
After a year of being a CBS licensee and running a clean and respectable franchise venue with no complaints that I know of (most people rave about the experience of visiting, and I would like to go at some point myself!), James Cawley  was able to expand his license to include a new STAR TREK FILM ACADEMY where fans would be able to take a week-long course in how to make a Star Trek episode.  James explained during his Saturday morning panel at the Las Vegas Creation Con:
You are going to go from script to stage over a six to seven day period and you are going to work with people who actually made Star Trek episodes.
You get to feel and experience what it is like to work on Star Trek…We're going to pretend it's 1966 and you're an employee of Desilu Studios.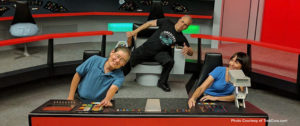 Also on the panel were Star Trek production alumni Michael and Denise Okuda, Doug Drexler, and Daren Dochterman…all of whom intend to be part of the week-long course which will launch sometime in the spring of 2018.  No specific schedules or prices were shared.  James also mentioned that he plans to ask other Trek veterans like Jonathan "William Riker" Frakes to participate and perhaps teach a bit about directing.  Another Trek production alumni already confirmed to me that James invited him out to upstate New York next month to discuss involvement in the Film Academy, and I can only assume that James is reaching out to others, as well.
The week-long curriculum will culminate in fans being able to shoot their own Star Trek vignettes on the TOS sets and walk out of the course with their own fan films to show.  It wasn't confirmed, but one would assume (and I plan to ask John Van Citters at CBS Licensing next week) that the studios will look the other way with these short productions, as they otherwise will be violating fan film guideline #5 that says no one who was previously employed on Star Trek can work on a Trek fan film.
Okay, that was the NEWS part.  Now for the EDITORIAL…
---
THIS IS A GOOD THING!!!
While I was hoping that the news would include the fact that CBS was allowing James Cawley to complete and release the remaining two or three unfinished Star Trek: New Voyages episodes (including "Torment of Destiny" guest starring the late Richard Hatch), I was still very pleased with this news.  Although I donated my money to fund more NV episodes, I actually don't mind that my contribution helped to create a licensed set tour and fan film school instead.  And yes, I know that some people have a problem with the cancellation of the New Voyages fan series and the diversion of funds to other endeavors, but I've always maintained that once you donate to a crowd-funder, that's no longer your money, it's their money.  And that goes for New Voyages, Axanar, or any fan production.
So yes, I'm VERY happy about this, folks.  It's not just that it's something new for fan films, it shows that CBS (with the help of James Cawley) isn't just writing off fan films or hoping they eventually go away.  It also presents some hope that someday we might see the easing of the dreaded guideline #5…maybe sooner rather than later.  (Hey, I can dream, can't I?)  And of course, I'm very curious and eager to see what this Film Academy actually teaches, how it teaches, and what the students ultimately produce.
This isn't just a good thing, it's a great thing!  Which brings me to my second point…
LET JAMES CAWLEY HAVE HIS MOMENT, DAMMIT!
The first blog site to break the news Saturday morning was Axamonitor.  And so, as I rode the bumpy rails over a trestle bridge, I read Carlos Pedraza's report on the big news.  Everything seemed fine until about halfway through when Carlos suddenly spent six paragraphs talking about Axanar and Alec Peters and the lawsuit.  SIX paragraphs!
Now, I understand that Axamonitor kinda has a raison d'être to hate on Alec Peters and Axanar or risk vanishing into a puff of irrelevance.  But come on…SIX paragraphs???  Really?
And frankly, I felt bad for James Cawley, forced to share the "spotlight" with Alec Peters on this day which should be all about James Cawley.  This was his achievement, and Carlos was spending nearly half his announcement blog talking about that "other guy"…with the detractors following suit.
It just left me scratching my head that so many detractors on Saturday were imagining Alec Peters furiously ranting and raving, sobbing, or any manner of frustrated reaction to hearing the news of the Star Trek Film Academy. I just can't understand why there needs to be a "loser" in this story.  Can't we all just be happy for James Cawley and for fans in general?
AND SPEAKING OF ALEC…
A little later on, Alec made the following public statement:
Hey, good for him! Of course, we thought up SciFi Film School in 2015! 🙂 I guess Discovery isn't the only thing taking inspiration from Axanar. 🙂
And Axanar director Robert Meyer Burnett tweeted this, as well:
The STAR TREK FAN FILM ACADEMY is a great idea…just another example of how the fallout from the @Axanarfilm case benefited all fandom.
Even though they were both praising James and his new endeavor, everyone seemed to zero in on Alec taking credit for the idea.  And while it's true that Alec announced the Sci-Fi Film School back in 2014 (not 2015, Alec!) during the big Axanar Kickstarter, my take on this "controversy" is simply…
WHO FRICKIN' CARES???
It's not like Alec Peters was the first person to think up the idea of a film school!  He simply wanted it to specialize in sci-fi.  His plan was to have experienced Hollywood sci-fi filmmakers from different disciplines come in and teach classes on writing, film editing, visual effects, directing, lighting, sound, etc.  So yeah, it's a lot like what James Cawley is planning to do.  But James is focusing primarily on Star Trek veterans and producing Star Trek fan episodes rather than branching out into general sci-fi.  Both ideas are great!
I asked Alec if he'd like to say anything here on Fan Film Factor.  And his statement says a lot about what I think we all should be doing right now…
We congratulate James Cawley, Doug Drexler, Daren Dochterman, and the Okudas on this tremendous announcement.  Anything that contributes to high-quality Star Trek fan films should be salutes and supported.  We look forward to seeing and enjoying the results of their hard work in the future.
So how about we all just follow that example and congratulate James Cawley, wish him well, and let him, Doug, Mike, Denise, and Daren have their moment in the sun?
After all, this really is good news for Trek fan films!