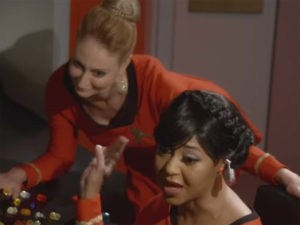 It's a bittersweet time for fans of STAR TREK CONTINUES.  After five years and what will soon be eleven episodes, the celebrated fan series is finally coming to an end this November.  That's certainly the bitter part.  The sweet part is that we are being treated to four new episodes in a single year.  The first two, "Still Treads the Shadow" and "What Ships Are For" have already been released, and the final two-parter, "To Boldly Go" will debut publicly with Part 1 on October 18 and Part 2 on November 13.
What's also sweet is that STC typically releases blooper reels for most of its episodes.  These short glimpses behind the scenes show how much fun the cast and crew had in creating these wonderful productions.
You can see all of their blooper/gag reels—along with all of their episodes and other special features—by clicking here.  Scroll down for the bloopers and features.
And here's their most recent blooper reel release for "What Ships Are For"…