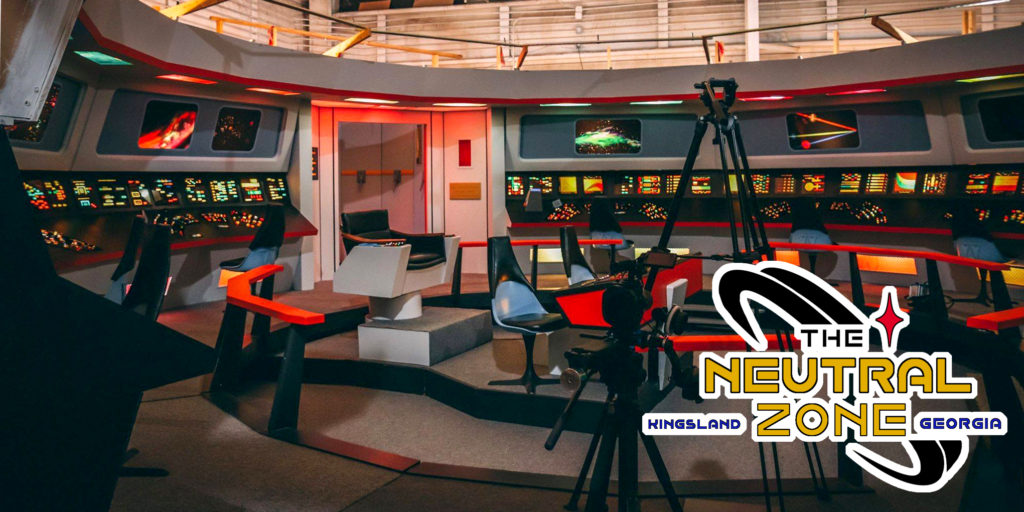 Man, I hope nobody misread that headline as "NEUTRAL ZONE STUDIOS is ON FIRE!" No, no, no…that is NOT what's happening!
But what is happening is that donations are coming into their Patreon campaign at an awesome pace! It was barely three weeks ago that I published a blog marveling at a single donor committing to pay more than $800/month(!!!) to help keep the rent, utilities, maintenance, and insurance paid on the building housing the amazing TOS sets that had first been used for both Starship Farragut and Star Trek Continues.
After purchasing the sets from VIC MIGNOGNA in late 2017, uber-fan RAY TESI decided to open up the renamed NEUTRAL ZONE STUDIOS in Kingsland, GA to any fan filmmaker wanting to shoot there (cost is $300/day). Already, Dreadnought Dominion, Ghost Ship, and the upcoming Constar Chronicles have all shot there…with more projects scheduled soon, including an appearance by NICHELLE NICHOLS for the proposed documentary about her amazing life and career.
The sets were also opened up to the general public for a weekend last October and will be opened up again this coming weekend for Fan Appreciation Weekend 2. (It's free to attend, and you can still sign up here.)
But while they say the best things in life are free, in this case, someone has definitely been paying for the "free"—Ray Tesi himself. Considered by many (including me) to be one of the nicest guys in our fan film community, Ray has been paying the costs for this studio out of his retirement savings for the last year and a half. That's about $3,500/month or $42,000/year.
Think about that number for a second. Ray isn't a Kardashian (or even a Cardassian). He's just a nice guy with a modest income and some decent savings wanting to keep these unbelievably beautiful and important sets out of the dumpster.
Continue reading

"NEUTRAL ZONE STUDIOS Patreon is ON FIRE!"