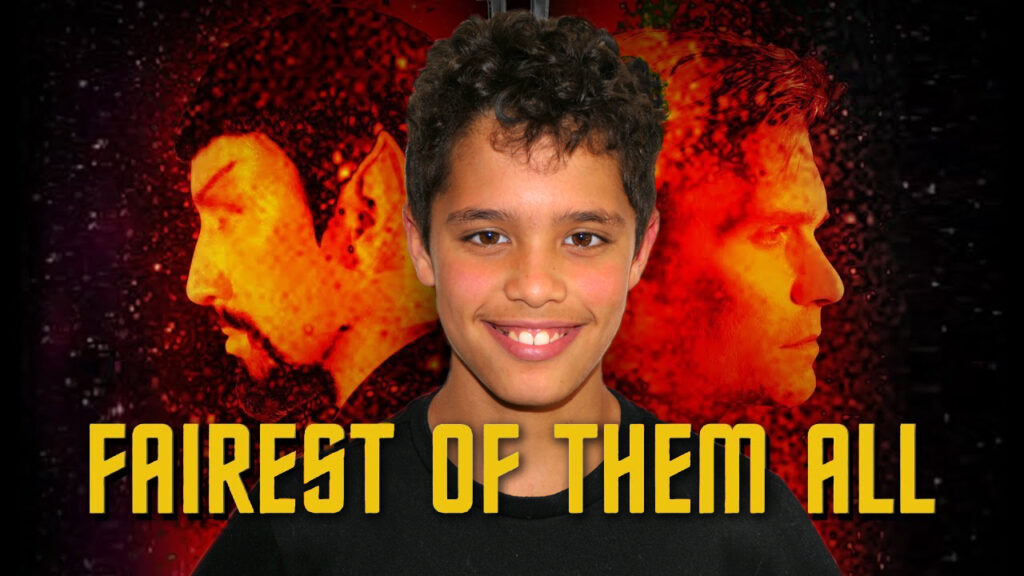 In honor of Father's Day, I wanted to share something special and Trekkish that recently happened with me and my son.
Jayden is reaching the age where he's developing his own interests that are completely separate from Daddy's. He's playing Roblox and Terraria and a bunch of other games on his computer that I've never heard of. He watches YouTubers with names like Mr. Beast, Flamingo, and Merg. He codes, builds robots, and does karate. And now that summer has started, hours will go by where I'll only see him when he comes down from his room for a quick snack (and it's all I can do to make him eat a nutritious lunch!).
Ah, being the father of an almost-teen…
But there is one thing that we do almost every day, and that's watch Star Trek together after dinner. I give the food a little while to digest, and then we'll head off to my office where I'll do 25-30 minutes of cardio on the bike while we watch (most of) an episode of Star Trek. It's been our "thing" since Jayden was 5. We're going in release order. We began with TOS, then TAS, then back to TOS because Jayden was really young when he first watched them, and I wanted him to remember. Then on to the first four movies, then TNG…with DS9 added as we hit season six of TNG. And of course, we watched Trek V and Trek VI when those came up in the chronological release order.
We've also watched LOWER DECKS, PRODIGY, and STRANGE NEW WORLDS—but not DISCOVERY or PICARD. In the case of Discovery, too much @$&%ing swearing, and in the case of Picard…SPOILERS!
Anyway, Jayden has become quite the little Trekkie (thank heaven!) and sci-fi nerd. The other day at the comic book store, he begged me to buy him a stuffed xenomorph from Alien(s)—which he's seen, of course—with a zipper for a mouth and a second mouth-tongue inside. (We named him Zipley.)
Most recently, we've made it to the end of TNG. We only have "All Good Things" left to watch, but it's time to switch back over to DS9 and complete season two. We're two episodes away from watching "Crossover," the first episode of any Trek to feature the Mirror Universe since TOS's "Mirror, Mirror."
Not certain whether Jayden would remember that early episode, I fished out the ol' remastered Blu-rays to watch that as a special "extra" before heading back to DS9. I'd done the same thing earlier in season two when we did a detour to watch "Errand of Mercy" then "The Trouble with Tribbles" and finally "Day of the Dove." Those three were all in anticipation of DS9's "Blood Oath," which featured the return of Klingons Kor, Koloth, and Kang from those episodes. So as you can see, I am doing all of this VERY methodically!
Last week, we viewed "Mirror, Mirror" and, as I watched the following scene, I got a crazy idea…
Continue reading

"A FATHERS DAY blog as my 11-year-old son JAYDEN discovers STAR TREK fan films…"