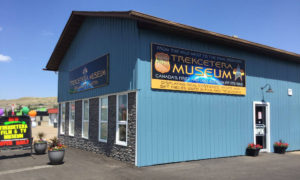 What a difference two days and a 150 generous Trekkers can make!
As I told you all on Monday, the TREKCETERA Star Trek Museum near Calgary, Alberta in Canada was in danger of disappearing forever.  Owners Devan J. Daniels and Michael Carl Mangold needed $10,000 in order to restructure a loan that was taken out to fund their move from the small town of Vulcan to more-touristy town of Drumheller.  The relocation is already resulting in triple the foot traffic, but the loan payments were still too high for even the revenue from increased admissions to cover it.
Reece Watkins heard about their troubles late last week and quickly put together a GoFundMe crowd-sourcing campaign.  Over the weekend, Reece worked feverishly to mobilize fans—including myself and Alec Peters—to help spread the word far and wide to as many Trekkers.  The money was needed this week, so the campaign couldn't afford a "slow" ramp up.  In fact, the deadline was just 24 hours!
Well, guess what?  They made it!  And here's what happened…
About midday yesterday, the campaign goal was cut in half, as the museum owners were able to procure $5,000 of the money needed themselves.  By the end of the day, the campaign had reached $5,521 and was ended, having successfully reached its goal.
This morning, Mike Bawden (who happens to serve as the PR Director for Axanar…although there is no official connection between Axanar Productions and the Trekcetera Museum other than simply lending support by spreading word of the campaign) sent $5,200 to the Canadian bank account of Devan and Michael.  That's the total amount raised minus the fees for GoFundMe.
The reason that Mike Bawden got involved is that his company has the infrastructure in place to handle international financial transactions and could make the transfer quickly, floating a "loan" to the museum for the week-or-so until GoFundMe releases the funds raised.  (By the way, I asked Mike if this money was taxable income and if he would have to cover those costs personally out of pocket.  His response, "Don't worry about it, Jon.  That's not really anyone's business but mine."  Fair enough.  I don't discuss my tax returns publicly either…and neither Mike nor I plans to run for president anytime soon.  Mayor, maybe, but not president.)
As an interesting side note, CBS apparently contacted the museum owners yesterday and told them to shut down the campaign.  This struck me personally as odd for two reasons:
The museum wasn't running the campaign.  It had been organized by a fan seeking support from other fans—"Friends of Trekcetera" was what the campaign page said.  And according to Reece Watkins, whose name did appear on the page as an organizer, at no point during the campaign was he ever contacted by CBS.
Why would CBS want to shut this campaign down?  Wouldn't this sort of grass-roots fan participation and enthusiasm for Star Trek be GOOD for the franchise?  And hey, it keeps an official licensee from going out of business, and that just means more revenue for CBS.
So no, I just don't get the logic of CBS trying to shut down the campaign.
Anyway, the point became moot last night, as the GoFundMe was ended (once it reached its goal) the same day CBS contacted the museum telling them to shut it down.  So everybody wins, right?
(By the way, I've reached out to John Van Citters of CBS Licensing with some questions about this, and I'll let you folks know if/when I hear anything back.  I only just e-mailed him a short while ago, which is why I don't have his comments available yet for this blog entry.)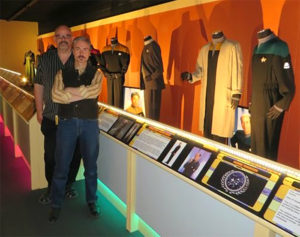 In the meantime, though, a big THANK YOU to everyone who pitched in to assist with this lightning-fast campaign… whether it was a donation or just helping to spread the word.  $5,500 in just 48 hours!  It's amazing what Trek fans can accomplish when they care about something!