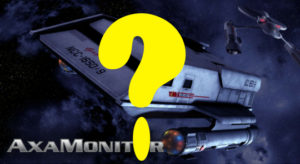 "Lie."
It's a strong word, and it's one I don't like to use on this blog if I can avoid it.  It implies both intent to mislead as well as the act itself.  It's not a nice thing to do, nor is it a nice thing to accuse someone else of doing.
As far as ALEC PETERS is concerned, CARLOS PEDRAZA (the "journalist" who writes the obsessively hyper-critical Axamonitor blogs) is an outright liar when it comes to all things AXANAR.  Alec has often asked me why I don't call Carlos out on his lies here in this blog…especially when they are so obvious.
Not so fast, Alec.
It's not that cut and dried for me.  I draw a distinction between lying and simply bad journalism.  For example, when Carlos mistakenly reported the wrong location for the new Georgia studio for Axanar Productions, that wasn't knowingly a lie.  Carlos had been fed bad information, rushed to publish it before confirming his facts, and was later called out on it.  To me, that was not lying; it was simply sloppy reporting.  And to his credit, Carlos was quick to correct the misinformation and apologize.
And as I commented here in a recent editorial, Carlos is renown for reporting only PART of the facts and leaving out almost anything that works against his primary goal of discrediting Axanar.  For example, take a look at this screen cap from a blog Carlos wrote on September 5, 2017…

Notice that Carlos says "…all of which was spent without a single frame of Axanar shot in the studio."  Makes it sound like nothing was produced at all, right?  Of course, the 3-minute Vulcan scene—the thing that reportedly got Axanar Productions sued—was shot outside of the studio in the parking lot, NOT inside.  See what Carlos did there?  Clever!
But reporting only half the truth with the intent to mislead is still not technically lying…even though Carlos does it a lot.
CORRECTION – In the original version of this article, I wrote that while Carlos claimed to have worked for the Associated Press, I had only been able to find one, single fluff piece article from 29 years ago.  However, a more extensive online search revealed additional articles, and I would like to correct the record and state that Carlos Pedraza was employed with the AP from July of 1985 until June of 1987.
So by sharing some facts but leaving out certain others, Carlos can "color" the truth.  But now it seems to me that Carlos Pedraza may have finally crossed that line between bad journalism and outright lying.  Read on and decide for yourself…
When I checked out Carlos' latest blog entry on Axamonitor, I noticed something that, at first, I simply found amusing.  Carlos reported the total amount that Axanar raised through crowd-funding…

"Nearly $2 million…" huh?  Last month (as shown above) it was $1.7 million—which I suppose is "nearly $2 million" if you round up to the nearest million!  But…really???
I'd already started noticing that Axamonitor's crowd-funding total for Axanar had been steadily and consistently growing, ever-so-slowly, for the past year or so.
In September of 2016, Axanar's crowd-funding total on Axamonitor's blog site was initially reported at $1.1 million…

This $1.1 million number continued into early November of 2016…

But less than a week later, the total jumped to $1.4 million as Carlos decided without explanation to suddenly add in merchandise sales to the the crowd-funding total…

Nothing inherently wrong with deciding to combine the crowd-funding and merchandise totals, of course.  But a few days after doing that, the number increased again to "almost $1.5 million," citing confidential redacted portions of the court filings that Carlos had somehow obtained…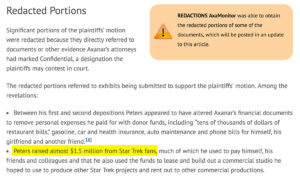 Now, before we go any further, let me remind you of this blog post from last month that I showed you earlier:

So, "According to court records," the total was $1.7 million.  And yet, the previous November, also according to court records, the total was $1.5 million.  Obviously, the court documents can't have reported the number as both $1.5 million and $1.7 million.  Is one of those two blogs a lie?  Maybe one was just a typo?
Well, if it was just a typo, then Carlos sure seems to be making a LOT of them because the numbers kept right on fluctuating!  After the three blog posts in November 2016 when the Axanar total was reported as $1.1 million, $1.4 million, and $1.5 million in just three week's time, the $1.4 million total returned in January of 2017 when the Axanar case finally settled…

Note that, once again, Carlos cites court documents for his $1.4 million number.  And yet, $1.5 million didn't have to wait long for its return, which came in April of 2017…

The first appearance of the $200K "jump" to $1.7 million came on August 12, 2017 in a blog entry that—strangely enough—was not even about Axanar itself but rather about James Cawley's new Star Trek Film Academy in upstate New York…

And then, as I mentioned, $1.7 million was reiterated a month ago, and as of yesterday, it's now "almost $2 million."  From $1.1 million a year ago to almost $2 million today—with no additional crowd-funding campaigns in all that time?  Must be that "new math" they're teaching in schools…or magic!
Of course, the actual numbers released from Axanar are as follows (and this does, in fact, match what was in the court documents)…

So the correct answer to the lightning bonus round question was: $1.4 million (which is not "almost $2 million" even if you do round off to the nearest million).
And of course, a couple hundred thousand of that never reached Axanar Productions as it went instead to the Kickstarter and Indiegogo service fees and the fee for processing credit card transactions.  So the judges would have also accepted an answer of $1.2 million.  Thanks for playing along at home, everyone.
---
In the end, it really doesn't matter if Axanar took in $1.1 million, $1.3 million, $1.4 million, $1.5 million, $1.7 million, or almost $2 million.  The money has been spent, the lawsuit has been settled, and the production is reportedly moving forward.
And had Carlos not reached that $2 million threshold, I doubt I would have even bothered writing this blog.  The crowd-funding "creep" was more of an amusing sideshow to watch happen than a reason to rant.
But then I realized something…
Many detractors believe that Alec Peters is not to be trusted.  And yet, from my vantage point, the person who really seems to lack integrity is, in fact, Carlos Pedraza.
Axamonitor is not journalism.  It's not news you can trust.  At best, Carlos will sneakily tell you half the story and make it sound like the Axanar sky is falling while he does it…as he did in my earlier example when he said that no scenes from Axanar had been shot "in the studio."  He also did it in his blog yesterday when he tried to turn lemonade back into lemons.  Axanar supporter Reece Watkins wanted to help save the TREKCETERA Star Trek Museum in Canada by setting up a grass-roots crowd-funding campaign to help the owners raise $10,000 for a crucial loan payment.  Axanar Productions wasn't involved in any way other than Alec Peters helping to spread the word and Mike Bawden facilitating the transfer of donated funds from a U.S. bank account to a Canadian one.
And yet, if you read the Axamonitor blog entry from yesterday, Carlos makes it sound like this kindhearted gesture from concerned Star Trek fans was some huge scandal just waiting to be uncovered (and of course, Axamonitor would be all too happy do so!).
I found out that last night, Carlos emailed a series of probing questions about the museum campaign to Mike Bawden at 3am Mike's time.  That by itself wouldn't have been so bad had Carlos not published his blog less than an hour later at 4am!  (Mike was, of course, asleep.)  In the blog, Carlos included his questions with no explanation of why Mike's answers weren't anywhere to be seen.  Mike emailed Carlos his detailed answers at 9:30am, answering them at his first opportunity yesterday morning.  And yet, even though Carlos rushed to publish the blog that did NOT include Mike's answers, there has no effort made in the last 24 hours by Carlos to either add Mike's answers to the original post or else publish a follow-up blog.
So no, that's not good journalism.  It's trickery and manipulation of both the news sources and of the readers.  Personally, I don't know how or why anyone would trust what Axamonitor has to say.  It's obvious that Carlos Pedraza is not a good journalist.  That much goes almost without saying.
But as you look at the casual and unexplained deviation in the reported crowd-funding numbers, and how three different totals are all attributed to the same "official court documents," it doesn't take a genius to ask the most obvious question of all: is Carlos Pedraza also a liar?
I know my answer.  Feel free to decide yours…