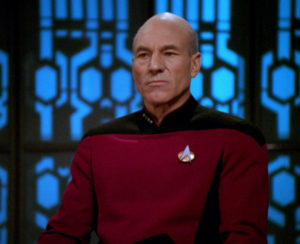 Earlier this week, someone played a practical joke on CARLOS PEDRAZA of axamonitor.com.  Many think it was ALEC PETERS or perhaps one of his associates (not me, people!), although it's looking like a "he said/she said" situation.
In short, here's what we know happened…
Axanar Productions is moving to a new studio in Atlanta.  Carlos Pedraza, for some reason, was pushing hard for any information he could find out about the new facility.  I was sent screen captures of the following two Facebook posts from Carlos, although there may have been more…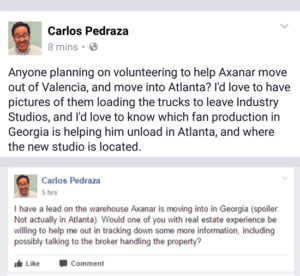 I'm not sure why it was so crucial for Carlos to get information about the new studio, but that's not really important.  What is important is that, apparently, he found a "mole" willing to funnel him information from Alec Peters (despite Alec's request to volunteers not to share information yet about the new facility).
I've since been told by a few detractors in comments posted to Fan Film Factor that the name of this mole is Brian Hartsfield, and on Wednesday at 1:46PM, he received an e-mail (allegedly) from Alec Peters saying the following…
Dear Atlanta Volunteers:
I thought you all might like to see the new studio.
http://www.loopnet.com/Listing/19859701/2654-White-Sulphur-Road-Gainesville-GA/?LinkCode=31812
Please do not share this information with anyone.  We have some unscrupulous stalkers as you probably know, who are trying to get this information.
Alec
Apparently, the information in this e-mail was corroborated by one other unnamed source, but I can't verify that.  However, it was discovered later by Carlos, and subsequently by the rest of us, that this e-mail was in fact a fake…pointing to a link for another property that, according to some, Alec had looked at and rejected in favor of a better facility in a more preferable location.
Now, I can't verify that this e-mail wasn't doctored in some way or that it wasn't sent by a third party spoofing Alec's e-mail.  For Alec's part, he told me, "Look, Jonathan, no other volunteer got this message, and I wasn't planning to send out any information to anyone until next week—mainly because of Carlos and others trying to find out where the new studio is."
I'm not in a position to judge who was really behind this, and to be honest, it really doesn't matter much to me.  It was a practical joke, and Carlos got "bamboozled"…a word Carlos himself used in an editorial he wrote.  And if it ended there, so would my editorial today.
Unfortunately, it didn't…
At worst, it's a case of two wrongs not making a right.  Shame on both of them…assuming it was Alec and not someone else.  And obviously, yes, Carlos was indeed planting a mole…and we know this because, within hours of that fake e-mail being sent, Carlos posted a blog describing the new (incorrect) location.  And if it were indeed Alec Peters feeding misinformation on purpose, then hey, he beat Carlos fair and square at this own game.
As my friend (and Axanar detractor) Gabe Koerner commented to me on Thursday:
It currently appears this email was designed to be sent to one specific donor in Atlanta suspected to be a "hater mole". Alec's plan worked brilliantly.   Well played.
Well played, indeed!  (Look at that—I just agreed with a detractor!)  In this case, the phrase hoisted by his own petard ("to be harmed by one's own plan to harm someone else") seems appropriate for Carlos.  So why does the title of this blog say "Picard" instead of "petard"?
To explain, I need to redirect your attention back to this editorial that an obviously irate Carlos Pedraza posted on both his blog site and Facebook page.  Now, I don't blame Carlos for being royally pissed.  He got caught in a sting—walked right into it, in fact—and had to issue a speedy correction and apology to his readers.  And to his credit, he did just that…starting his editorial in a classy way that sincerely impressed me:
Did I get bamboozled? Yep, I sure did. Comeuppance has been served and I'm ready to eat crow.
That happens sometimes to journalists, and the first thing we're taught is admit our error. So I'm admitting mine: I fell for a scheme in which these folks, who don't like to have what they do made public, got together and coordinated an intricate plan to fool me.
And man, if he'd only stopped there!  It would have been so professional, so above the fray, holding the moral high ground…call it what you will.  Had Carlos stopped writing there, I would have tipped my hat to his good-natured maturity, and he honestly would have risen in my estimation by leaps and bounds.  In fact, I daresay that such a response with no other commentary would have left the practical joker(s) feeling rather disappointed with a mostly unsatisfying outcome.
But, no, that didn't happen.
As I read through Carlos' editorial, I counted the words "journalist"/"reporter" used five different times (just in case we missed the first four?) and the words "lie"/"lied" used six times.  Here's a sample…
So who turns out looking worse in this situation? The reporter who was taken for a ride, or the people who lied to the whole world in order to do it?
"Lied to the whole world…"  Hyperbole much?
At worst, if Alec is in fact behind this, he lied to only one person…possibly two (not the whole world) who were, it turns out, lying to him.  I'm not really sure the rest of the world cared all that much.
But what really got my attention is what Carlos said at the end…because it was  disturbing in an eerily familiar way:
Which is why I'll continue to cover this story until the day you stop trying to fool people for your own gratification. I'll certainly be more careful about my sourcing in the future, now that I know the lengths to which you'll go to hide the truth.
I apologize to my readers for letting them down, for getting caught up in yet another Axanar scheme. What I won't apologize for is my intent to continue to cover this story. Axanar's behavior trying to fool a reporter for some cheap laughs and finger-pointing just proves why it's necessary to continue to shine a light on what they do.
"Eerily familiar," I said…and in fact, eerily familiar in a Star Trek way.  Do you remember the fourth season TNG episode "The Drumhead"?  In this TNG episode, retired Starfleet Admiral Norah Satie comes aboard the Enterprise to investigate an explosion.  But her investigation mushrooms into a witch hunt, filled with an ever-growing network of conspiracies that ultimately lead her to accuse Captain Picard himself of treason.  Along the way, her persistent and very public investigations gain Admiral Satie many followers and believers, including Worf and even Admiral Thomas Henry of the Security Division of Starfleet, who boards the Enterprise to observe the now-very intense interrogations of multiple Enterprise officers.
It's a disturbing episode…if for no other reason than how much sense Admiral Satie's accusations make when she supports them with her unique interpretations of the truth.
And I realized, as I read Carlos Pedraza's editorial, that he reminds me very much of Admiral Satie.  Watch this scene and, at the beginning of it, imagine that it's Carlos questioning Alec (it has the same kind of haughtily leading tone as many of his blog pieces):
And then at the end when Satie hurls accusation after accusation at Picard, swearing to expose him for what he is, well, I just thought of the intensity of Carlos' own conclusion:  I'll continue to cover this story until the day you stop trying to fool people for your own gratification.
---
It always amuses me when Carlos calls himself a "reporter" and/or "journalist."  I watch a lot of news (yeah, I'm a news junkie), and I notice that all of the reputable major news outlets go out of their way to avoid using the "L" word ("lie")…even when it's so blasted obvious!  I can't remember the last time I heard Wolf Blitzer or Katie Couric say that someone "lied."
Oh sure, the pundits call people liars all the time, but they are partisan "guests" called in to comment on the news, not to report it.  Reporters are held to a much higher standard.  Reporters must appear neutral and impartial in order to convey the news in a way that can be trusted by the viewer/reader.  Sure, we all know that FOX and MSNBC are all-too-often blurring the lines between "news" and "commentary"…and CNN seems to be on a quest lately to slowly chip away at the Trump White House.  But even CNN anchors go out of their way not to come out and say, "Donald Trump lied…"
Carlos accused Alec Peters (and his supporters) of lying six different times in the space of just twelve paragraphs.  And what's most amusing (ironic? hypocritical?) is that Carlos has seemingly not even tried to verify the authenticity of the original e-mail that started this.  Was it doctored?  Was it really from Alec Peters himself?  Did any other volunteer receive the same e-mail?  Sure, it might not even be possible to research any of this further, but a true journalist would have reported at least trying to do so.  And a true journalist would have at least tried to reach out to either Alec Peters or Mike Bawden to get their statement on the matter…or simply to have verified the address of the new location before publishing it.  Mike Bawden confirmed to me that Carlos never tried to contact him or Alec to verify that the address Carlos had was correct:
Mike Bawden – "He didn't. If he had, I would have told him the address was wrong. I just wouldn't have given him the right one."
So instead of acting like a real reporter, both before but especially after publishing the incorrect information, Carlos decided instead (as he so often does) to editorialize a seemingly endless parade of wild accusations and venomous criticisms—just as Admiral Satie did at Captain Picard.
Carlos likes to defend his actions by saying that Alec is a "public figure," and that Carlos has the right, as a journalist, to thoroughly investigate him.  But whether or not Alec is a public figure, private figure, hidden figure (great movie!), or action figure…it doesn't matter.  Carlos is NOT a reporter, he isn't paid to be a reporter, and he does not conduct himself with in a manner consistent with how a reporter should behave.
Maybe he's forgotten how.  You see, Carlos did indeed spend two years (1985-1987, right after he graduated from the University of Montana) writing local interest articles for the Associated Press…like this one about a Seattle musical trio called Uncle Bonsai (who are actually really good; I used to listen to them back in college).  But it's been three decades since Carlos had a real job as a reporter.
I suspect that, were Carlos an actual reporter today covering the story of Alec Peters and Axanar Productions for the Associated Press, and if Carlos had written and published an editorial like the one I've quoted (with outrageous statements like ""…lied to the whole world…"), his supervisor would have quickly pulled him off the assignment, as his emotional maturity, intellectual objectivity, and even his very journalistic integrity would now be called into question as he revealed himself for what he truly is: a man obsessed with throwing all of his effort into bringing down another person no matter how long it takes.  I'll continue to cover this story until the day you stop trying to fool people for your own gratification.
This is the real Carlos Pedraza, revealed by his anger and embarrassment at falling for this prank that he ironically brought upon himself…just as Admiral Satie was exposed when Captain Picard drew out her anger to a point where she could no longer hide her true intentions, resentments, and obsessions.
And that, my friends, is why I say that Carlos Pedraza, like Admiral Satie, has hoist himself with his own Picard!
And in the end, what was even the point?  Why did Carlos have to know so badly where the new studio was going to be…and so quickly?  Alec would certainly be revealing that information soon enough…probably even posting live videos of the move-in like the did last weekend with the move-out.  And it's not like donor money is paying for this facility.  I actually have no idea who is paying the rent (probably Alec), but it's certainly not a case where Carlos has to wonder whether Alec is skimming off the top…there's nothing to skim!
So why, then, did Carlos need to find a mole/spy/inside man and then rush to post the information ASAP?  Did he just want to scoop Fan Film Factor?  Heck, I've had the photos for two weeks and wasn't even planning to post them for another week!  I was in no rush…why was Carlos?
Anyway, as a "reporter," Carlos has been covering this same "story" for nearly a year and a half…diligently, doggedly, determinedly.  But dude, the show is over.  The lawsuit is settled.  The donor money is all used up, and Alec isn't releasing any more information about how it was spent than he already has.  The super-expensive Valencia studio is history.  There's now a much cheaper Atlanta facility that a bunch of crowd-funding donors are not paying for.  At this point, either Axanar gets made or it doesn't.  I certainly hope it does, but I doubt that anything Carlos Pedraza writes at this point is going to affect that outcome.
So if I may be allowed one final video, these are the last words I would like to address to Carlos and the remaining detractors as I end this editorial…