SPOILERS AHEAD!  BIG, HUGE, MASSIVE, GINORMOUS, HULKING SPOILERS!!!  (Don't say you weren't warned!)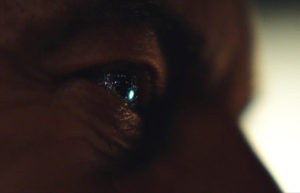 Last week, I commented on the fan theory that Captain Lorca of the USS Discovery isn't from "our" universe but rather from the Mirror Universe.  At first, it sounded like a pretty wild theory.  Now, I'm pretty well convinced that it's the truth.
Is that the "discovery" that the series is named for?  After all, these show-runners are all about things having multiple layers of meaning, like episode 5's title "Choose Your Pain."  Maybe Discovery is not just the starship's name but also alluding to the crew's discovery that their captain is from another universe…a much meaner and nastier universe, as it turns out!
What?  You don't believe me?  (Well, actually, some of you probably do.  This theory is already spreading rapidly through fandom—at least those watching the show—and a growing number are, like me, getting on board with the idea.)
Here's the clues…
We know that the Mirror Universe plays a roll in Star Trek: Discovery.  Jonathan Frakes himself let that cat out of the bag on September 16 in Chicago.  Also, we had that surreal little "mirror moment" during Lt. Stamets' teeth-brushing pajama party with his doctor boyfriend at the end of the fourth episode.
Lorca won't get his eyes fixed, even though this is an easy procedure and everyone says he should.  "I don't trust doctors," he says.  Well…maybe.  But what if he doesn't trust doctors because they might discover that he's not from this universe?  Maybe something about him doesn't match the "real" Lorca.  Or maybe it was the cross-over from the other universe that damaged his eyesight in the first place.
When we first meet Lorca in episode 3, he is gazing out the window at the stars saying, "No matter how deep in space you are, I always feel like you can see home.  Don't you think?"  But what is Lorca really looking at?  Yep, it's his reflection mirrored in the glass…Too silly?  Wait, there's more.
Lorca killed everyone on the USS Buran except himself.  In other words, no witnesses.  It's the sort of thing a bloodthirsty "barbarian" from the Mirror Universe might do…especially to keep himself and his true identity a secret.  Maybe the real Captain Lorca transposed into the other universe.  Or maybe he was on the Buran.  If the latter, then the only thing that could prove that Mirror-Lorca isn't who he says he is (other than his eyes, DNA, or growing a beard) is now atomized.  If the former, then I suspect we will see a rescue mission sometime in the next 9 episodes.
And of course, there's everything that happened in this latest episode "Lethe."  Admiral Cornwell, one of Lorca's oldest and closest friends, says that he hasn't been the same since the Buran.  She's "watched [him] change these past months."  And did you notice that brief moment when it seems like Lorca doesn't remember going to see the Perseids meteor shower with Katrina?
After the two sleep together (while Burnham is off on a dangerous rescue mission trying to save someone who might be able to end the war—even Kirk kept his womanizing priorities straighter than that, people!), Katrina sees those old scars on Lorca's back.  Obviously, this isn't the body of the man she knew.  Then moments later, he's got his hand around her throat and a phaser pointed at her head.  Admiral Cornwell thinks he's just "broken," but by this point, if you AREN'T thinking that Lorca's a doppelganger, well…really?
And finally, Lorca convinces Cornwell to walk into an obvious trap…essentially taking her out of play and preserving his secret a while longer.  Kinda makes me hope that the admiral might have been smart enough to send a message to Starfleet Command about Lorca before flying off.
Oh, and on After Trek, discussions of Sarek and Burnham went on for about 20 minutes.  Total time spent discussing Lorca: 96 seconds (for those watching, fast forward to 20:11 and watch the next minute and a half).  "Pay no attention to the man behind the curtain," says CBS.
It's not just Lorca.  I've been able to predict a number of things early on in episodes.  You'll have to take my word for it, but here's what I saw coming:
T'Kuvma's death
Georgiou's death
The Tardigrade being the missing piece to getting the spore drive working
Landry's demise (well, we all saw that one coming, right?)
Mudd's little bug being a…well…a bug (as in listening device)
Lt. Tyler's "choose me" moment in the Klingon brig leading to an escape attempt
Stamets plugging himself into the machine (I saw that coming from, like, the beginning of the episode)
Stamets and the doctor being in a relationship (as soon as the doctor was given enough lines for the audience to realize the character was gay, that pairing seemed to be a forgone conclusion given all the hype about a homosexual character on the series)
Sarek having been the reason that Michael didn't get accepted into the Vulcan Expeditionary Group (although I didn't foresee his being forced to choose between Michael and Spock since I had no idea which sibling was older and by how much)
Of course, it's easy to claim that I saw it all coming and have you all just take my word.  So how about I go out on a limb and predict something now that hasn't happened yet?
Okay.  (But this is such an obvious one that a lot of fans are also discussing.)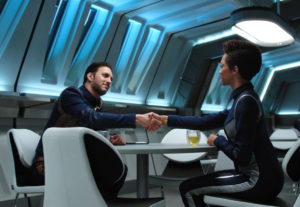 Lt. Ash Tyler (awesome name, right?) is a plant by the Klingons.  Their escape was too easy; the Klingons let Ash go ("let go of my Ash!")…possibly with post-hypnotic suggestions so he doesn't even realize that he was programmed.  Now that he's on board, he's been accepted by the crew way too quickly.  Tilly finds him dreamy.  Burnham is falling for him (that was obviously going ti happen from the beginning of the episode).  Captain Lorca just made him the new chief of security.  (Don't they have brainwashing in the Mirror Universe???  At least let the guy spend a few months under observation safely tucked away on a starbase before assigning to Starfleet's most advanced ship!)
Considering how cold the crew was to Burnham at first, they're taking to this guy who spent 7 months in a Klingon prison—literally sleeping with the enemy—pretty much without hesitation.  In other words, the Discovery crew is selectively dicky!
Tyler will either turn out to be a double agent or a sleeper agent, aware of his subterfuge or not.  And that, um, discovery will test Michael Burnham just as she's finally allowing herself to open up and feel again.  But Tyler's definitely a Klingon plant.
---
"So, Jonathan's complaining again.  Sigh.  Why can't he just watch and enjoy the show?"
Well, actually, I can.  And I am.  But I've also got this blog, and I like sharing my thoughts with all of you.  And the question for today is:
Is Discovery too predictable…and is that necessarily a bad thing?
On Game of Thrones, I didn't see the death of Ned Stark coming, and the Red Wedding took me totally by surprise.  (Nope, I didn't read the books.)  That show keeps viewers on their toes constantly (until this past season).  And other amazing series like Breaking Bad, Preacher, and The Walking Dead also constantly keep me guessing and regularly shock me with the unexpected.  The Sopranos did, too.  Many of the best TV shows do that.
Other shows, well, they TRY to do that.
Granted, Star Trek never used to be one of those "constant surprises" TV series.  Sure, there were great episodes like Devil in the Dark with an unexpected twist (for 1967) where the monster turns out to just be a mother protecting her young.  But as often as not, you were watching the episode and simply waiting for the crew to solve the problem and get out of a jam.  And maybe there was a mystery until the big reveal, and sometimes a crew member's life would be in jeopardy, but you didn't wonder each week whether a popular character would be killed off.  We were seldom faced with true "Is he actually going to die?" moments like Picard showing up as a Borg and Number One saying, "Fire."
But Discovery is definitely trying its best to play in the big leagues.  It wants to be Star Trek's answer to Game of Thrones (and the show-runners pretty much said just that).  They want the audience to never think a character is safe.  That's why they killed off Landry (and, by the way, that's also how I knew they were going to kill off Landry!).
The problem is that writing a show as intricately complex as Game of Thrones and The Walking Dead is far from easy.  You can't just shock your audience for the sake of shocking them.  The clues all have to be there.  For anyone who watched Breaking Bad, when I discovered that Walter had poisoned Brock, I had to go back and figure out how he got Jesse's ricin cigarette.  And yeah, the clues were all there.  I just didn't notice them.
With Discovery, I'm noticing them.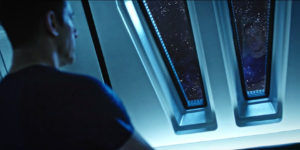 Is this ruining the show for me?  No.  I am definitely still enjoying it.  In fact, the whole Mirror-Lorca plotline actually intrigues me.  I hope it is indeed what's going on, 'cause it'll be cool.  Even if we know he's from the other side of the mirror, there's still mysteries to solve:
How did Lorca get to our universe?  Was it an accident or on purpose?
Is he on a mission from his universe to steal our spore drive technology?  Or did someone from our side bring him over…because people from his Terran Empire are used to winning wars?
Is the real Lorca still alive?  (Considering that the series was just renewed for a second season, I suspect the answer is yes.)
Does Starfleet know that Mirror-Lorca is a doppelganger?  Is that why they gave this headstrong, insubordinate lunatic who killed his entire crew but not himself one of Starfleet's most advanced vessels?
How is Section 31 involved?  (You know they're involved, right?  Just look at the NCC-number of the USS Discovery.  Coincidence?)
In general, I'm pretty much resigned to the fact that I am NOT watching a show as unpredictable as Breaking Bad or Game of Thrones.  Yes, I am watching a good show, a well-directed, well-produced, well-edited, and well-acted show.  But I am not expecting the unexpected.
(The only real unknown I suspect I'll encounter is whether or not the latest episode will stream properly now that I've subscribed to CBS All Access.  If you haven't heard, they had a bit of a glitch last Sunday night.)
---
Anyway, saying the show is predictable (or "too predictable") isn't really intended as a complaint.  I don't mind being able to figure out what's coming next.  (And if I'm wrong about Mirror-Lorca and Sleeper-Agent Tyler…then, hey, they got me!  And I'm sure I'll hear some mocking about it from the detractors.)
It's simply that I feel like Star Trek: Discovery is too predictable to be Game of Thrones or Breaking Bad…not that it's too predictable to enjoy.  It's challenging enough just making 15 compelling episodes of a TV show.  Add in all the moving parts of calling it Star Trek, a budget of $8.5 million per episode, and all the pressure to perform from CBS, and for me to expect the kind of narrative complexity of some of the best shows out there is setting a VERY high bar for this new Star Trek series.  That's not necessarily fair…although for six bucks a month, maybe it is.
Anyway, for now, I'm just going to remain content to watch and enjoy the new series and be happy that it was renewed for a second season.  Because the alternative could spell the end of Star Trek forever—and I'd rather the future of my favorite sci-fi franchise remain, well…
…unpredictable.