AND THE REVIEWER SAID UNTO THE READERS: "LET THERE BE SPOILERS!"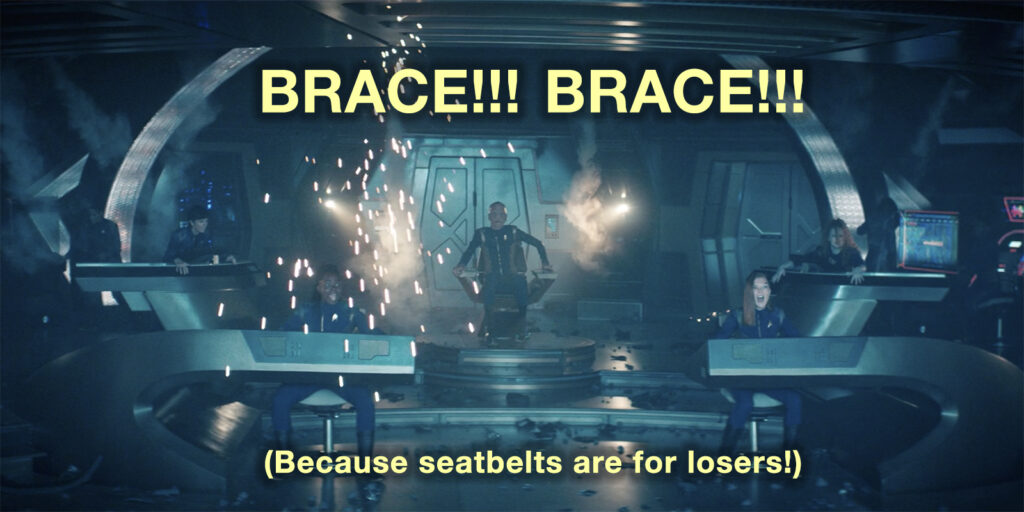 Reviews for STAR TREK: DISCOVERY's second episode of season three, "Far from Home," have been mostly positive (with a few dissatisfied clunkers that I skimmed here and there). Speaking only for myself, though, I think it was my most enjoyable episode of Discovery so far.
Now, "enjoyable" doesn't mean best or strongest or most amazing. But I very much ENJOYED the experience of watching it. It was an "easy" episode to watch—not too dark or broody, funny in a lot of places, not too convoluted or filled with exposition, decent character interplay, and a pretty straightforward bad guy to root against.
But that's just the view from orbit. Let's get closer to the surface and discuss WHY this episode worked so well and was so enjoyable to watch. Let's look at what they got right and what they got wrong…
AND THE AWARD FOR BEST STARSHIP CRASH INTO AN ICE WORLD GOES TO…
Visual FX are no substitute for good writing and acting and directing and all the rest, of course, but you do need to give credit where it's due. And while I detested most of the over-cluttered "epic" battle at the end of season two and found most of the VFX in season one too dark and undefined, I now have a favorite Discovery CGI sequence…by a wide margin.
This episode opened with a very exciting sequence where the Discovery crashes into a strange, new world. You might remember that, a week ago, Michael Burnham in her time suit also emerged from the temporal rift and immediately crashed—twice!—once into Book's ship and then into the world with the Orion and Andorian Mercantile. Perhaps it's just a pet peeve left over from when I was taking Astronomy 101 back at Cornell in 1987, but I do hate it when writers forget how big and empty space actually is. In this show, however, space is as crowded and as tightly packed as a Trump campaign rally. (Sorry, no politics, Jonathan! Bad blogger! Bad!)
Be that as it may, I'm not going to hold any of that against Discovery. So space is crowded—if it weren't, the show would be super-boring. Anyway, Discovery emerges and then this quickly happens…
I did find it amusing that, once again, so many lives could have been saved from injury through the use of a 20th century invention known as the seat belt. But hey, at least they can always shout, "Brace! BRACE!!"
However, all kidding aside, that is one awesome sequence! And it shows how far Star Trek has come visually from 1998 when Voyager previously won the award for best starship crash into an ice world…
Continue reading

"What STAR TREK: DISCOVERY just got very RIGHT…and WRONG! (editorial review)"