NO SPOILERS…BUT LOTS OF SWEARING!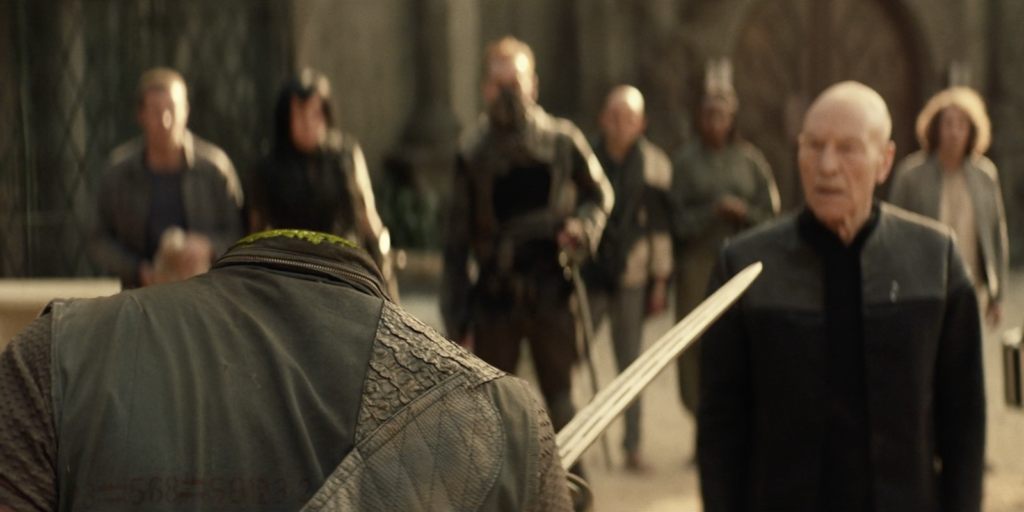 I really liked the fourth episode of STAR TREK: PICARD. It wasn't perfect (ahem, Narek and his sister Narissa), but it was close enough that I really loved the entire experience of watching it. And let's face it, JONATHAN FRAKES knows how to direct Star Trek! Patrick Stewart and the entire cast (aside from the guy playing Narek) give consistently outstanding performances.
Show-runner MICHAEL CHABON was the lone writer credited this episode (all the other episodes have had multiple credited writers), and those 44 minutes flowed perfectly. With solid pacing, new and fascinating characters were introduced and developed. The episode filled in more of what happened to Picard over the last decade and a half, had amazing VFX (not too dark, too too fast, not too confusing), wonderful music, incredible make-up and costumes, gorgeous locations, and a thrilling surprise ending.
I truly have nothing to complain about…except one thing: the f*ing swearing!!!
So this time, because the episode itself was so enjoyable, my editorial review is going to be more editorial and less review. After all, this episode was titled "Absolute Candor," so let me share my truth with you.
Let me start by saying that I am not a fucking prude. I know how to swear, and I'll even indulge in "colorful metaphors" myself from time to time. I also know how NOT to swear. I don't use profanities within earshot of my 9-year-old son or with my in-laws or in mixed company or with clients. I don't use them during my audio interviews with fan filmmakers. Swear words are a choice…even if you accidentally drop a stack of dishes and they shatter all over the floor.
And I don't mind hearing swear words on most shows on television. In fact, I welcome them! For me, not hearing swear words on network TV takes a little of the realism out of certain dramatic scenes.
So why the #$%@ do I have a problem with swearing on Star Trek, you ask? After all, if I want more realism on TV, then why shouldn't Star Trek be as realistic as other shows?
Fair question. And I am going to explain why. But in order to do so, I need to take you all on a fast time wrap through the first 50 years of Star Trek…
Continue reading

"Why I lose my head every time I hear F*ING SWEAR WORDS in PICARD and DISCOVERY! (editorial review)"