WARNING!  SPOILERS AHEAD!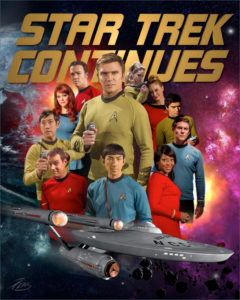 Last time, an Indiegogo crowd-funding campaign in early 2016 gave the STAR TREK CONTINUES team just under $200,000 to produce more episodes of their fan series.  But a new set of fan film guidelines released by CBS and Paramount threatened to stop the production in its tracks by limiting episode length to 15-minutes, blocking ongoing series, and forbidding the use of paid professionals and Star Trek alumni on any fan production.  STC's episodes had been regularly violating several of these new guidelines, and while the new rules were not retroactive, they would apply to anything produced by STC going forward.
But the STC team decided to forge ahead anyway, arguing that the guidelines were only that—guidelines—and not some kind of new "law."  They only said that fan productions that followed these guidelines would not be sued by the studios, NOT that those who didn't follow the guidelines would be sued.
So STC announced their intention to produce four new full-length episodes with professional actors and crew, release all four in 2017, and then shut down their fan series for good.  The hope was that their amicable relationship with CBS would convince the studios to allow them to finish up, shut down, and go out on the high note.  It wasn't the most optimum solution, of course.  STC had initially wanted to produce 13 episodes, and now they would only go to 11.  However, considering the harsh constraints of the new guidelines on fan films, being able to produce four full-length episodes—assuming the studios would let them do so without a cease and desist letter or a lawsuit—seemed to be more of a victory than a defeat.
But would CBS and Paramount allow then to actually do it?
EPISODE #8 – "STILL TREADS THE SHADOW"
The first episode of STC to be released post-guidelines was their seventh episode, "Embracing the Winds," which debuted in September of 2016 (three months after the announcement of the guidelines).  However, that episode that been filmed back in 2015 and was well into post-production when the guidelines came out.  So most fans assumed it would be "grandfathered in" and not count.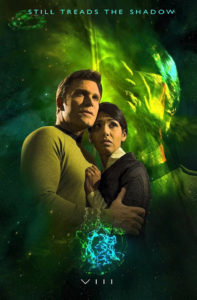 The real test would come the following April (2017) with the release of their eighth episode, "Still Treads the Shadow."  In addition to being 54 minutes longs, continuing an ongoing series, and using "Star Trek" in the title, the episode also featured two people who worked professionally on actual studio-produced Star Trek.  The first was Judy Burns, who had co-written the TOS episode "The Tholian Web" back in 1968.  It was actually really cool having her write this episode, as "Still Treads the Shadow" served in many ways as a sequel to "The Tholian Web."
The other professional to also work on studio-produced Star Trek was Rekha Sharma, who would be playing Security Chief Landry on the new Star Trek: Discovery series.  (She had also appeared in the recent Battlestar Galactica reboot series.)  However, in this at least, STC could be given a pass, as Reka had not yet even been announced as appearing in the new Discovery TV series when the eighth episode of STC was filmed.
Some detractors complained that the episode featured too much Kirk or that the make-up on the older Kirk looked fake.  But for me, this was one of my favorite STC episodes to date.  The tapestry of the story was beautifully woven, inspired by Samuel T. Coleridge's timeless epic poem The Rime of the Ancient Mariner.  Show-runner Vic Mignogna gave a tour de force performance as three different Kirks.  And in my opinion, the make-up on the ancient mariner Kirk was amazing, and far superior to almost anything achieved in other fan productions…of any genre.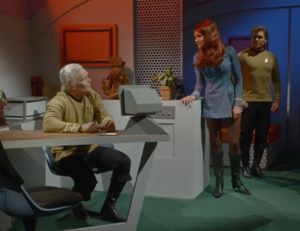 It should be noted that this episode featured a quiet and very tender series of scenes between actress Michele Specht (who plays ship's counselor McKennah) and Vic portraying both old and young Kirk.  The reason I mention this is that Michele and Vic recently got engaged (according to Vic's Facebook page), and I would like to congratulate both of them.  While their characters never developed any romantic involvement, they've been a couple off-screen for a number of years.  And the love and support between the two actors is very evident.
The episode was released, and fans held their breaths.  Would CBS and Paramount take any action against STC?  The answer was no.  One episode down, three more to go…
EPISODE #9: "WHAT SHIPS ARE FOR"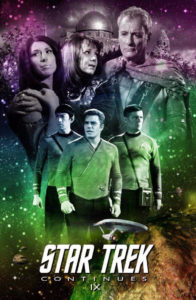 Fans didn't have to wait long.  While previous episodes of STC had usually been separated by six month gaps (two per year), "What Ships Are For" debuted just four months later at the end of July.  Written by Kipleigh Brown (who had played Lt. Barbara Smith since the third episode of STC and also appeared in a third season episode of Star Trek: Enterprise), and directed by Vic himself (his first direction since episode 5, "Divided We Stand"), this episode looked to be pushing the limits of the guidelines even more.  The reason was the main guest star: none other than actor John de Lancie, who had played "Q" on TNG, DS9, and Voyager.  This wasn't a writer from one 1960s TOS episode.  This was a major actor from multiple Star Trek series.
Joining de Lancie was actress Anne Lockhart, daughter of June Lockhart from Lost in Space and best known to sci-fi fans herself as Sheba from the original Battlestar Galactica.  Rounding out the supporting cast was guest star Elizabeth Maxwell, a friend of Vic's from voice-over acting circles.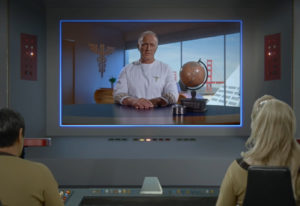 Although the previous episode contained no reference to the ongoing story arc the was leading toward the 2-part finale, this ninth episode began with a transmission from an admiral at Starfleet Headquarters back on Earth…wearing the new style of uniform from Star Trek: The Motion Picture.  Like Chekov's promotion to Lieutenant (jg) in the eighth episode of STC, "Embracing the Winds," this was a hint of things to come post-TOS.  It was mentioned in this scene that Nurse Chapel was back at Starfleet earning her doctorate (she was Dr. Chapel in The Motion Picture).  Also, another two starships—Yorktown and Republic—had accidents and would need to be rebuilt.  Constitution-class starships remaining in service: just four!
Some fans were expecting an episode titled "What Ships Are For" to deal with this ongoing mystery of what was destroying the fleet.  But it turned out the meaning of that title was different and would be revealed in the climactic final (and emotionally touching) speech by Kirk.  While the first half of the episode was a little slow to get going, the payoff in the second hald was worth sticking with it.  John de Lancie's performance, especially at the end, is magnificent.  And again, the episode plucks a current social issue from the headlines and shines a light on it through the lens of science fiction.
Perhaps the most interesting aspect of this episode is something many fans might not have even noticed: the new planet set!  Funded with money raised in their second Kirkstarter campaign, a  rocky and barren alien planet set (similar to what TOS had 50 years ago on the Paramount lot) needed to be built for the final two-part episode.  However, seeing as how this ninth episode would also involve a landing party on a new planet, Vic added a scene to the beginning of the script that could use the new planet surface set…although not a rocky and inhospitable one (more on that shortly).
The new set itself posed some challenges for the production—most notably where to put it!  Almost all the space in the studio/warehouse was already filled by the sprawling TOS sets.  And what wasn't a standing set was being used by make-up, wardrobe, props, tools, and materials storage.  There wasn't anywhere left!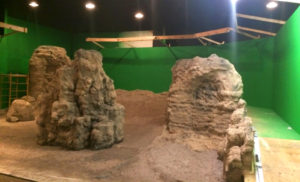 They say that the Good Lord provides, and in this case, it was kinda literal.  There was room available that had recently been vacated by a local church that had used it for weekly gatherings.  It was perfect!  And so Art Director Greg Dykstra and a team of about a dozen volunteers built an alien planet set made up of two permanent, strategically-placed rocky ridges made out of styrene foam, 12 feet high, along with a ground plane that sloped up as it neared the green-screen back wall.
That worked fine for the two-part finale, but episode nine required something less rocky and more green and lush.  Show-runner Vic Mignogna explained how they managed the transformation:
A couple of our volunteers went to Wal-Mart and found a bed sheet set that had a print of fall leaves and twigs.  So we emptied that store of their camouflage sheets and stapled those sheets to our latex, dirt ground.  Then, our team filled many trash bags full of dead leaves and twigs and we covered that set with actual foliage.  Thankfully, wintertime in southern Georgia produces lots of dead leaves.  We used the leaves to break up the pattern of the bedsheets.  And it works like magic.  It looks so real, and so good onscreen.  And then we dug up or cut down small trees near the studio and made criss-cross wooden bases so that we could strategically place the trees wherever they were needed.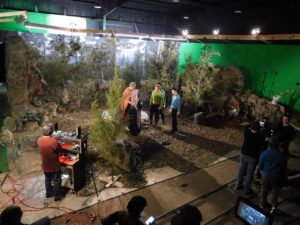 We couldn't use a green screen for this episode, because the trees — as well as Kirk's command-variant uniform — are green as well, and would 'clip' when adding a background in post-production.  We couldn't use a blue screen either, because McCoy and Spock's tunics are blue.  So out of necessity, a wonderful solution was born.  I went online and looked up theatrical backdrops.  That's what you rent if you're doing a stage play and need to be in the middle of a forest – a mural filled with pine trees and redwoods.  You'll be surprised how realistic it looks on camera.
Once again, the episode was released, fans gushed (a few kvetched, but most gushed), and CBS and Paramount remained silent.  Two down, two to go.
EPISODES #10 and #11: "TO BOLDLY GO"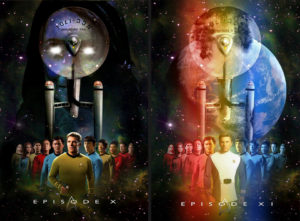 Dating all the way back to their first full release, "Pilgrim of Eternity," STC has always premiered their new episodes first at conventions—from Phoenix, AZ to Sydney, Australia—before releasing them publicly onto the Internet.  And thus was the plan with the two-part series finale.  "To Boldly Go, Part I" was set to debut at Salt Lake City Comic Con the weekend of September 21-23 and "To Boldly Go, Part II" would premiere two weeks later at New York City Comicon the weekend of October 5-8.
But then CBS announced the premiere date for Star Trek: Discovery would be September 24.   STC's penultimate episode would be debuting just as the world would be focused on the first new Star Trek to hit television screens in a dozen years!  Obviously, the timing of the two releases within a day of each other would NOT be in the best interests of CBS or STC.
So the convention premiere dates were changed.  An announcement was made in late July that STC's tenth episode would debut in New York City on October 8 (and released online 10 days later) and the finale would be screened live at L.A. Comic Con on October 29, with the public release two weeks later.
"To Boldly Go, Part I" quite simply blew away fans.  It drew from Star Trek's very earliest Kirk episode, "Where No Man Has Gone Before," with a plot line involving ESPers being enhanced by a trip though the energy barrier at the edge of our galaxy.  In fact, fans finally discovered what had been destroying all of those starships throughout the preceding episodes…and it was pretty terrifying.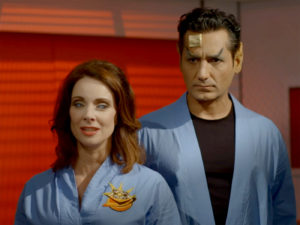 In the weeks leading up to the release of Part I, STC shared the identities of two of the episode's guest stars.  Nicola Bryant had played the companion of both the fifth and sixth Doctors on Doctor Who back in the mid-1980s.  Cas Anvar had recently rocketed to sci-fi genre notoriety playing the Martian navigator Alex Kamal on The Expanse.  But the announcements left out one very important guest star.
About halfway through the episode, jaws dropped when the female  Romulan Commander from the TOS episode "The Enterprise Incident" materialized on the transporter platform.  It wasn't simply that STC had found just anyone to play this iconic role—actress Amy Rydell looked so similar to the original actress Joanne Linville that they could have been mother and daughter!  Take a look: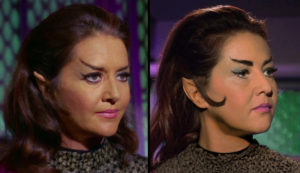 In fact, they WERE mother and daughter!  Vic had tracked down the daughter of 89-year-old Joanne Linville and prodded her into joining the cast for the two-part finale.  At the live screening in Los Angeles, Amy choked up a little while telling the story of watching the episode with her mother…
An interesting moment came during Part 1 in a scene involving Security Chief Drake, a character played by Co-Executive Producer Steven Dengler.  This self-made Internet millionaire, Trekker, and Canadian angel investor had given tens of thousands of dollars in support of STC, and in return, he was "rewarded" with a role (that he asked for) on the fan series.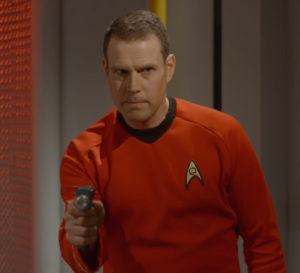 And the inside joke was that, with all the money Steven Dengler had put into the series, the character of Drake was likely the safest red-shirt ever!  Well, as the series reached its final two episodes, the curse of the red-shirts, shall we say, remained intact…
While many fans noticed the costumes (especially the Romulan uniforms), the Romulan bridge set, and the very well done VFX to make the eyes of the ESPers glow, one thing that wasn't as apparent was how much work went into subtly altering the very familiar TOS background music that accompanied many scenes.  Some of the score was original, composed by Andy Farber and recorded live by an orchestra in Rochester, NY.  But other pieces of music were taken directly from the original TOS episode scores and then meticulously adjusted by Vic Mignogna himself, who in addition to acting, writing, directing, and editing many episodes, also works closely with music and sound during the editing process.
Between the premieres of Part I and Part II of "To Boldly Go," STC released the last (at least for now) of their "Our Crew" spotlights, this one featuring Vic and demonstrating how those all-too-familiar musical cues that you hear in the background on STC episodes might not be quite as familiar as you think …and you probably didn't even notice!
The series finale of Star Trek Continues was released to the general public on November 13, 2017…and so far, like the other final four episodes, CBS and Paramount have taken no public action.  And thus has this legendary and groundbreaking Star Trek fan production come to a bittersweet conclusion.
So now what?
Many fans have begged, pleaded, wept, and bellowed for more episodes from this team.  But alas, STC is indeed shut down as a fan series.  But what about those amazing sets???
Fortunately, I was in the audience at L.A. Comic Con for the live screening of the series finale, and Vic called on me to ask that very question (sorry about the shaky video, folks)…
It's been an amazing run for Star Trek Continues, and Vic and his entire team are to be commended and applauded…and we did!  While some people—a very small few—have tried to belittle and minimize the significant accomplishments of this dedicated group and their outspoken leader, the fact is that these folks have done something no other fan group has ever done.  They have produced eleven full-length episodes of a Star Trek fan series on practical physical sets, with real professional actors and production crew, some originally composed and recorded music, top-notch visual effects, make-up, lighting, costumes, sound design, writing, directing, and editing…all within five years.
They worked hard, played hard, never gave up, and had a blast.  And the world of Star Trek fan films will always be all the richer for it.  This is why we're here!
I will end this look back by handing the microphone back over to Vic Mignogna himself, as he brings down the curtain on this series that has meant so much to him over the years…
---
All of the amazing offerings of STC can be found on their website at this page:
http://startrekcontinues.com/episodes.htm
---
And for anyone wondering WHAT'S NEXT for these fine filmmakers, take a look at this Indiegogo campaign for a NEW film titled When the Train Stops and please consider making a donation:
https://www.indiegogo.com/projects/when-the-train-stops-movie-film#/