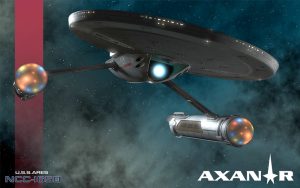 AXANAR has a new co-writer!  Ladies and gentlemen, meet PAUL JENKINS.  As you can see from his IMDb page, this bloke (he's British) has done a LOT of stuff in television, film, and video games.  He's also one of the writers credited with helping to rescue Marvel Comics from Chapter 11 bankruptcy in the late 1990s with the introduction of the "Marvel Knights" series of titles.  Since then, Paul has written everything from Spider-Man and the Incredible Hulk to the ground-breaking Wolverine: Origin (which served as the basis for the feature film with Hugh Jackman).
And now, Paul will be helping ALEC PETERS complete the scripts for the Axanar fan films.
The script for Axanar has trekked a long road.  Alec first began working on the story back in 2011.  And Alec welcomed input from folks like John Muenchrath (who played Dr. McCoy on Star Trek: New Voyages under the stage name "John Kelley"), Star Trek novelist Dave Galanter (see Dave Galanter's post below in the comments section), Prelude to Axanar director Christian Gossett, and of course, "Trouble with Tribbles" episode writer David Gerrold.  During 2015, then-Axanar director ROBERT MEYER BURNETT brought on BILL HUNT to take yet another pass at tweaking the script.  By the time Axanar was ready to shoot in early 2016, the 90-minute script was already on version 7.
During the lawsuit, Bill Hunt and Alec worked on additional revisions of the script.   I read one of their iterations, and it was up to version 9.
Finally, after the lawsuit settled, Alec was permitted to make Axanar not as a 90-minute feature film but rather as two 15-minute short fan films.  There would still be a full 90-minute script distributed to donors, but two 15-minute scripts would now need to be written, based on the longer version.
Alec decided to write the new 15-minute scripts as "Part IV" and "Part V" of The Four Years War mock documentary, with Prelude to Axanar having been "Part III."  The first drafts of both of those scripts were completed by Alec this past summer, with a number of people (including me) reviewing them an providing feedback.  Then, on October 6, Alec announced that Paul Jenkins would be joining the Axanar team as co-writer.
So what was a major comic book and Hollywood writer was doing coming to work on a Star Trek fan film???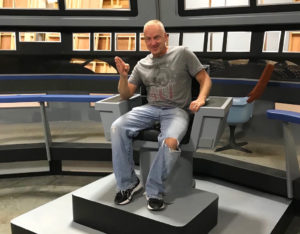 I caught up with Paul a few weeks ago and had a lovely chat.  The first thing I discovered is that Paul isn't based in Hollywood.  He lives in Georgia, fairly close to the new OWC Studios where the Axanar sets are now located.  He also worked with the state's governor, Nathan Deal, chairing an advisory committee on digital and interactive games-makers.  This led to direct discussions between Paul and the governor about independent film making and how to better encourage it within the state.
Paul's company, META Studios (META stands for Media Education Technology and Advancement), is focused on being part of that acceleration of Georgia-based film making by training up-and-coming writers, directors, producers, technicians, etc.  And that's how he met Alec.  A mutual friend had linked Paul up as a mentor to a number of independent film makers in the area, and he was the one who made the introduction.
And with that, let's jump right into our interview!
JONATHAN: So what made you decide to jump on board and help Alec with this project?
PAUL: My friend called me up and said, "I think you should go see Alec Peters, because they've moved over here from L.A., and they've got this project Axanar."  I saw the project, and I thought, "Man, that's almost exactly the kind of thing that I try to promote.  I love it when people make stuff.  And I don't like it as much when people put obstacles in the way of making stuff.  I have a tremendous amount of respect for anybody that has nothing and turns that into something.
JONATHAN: Had you seen Axanar prior to being told you should meet Alec?
PAUL: No.  I came in completely cold.  One of the things that makes comic book people ever-so-slightly infuriated with me at times is that I'm not a lifetime reader of comics.  I come into comics with kind of a fresh eye.  So I'm not the guy who has read 400 issues of Spider-Man because I don't think that should be your qualifications to write good Spider-Man stories.  You just need to know how to tell good stories.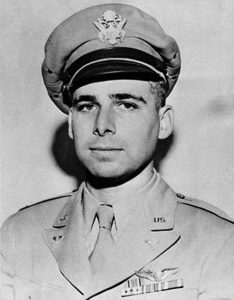 Now, I love Star Trek because I grew up with it, and I think it's a tremendous franchise.  I look at it sometimes in historical focuses.  I think that Star Trek, if you consider when it was created, the memory of World War II is so very ingrained, and it would have influenced people like Gene Roddenberry tremendously.   So I'm sure there were elements of things like, "What would we do with Germany after the second world war…how would we make friends with them?" becomes integral to how does the Federation makes friends with the Klingons?  I'm sure there are a lot of metaphors in there.
But at its core, Star Trek is fun, pure science fiction.  So I'm familiar with it but don't specifically claim to be familiar with every single episode that's ever been written.  But that means I come with a fresh eye, so hopefully that gives me a better perspective.  I care for the material and understand it, but I not necessarily an immersion in it to the point where I'm unable to get some clarity.
JONATHAN: So you hadn't seen Axanar at all.  But had you been aware of the lawsuit and all of the controversy?
PAUL: Well, I talked with Alec about it, first of all.  Again, it was the same thing; I learned about it after.  I'm becoming more familiar with it because I keep having people write to me and scream at me online.
JONATHAN: Oh, you've got to be kidding me!  The detractors are hounding you already?  You didn't even get involved until nearly a year AFTER the legal settlement!
PAUL: A few people are obviously extremely agitated.  I have a different approach to the way these fans can be than Alec does.  I have always been a very accessible person, and I know the way that fans can be because I've been in this business for a long time.  I've faced the "wrath of con" a few times with fans.  It gets hairy and dicey.  And there are times when I think the best thing to do is to not particularly engage.  And I joke with Alec about it because he seems to enjoy it!  He's ready to engage these people.
In my case, I understand that people get upset because they're very passionate.  The part that gets a little harder to understand is when they get so upset that they want to feel anger or yell or drag someone's reputation through the mud.  Those things are not acceptable because there's no place for that.
But by and large, people who've yelled at me so far online have been yelling about Alec.  They've been yelling about Axanar as a project.  That's their right.  But it really doesn't have any bearing on my connection to it.
JONATHAN: And what about CBS and the lawsuit?  Do you have any feelings about that?
PAUL: I think it's a shame that they got so upset.  I think I would understand, in terms of their corporate mentality—obviously I've worked with Marvel and Sony and Universal and Warner Brothers; I've worked with lots of different people—I understand that they want to protect their intellectual property in terms of their rights.  So there's that part of me that says, "Okay, I understand that."  The part of me that doesn't understand is elements like fair usage.  You have fair usage, and that's why people can make fan films.
If you boil it down to its bottom line, I think what's kind of sad about the situation with CBS is that they ended up suing people who really care about Star Trek.  Ultimately, you can consider that they sued their own fan base.  That doesn't seem like as smart of an option or as welcoming of an option as it would be to encourage your fan base.
JONATHAN: Well, the lawsuit certainly didn't strengthen Star Trek fandom in any way that I could see.  Instead, it fractured the fan base and put Trekkers almost at war with each other on social media…and sometimes even in person!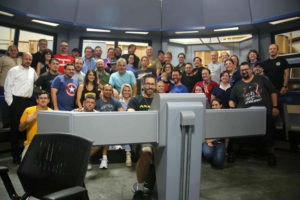 PAUL: And that's such a pity, and it was a mistake by CBS, in my opinion.  When we went up to OWC Studios to attend this open house the other day—I told Alec I'd be happy to go over for a bit and went with my son—the people who stood around in there and looked around and said, "I'm gonna volunteer to help make this film…" they love their community and they love Star Trek.  That's where I think the mistake was for CBS.  I think suing those very people is sad.  You should let them make their project.
I think the difficult line perhaps that Alec had to face was whether or not CBS considered that that they were going off with the franchise and making money from it without permission.   And obviously, that seemed to be the argument between the two of them.
But as I understand it quite clearly, there's a settlement about how the project can move forward.  That settlement includes the stuff that Alec is now working on.  So…where's the problem?  There is no problem.
JONATHAN: Some detractors seem to have a different opinion…
PAUL: There's a settlement, an agreement between CBS and Alec about the Axanar production—that much is pretty clear cut.  That means that Alec has every right to go off and make this production, and it has been settled, so it really doesn't matter what anyone's opinion is.  At least that much we know.  So here we go.
The next thing is, what's it going to be like doing this? I said to Alec, "I know the fans would like you to recreate what you had done and to finish the story and make it really wonderful."  And he agrees with me, the next one's gonna be better than the first one.  "Here's what I learned from the first one; I'm going to make the next one better."  So I think the fans will be super-excited when they see what's gonna be done with the project.
JONATHAN: So now that you're on board the project and Alec has already completed drafts of both 15-minute scripts, what exactly will you be doing as co-writer?
---
Tomorrow: our interview with Paul Jenkins concludes with some insights into where he thinks the Axanar script can be improved and how he's planning to do so.