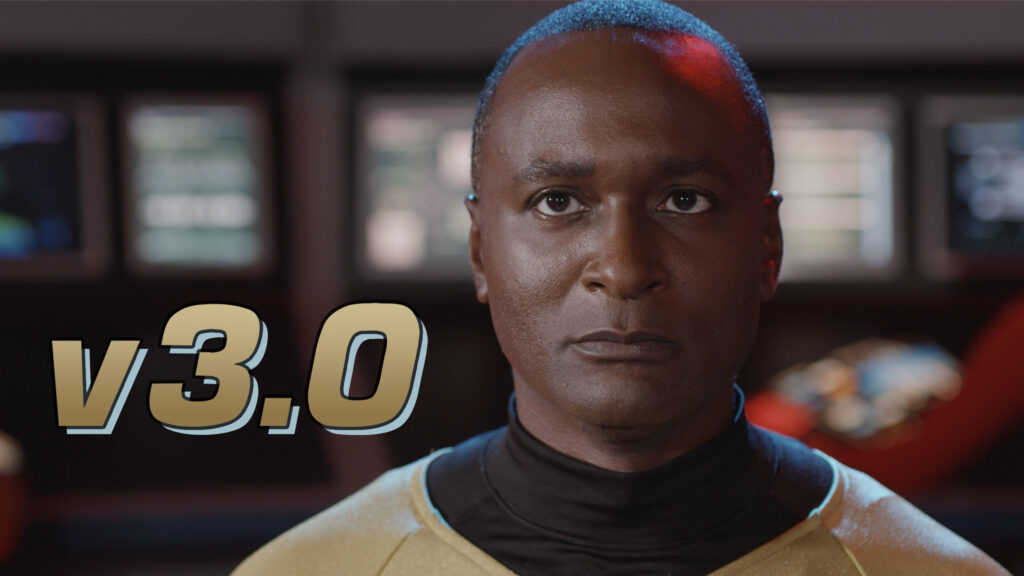 Geez, Lane! How many times are you going to re-do your frickin' fan film???
Back in April, we premiered a version of my AXANAR Universe fan film INTERLUDE with PAUL JENKINS playing the chief engineer of the ill-fated U.S.S. Artemis. At the time we shot those engineering scenes, Paul was still directing the Axanar sequels and had been a great help behind-the-scenes advising my directors JOSHUA IRWIN and VICTORIA FOX along with myself on ways to work collaboratively on finishing up the production. Giving Paul a small role in Interlude seemed like a fun way to acknowledge his generous help, and Paul was happy to appear in our film.
Then things soured between Paul and Axanar producer ALEC PETERS—Paul was no longer director, lawsuits were filed, fire and brimstone came down from the skies, rivers and seas began boiling, forty years of darkness, earthquakes, volcanoes, the dead rising from the grave, human sacrifice, dogs and cats living together, mass hysteria. (Wait, that was Ghostbusters…who here loved Afterlife?)
Anyway, just as we were about to release our just-completed Interlude fan production on April 5, Paul informed us that he no longer wished to appear in the film and demanded we remove his footage. There wasn't time to replace his scenes before the big premiere (he contacted us just a couple of days prior), but thanks to some scrambling and about 22 hours of round-trip driving from Arkansas to Georgia and back by Josh and his good friend TYLER DUNIVAN, we were able to get Interlude version 2.0 out just two weeks later, with Tyler replacing Paul as the engineer. You can watch that release here…
A couple of months later, while I was making a video about the editing process of Interlude, Josh asked me if I'd be okay if he created a special version of Interlude just for himself using a different transition between the first portion of the film (the battle sequence) and the epilogue documentary. You can watch the transition that we used at the 6:37 mark in the above video.
But Josh had always wanted to do a different transition using an alternate take of Garth where the camera slowly zooms out from a close-up. Victoria, as director, wanted to go a different way, but now that Interlude had been released, Josh was curious how the other transition would have turned out.
And so was I!
Truth to tell, I was never all that crazy about the transition that we ended up with and never even knew that we had an alternate take available. Josh said the new transition would be closer to what I'd initially had in the original comic book version of Interlude…a direct cut from the younger Garth to the older Garth as though he were emerging from a recollection of a haunting memory.
"Make it so!" I told him. A few hours later, I watched the new alternate transition for the first time.
My friends, it looked amazing! Such a small change, and yet it felt so much more impactful. And then I had a thought…
Continue reading

"INTERLUDE Confidential #22: Presenting INTERLUDE version 3.0!!!"