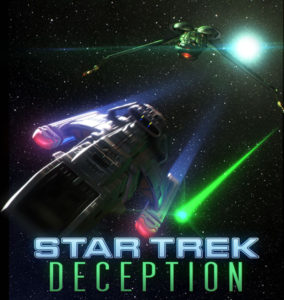 Back in 2013, LEO TIERNEY of the United Kingdom set out to make a Next Generation-era Star Trek fan film called STAR TREK: DECEPTION.  Most live action fan films set in that time frame either record away teams in outdoor locations or else use green screen composited actors in front of virtual backgrounds…since creating practical sets in the 24th century style is incredibly challenging.
Leo, however, was up to the challenge of building a TNG-era set!  He decided to design and construct an actual Starfleet runabout cockpit set in which to film his actors.  He just needed a little bit of money to do it.  How little?  Well, considering what even the cheapest fan films cost, £500 (about $635 back then) was an amazingly small amount for what Leo was planning.  Ultimately, after a month, his January 2013 Kickstarter took in a little over twice that amount: £1,174 (about $1,500).
Then it was time to get to work…and so he did!  But Leo didn't simply build his sets.  He also produced a series of behind-the-scenes videos for his donors, showing his progress.  These brief production updates began on the day the Kickstarter ended, and Leo continued to release them like clockwork for the next three months leading to the May 17, 2013 release of his completed eight-minute fan film.
I'd like you to experience that feeling of growing excitement that the donors felt those many years ago.  So I'm going to do something a little different for this blog and share those five behind-the-scenes videos with you, followed by Star Trek: Deception itself.  Then I'll include a few other special video features that Leo released after Deception was completed.  It's gonna be a fun blog!
Ready?
The first short production update was filmed just prior to the completion of the Kickstarter and released on February 6, 2013, a day before the Kickstarter ended…
From the beginning of the Kickstarter, Leo regularly posted photos to the Deception Facebook page of the set being constructed (along with some costume lighting tests and shots of the comm badges).  At first, the "set" was just a pile of wood laid on the floor next to the front door.  But as the weeks went on, those pieces of wood were cut, sanded and shaped into something that was beginning to take the shape of a runabout cockpit.  By February 28, it looked like this…
By March 17, with the arrival of the two chairs and a large green screen backdrop for the rear section of the runabout Thames, the sets were complete and ready for filming.  The two main Starfleet actors—JAYMES SYGROVE and RICKY HUGGINS—wrapped their day of filming on April 3.  Two days later, fans got to see their first glimpse of the completed cockpit set with both actors in costume…
On April 8, actor STU LUCAS filmed his scenes as Klingon General Karloth.  Some keen-eyed fan film fans might recognize Stu and his character of General Karloth from another fan production he did back in 2007, A Tale of Two Galaxies (here's a blog feature about the production of that fan film).  Stu also appeared very briefly in Star Trek: Of Gods and Men (here's a blog feature about that production) during that same year as a Klingon guard with no lines (fast forward to the 31:55 mark for a brief glimpse of him).  Here's what Stu had to say right after wrapping his scenes on Deception…
With all filming completed by the second week of April, all that remained to do were the visual effects and the music.  The VFX included animating the CGI ship models, inserting space in the green screen windows of the Starfleet runabout behind the actors, and extending the set with a "rear" section that was chroma-keyed behind the actors onto yet another green screen.  Interestingly, this rear section wasn't simply more CGI but rather a small miniature model photographed by a close-up camera to look more realistic.
The fifth production update, which was posted on May 7, not only featured a spotlight on the VFX but also on the music composed by C.S. WATTERSON.  The video finishes with a titillating look and listen to the first 40 seconds of the finished film, complete with VFX, music, and sound effects…
Fans couldn't wait to see the finished video…and they didn't have to wait long!  On May 17, 2013, just ten days after posting the fifth and final production update, the finished fan film premiered on YouTube for all to see—completed in just over four months from the launch of their Kickstarter  on January 6, which is truly an amazing production pace in the world of Trek fan films!
Here's Star Trek: Deception in all its eight and a half minutes of glory…
A year later, in June of 2014, shortly after the DVD perks were finally ready to send out to donors, Leo released a fun two-minute clip of outtakes.  While an amusing giggle-fest, it was also an intriguing glimpse into what things looked like during the actual filming with green screens behind the actors at certain camera angles.  If anything, it really makes a viewer appreciate what went into making this "simple" fan film look so realistic and believable…
A couple of months later in August, Leo posted something else from the DVD: the director's commentary with him and his two Starfleet actors.  Most fan film-makers never bother to do an audio commentary, so this one is definitely worth checking out…
And finally, a year later in July of 2015, Leo released  onto YouTube an 8-minute long "Making of…" documentary, which had previously been part of the donor perk DVD from the previous year.  For anyone intrigued by this fan film and its amazing runabout set, this documentary is a MUST SEE!  It has many more photos of the sets under construction than were ever shown previously.  It also includes a look into Leo's research and preparation, which is really quite impressive.  And you might notice something very interesting about the final ten seconds of the video…
Yep, the final image says Star Trek: Deception II.  Is there going to be a sequel…and if so, when?
---
Come back next week for the answers!