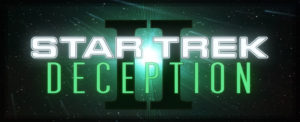 Before you read today's blog, you should really go back and look through this blog.  It tells the story, mainly in photos and short videos, behind the making of DECEPTION II, a sequel to the 2013 fan film Star Trek: Deception.  The first Deception told the story of two TNG-era Starfleet officers transporting a renegade Klingon prisoner in a lone runabout.  Writer/director/CGI master LEO TIERNEY constructed an actual runabout cockpit, giving this fan film an aura of realism that went along with excellent acting, lighting, sound, VFX, and other marks of quality.
The short eight-and-a-half minute  fan film became very popular, garnering tens of thousands of online views with little fanfare.  And shortly after its debut in mid-2013, Leo began discussing the production of a sequel.  However, the idea mostly languished until Leo briefly brought it up again on Facebook in 2015.  But even then, nothing much happened for nearly another year.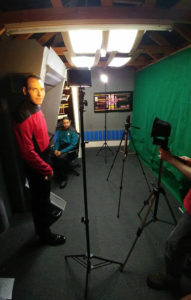 Leo began working in earnest on Deception II in 2016, and once again set out to construct actual physical (practical) sets—this time for both an Excelsior-class bridge and also for the bridge of a Klingon bird-of-prey.  And he constructed both…in a tiny garage!  This is where, if you haven't already, you really, REALLY need to take a look at the blog I published back in February showing the amazing transformation of Leo's garage into not one but two completely different sets…both using the exact same set pieces!  It's one of the most fascinating blogs I've ever done.
There haven't been many updates about Deception II since I published that blog, but ten months later, Leo finally released his long-awaited fan film last Friday.  And it looks simply amazing, especially considering the teeny-weeny size of the garage where the entire thing was filmed (see photo above).  Have a look for yourself…
I've been staying in touch with Leo Tierney over the months of post-production, awaiting the finished product.  As the premiere date approached, I conducted a little interview with my mate across the pond…
Continue reading "At long last…DECEPTION II (interview with LEO TIERNEY, part 1)"