There's SPOILERS off the starboard bow…
starboard bow…starboard bow!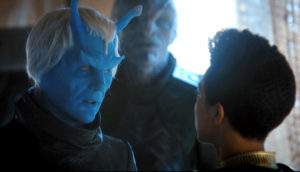 After publishing my previous editorial review of the 10th episode of STAR TREK: DISCOVERY, a post from someone named Boris commented: "I wouldn't be surprised if Capt Georgiou made a reappearance – maybe even as an Empress…"
I responded, "Man, if they make Georgiou the Emperor/Empress…that's gonna be one angry blog!!! Enough with the doppelgängers!!!!" 🙂
Even as I wrote that response, I knew it was gonna happen.  It had to.  The "faceless" emperor?  C'mon!  In a Mirror Universe filled with probably hundreds of billions of sentient beings, we just happen to run into the dozen or so that are all main characters listed in the opening credits of the show: Captain "Killy" Tilly, the slave Saru, bearded Sarek, Voq leads the resistance, Burnham is captain of the USS Shenzhou, even Mirror-Stamets pops in.  Honestly, I was surprised we didn't see Mirror Landry (the first Discovery security chief) as the Shenzhou's head chef or something!
So really, of course Philippa Georgiou was going to be the Empress.  Boris nailed it.  And that really pissed me off, right?
Surprisingly…no, it didn't.
Neither was I angry about the Mirror-Tellarites mysteriously growing tusks like wild boar…or the Andorian whose voice reverberated for some strange reason.  Nothing seemed sloppily written or beyond believable.  There was even some banter!
Honestly, guys, I really liked this episode.  Let's take a look at why…
First off, the "it's-a-small-multiverse-after-all" coincidences stopped bothering me early on.  Of course all of the cast wants to play their own doppelgängers.  It's fun!  Ever since Shatner played his evil self trying to get out of the brig and Nimoy played the intense Mirror-Spock to perfection, playing dark counterparts has been a treat for Trek series actors.  Everyone on Deep Space Nine wanted a turn being their Mirror selves, and the entire cast of Enterprise was treated to a wonderful 2-part Mirror episode.  So why should I begrudge Discovery from doing the same…especially if the writers can turn it into a compelling and believable story?
As for the tusks on the Tellarites or the Andorian with the voice harmonics, I got over that quickly, too.  I've given up being angry with the production design department.  I just think "parallel Trek universe, and all the continuity demons go back to sleep.
So that's why I didn't hate the episode.  But why did I like it so much?  Amusingly because it fixed nearly every problem I've been bitching about for the previous ten episodes.
For example, unlike the previous episode, this time they explained why—believably—Burnham, Tyler, and Lorca had to remain on board the Discovery for so long.  Last episode, it was just that no one was leaving Burnham alone long enough to look for the data on the USS Defiant.  Big deal.  Go somewhere quiet, post Tyler outside, and give orders that no one disturb you while you catch up on a year of missed e-mails or you'll pull their liver out through their nostrils.
This time, though, they explain the problem: the data is too large to send to the Discovery via subspace.  The transmission would be detected.  Burnham has to find a way to download all the data first, get it onto some physical media, and find a way to get THAT to Discovery.  And that's why things are taking so long.  Okay, just explain it believably, and I'll happily play along.
The extra time on the Shenzhou then let this episode do something rather unique in Star Trek history that we haven't seen before.  While Kirk and crew had to pretend to be barbarians, that was only for a few hours.  DS9's crossovers were also moderately brief, and most of the time, characters from our universe weren't pretending to be their evil counterparts.
But Michael Burnham had to play the role of a cutthroat despotic captain for days, possibly even weeks.  What kind of mental toll does that take on a "good" person?  We've seen some brief glimpses of character introspection on this series, but not many and (with the exception of Saru's soul-searching on the forest planet) fairly brief and not too deep.
This time, however, Burnham really sits with the impact this experience is having on her…and she needs Tyler and his love to be her "tether."  And I FINALLY felt invested in Michael Burnham, cared about her as a character, and was rooting for her.  That made the loss of the Ash Tyler persona all the more tragic and painful as I watched.
Sure, by this point, we all knew Ash Tyler was Voq.  (And for all those people who believed Tyler was being raped by L'Rell and who got so upset with me for saying, "He wasn't being raped; he's Voq!"…well, I won't say "I toldja so."  I'll just think it.)  And of course, now that the "secret" is officially no longer secret, we fans now know why the Klingons were so drastically redesigned.  It was all for the sake of this one scene where we discover that Tyler is really Voq (surprise!).  Had they simply popped a bumpy forehead and bushy eyebrows on actor Shazad Latif, most viewers would have easily recognized him…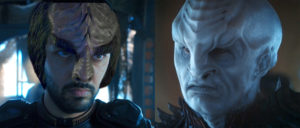 Voq had to be unrecognizable.  As such, there was no realistic way to have the more familiar-looking Klingon make-up on the show.  I get it.  I still can't give them a pass on calling this prime universe Trek with Klingons that look so different, but it's fine.  As I said, I just think of it as an alternate Trek universe (or two).
But the "revelation" of Tyler's true identity—at least during this specific episode—was handled really well (at least in my opinion).  He has his little freakout on the rebel planet when he sees "himself."  Burnham gets him back to the ship, and she thinks he's just hallucinating…and why shouldn't she think that?  But then there's that moment where Tyler says good-bye, he tilts his head back, and Voq takes over.  It's kinda heartbreaking.  And still, Burnham doesn't get it, even though Voq is telling her everything ('cause he's about to kill her).
Then Voq shares something about their encounter on T'Kuvma's ship that only Burnham would know, and she finally gets it.  But the suspense doesn't end there.  They have a face-off (hmmm…interesting choice of words there, Lane!), and just as it looks like this is the end for Burnham, she's saved by the cow (slave-Saru), has to quickly recover her composure, and now McScruffy-Voq is toast.  Forget the agony booth—on this starship, we beam our failed assassins directly into space!
But will Burnham be able to do it?  After all, not only did she love Tyler (and LOVE Tyler, ya know what I'm sayin'?), she's also Starfleet…not some cold-blooded barbarian.  And that leads me to another thing I've seen precious little of in this series: a true surprise ending.
As I've stated before, I find a lot of things about this series predictable.  It doesn't ruin the show for me, but neither does it really challenge me the way some truly unpredictable shows like Breaking Bad and Game of Thrones have.  But this episode's ending I totally did NOT see coming!  Tyler-Voq is standing on the transporter platform, and Burnham still needs to complete her mission.  She can't be a softy and let him live.  She goes right up to him, he taunts her, and gives him a wallop in gut.  Is this it?  Will Burnham really space this guy???
Yes!  She stands at the transporter controls and energizes.  Tyler-Voq materializes in deep space and begins to freeze and suffocate.  Holy shat!  She actually did it!!!  I was sincerely surprised and impressed that the show would go in this direction.
Then, right before Tyler-Voq totally freezes or inflates or asphyxiates or whatever happens to a body in a vacuum, he's beamed out.  He materializes on the Discovery, and rather than thinking he's really Ash Tyler, they seem to already know he's Voq ('cause, I'm sure, Burnham quickly texted them or something).  So none of this pretending to investigate the mysterious death of Dr. Culber by his actual murderer…thank goodness!
And before I could even think about the situation a little more, there it was: the McGuffin (the memory card with all the classified data on the Defiant)!  What a clever way of getting it off the Shenzhou and onto Discovery…and very clean plot-wise.  I liked that whole sequence so much that I watched it a second time.
And finally, this episode featured the one thing I've been complaining most loudly has been missing from this show: banter!  Granted, it was still Tilly-banter (she's kind of their g0-to banter girl), but at least this time it was banter with someone why doesn't usually get banter scenes: Saru.  Of course, at that point, there's no one else from the main cast left on Discovery who isn't either catatonic, dead, or stuck up on the bridge doing nothing but delivering quick snippets of dialog after the captain issues an order.  But hey, I'll take some Saru banter…and it's banter that helps develop the character of Tilly: she has now asked Saru to recommend her for the Command Training Program.  You go, girl!
We also get some banter—it's deep, serious banter—between Burnham and Tyler…and at the end, between her and Lorca.  This, combined with Burnham's voice-overs, is essential for establishing an emotional connection with the audience.  We now understand the heavy toll being in this universe and pretending to be heartless and cruel is taking on her.  Kudos to the writers for finally succeeding in making me care about Burnham.
In a future blog, I plan to take a closer look at the writers room for Star Trek: Discovery.  But for now, I'd just like to provide links to the IMDb pages for the writer of this episode, Lisa Randolph, and the writer of the previous episode, Sean Cochran.  If you look at the IMDb resumes of the two writers, you'll discover that Lisa Randolph has many writing credits stretching back to 2002, including writing multiple scripts for such successful series as The Shield, Being Human, and Reign.
Sean Cochran, however, is a relative newbie to scriptwriting.  In fact, episode 10 of Discovery was his first and so far only "written by" credit for a script. Discovery is also Sean's first-ever series working on the writing staff, as prior to Discovery, his experience was mainly production and production assistant work.
That's not to say that a first-time writer can't also be a good writer.  And everyone has to start somewhere, right?  This isn't meant to disparage Sean Cochran, and of course, he didn't write the script for episode 10 completely by himself.  The whole Discovery writing staff breaks down the plot of every episode—the major beats and story points that will happen—before a specific writer is given the task of working up the actual script.  And so Sean got his chance with episode 10.  Good for him, and good for the rest of the team to give him that chance.  But just as it's rare for a rookie quarterback to win the Superbowl his first time out, so too is it more likely a first-time scriptwriter will wind up with something more flawed than would have been written by a more experienced veteran.  So I suspect that might be why episode 11 did NOT piss me off while episode 10 did.
But hey, Star Trek: Discovery just had an episode that Jonathan didn't complain about at all!  Isn't that amazing???